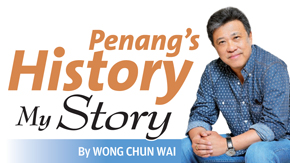 PENANGITES are known to be outspoken, fiercely independent-minded, and highly liberal. It comes as no surprise that the state was where many non-governmental organisations had their origins, long before civil society became the fashionable political term it is today.
Penang is also where the country's earliest newspapers were founded and has produced some of the most prominent activists and writers. As one of the earliest British settlements in the region, Penang has the distinction of producing the first English newspaper in the country.
According to historian Geoff Wade, the Prince of Wales Island Government Gazette published its first issue in 1806 and was published continually until the early 1830s.
"The period over which the newspaper was produced saw great change in Penang and more broadly in the peninsula, and The Gazette was one of the few public records of these changes. By providing a public medium for the exchange of information and ideas, the newspaper also brought new knowledge systems and new ways of knowing to a range of people within the society, albeit an elite, and thus must be seen as a major element in the introduction of modernity to the peninsula. First issue: The Star launched its first issue on Sept 9, 1971.
"The contents of this journal, and the interests and concerns expressed, provide us with a valuable source for examining various phenomena of early 19th century Malaya and particularly the important entrepôt that was Penang.
[ continue... ]