Penang's History, My Story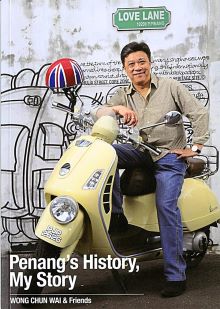 Author :

Wong Chun Wai and Friends

Genre :

non – Fiction

Publisher :

Star Publications (M) Bhd
Review
A new book takes readers on a captivating walk down memory lane with a collection of columns about Penang.
DID you know that Bayan Lepas, one of Penang's most prominent industrial zones, used to be a giant padi field? And that it may have been named for an escaped parakeet?
Did you know that, at one point, Penang's iconic Gurney Drive was going to be called "Casuarina Beach"? Or that the famous Kelawai Road got its name from a British transliteration of the term "Kuala Awal"?
Embark on an illuminating voyage through the streets of Penang in Penang's History, My Story, a compilation of newspaper columns on the state's history written by Star Publications (M) Bhd Group Managing Director/CEO Wong Chun Wai.
A delightful love letter to the Pearl of the Orient, this book will no doubt captivate readers with its fascinating stories and light, humorous style.
Wong's column, which ran from Jan 5, 2013, to Jan 4, 2014, originated from his fascination with Penang's street names. The book is not meant as a definitive historical work; rather, it is an attempt to make the streets of Penang come alive through the author's personal stories.
"And it is through the names of our streets – whether retained or renamed – that many a story can be told," Wong writes in the book's foreword. "Where else but in my beloved Penang can we have a road called Love Lane? Isn't that romantic, even if there are conflicting stories on why the road was so named?"
Penang's History, My Story transports readers back to the glory days of the state, with about 60 short columns, each touching on a different area or aspect of life in Penang. "Roaring Times In Old Air Itam", for example, covers the history of Air Itam. Did you know it used to have a swimming pool and zoo, and there was a notorious fire that broke out there in 1935?
"Allure Of The Silver Screen" tells of Penang's old cinemas, where viewers in the old Majestic Cinema would litter the floor with kuaci shells while watching Hong Kong films at 40 sen a ticket!
But perhaps the most fascinating column is "A Cowboy Town That Was Old Penang", which briefly touches on the guns and triads of the state's heritage.
Younger readers will probably benefit most from reading this book. Learning how different things were in the past could well be a shock to them!
The stories behind many famous Penangites are also told, ranging from modern personalities like The Alleycats and Datuk Jimmy Choo, to historical figures such as the state's first mayor, D.S. Ramanathan, and Dr Wu Lien Teh, the first Malaysian Chinese nominated for a Nobel Prize in Medicine.
From seedy Campbell Street, once known for its prostitutes, to the possibly haunted Vale of Tempe, Wong's columns cover a great deal of Penang and explore the lesser-known parts of its past. I had no idea, for example, that there are places in Penang which have Armenian, Scottish, Burmese and Jewish legacies.
The book is well-researched, with noted local historians such as Khoo Salma Nasution and Dr Neil Khor, among others, offering their insights and knowledge. Oddly however, Wikipedia is occasionally cited: I am not sure why more credible sources were not used instead.
Also featured are many old photographs of Penang, which provide a wonderful window to days gone by.
Among all the local history, Wong also peppers the book with tales of his life growing up in Penang: the "My Story" of the title.
Whether describing his teenage years catching catfish in the rivers of Kampung Melayu, or carrying Karpal Singh's bags to get onto Pulau Jerejak (a restricted island where prisoners were held), Wong's stories are sweet and often amusing. His love for his home state comes out strong in his writing, which carries a subtle theme of the importance of preserving our heritage.
The most poignant piece, however, has to be "Remembering The Tunku". There, Wong speaks of his personal experiences with the Father of Malaysian Independence, Tunku Abdul Rahman, who lived on what was once Ayer Rajah Road.
Penang's History, My Story also includes articles by Wong's friends, other senior members of The Star. My favourite piece has to be Dorairaj Nadason's colourful anecdotes of Perak Road: what can you say about a story featuring psychiatric hospital inmates, rioters, and monkey trappers?
It would have been nice, however, if the book had come with some sort of street map or guide to Penang, which would help readers in planning visits to the places in the book.
All in all, Penang's History, My Story has something for everyone. Pure-bred Penangites can enjoy this nostalgic journey through Penang's colourful history and discover a new side to the places they know and love. And newcomers now have a handy guide to the state's most fascinating areas.
It would be great if something similar to this book could be done for all the other states in Malaysia: it would certainly make history classes more entertaining!