By Wong Chun Wai and Farik Zolkepli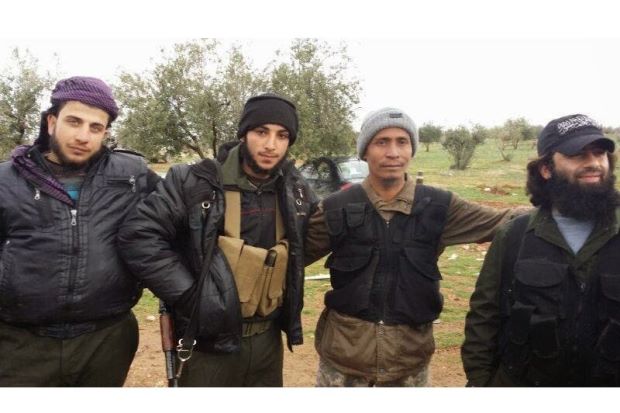 KUALA LUMPUR: The terror link that is being forged between Malaysian militants and the other fighters from Middle Eastern groups, including off-shoots of al-Qaeda, has become the primary concern of intelligence agencies in the region.
While veteran fighters have joined in the Syrian civil war, which has now turned into a battle between the Sunnis and Syiahs, new radical groups have also emerged.
It is this trend that is worrying Bukit Aman and their regional counterparts, especially those from Indonesia
The battle in Syria to set up the Islamic State of Iraq and Syria (ISIS) has become pivotal in bringing together like-minded militants who are sending out messages via social media that they are fighting a holy cause in the name of Islam.
Almost all the Malaysian militants, including former PAS Dewan Ulama central committee member and Kedah Youth information chief Lotfi Ariffin, have declared themselves as jihad fighters.
They have also projected themselves as defenders of the Sunni branch of Islam, to which the majority of Muslims in Malaysia as well as in Indonesia belong.
Militants supporting ISIS have seized vast territories in western and northern Iraq and captured groups of people. Reports have emerged about how the fighters would release the Sunnis but single out the Syiahs for execution.
ISIS is also referred as ISIL, or the Islamic State in Iraq and Levant. The Levant, or al-Sham, is sometimes called Greater Syria and encompasses Syria, Jordan, Lebanon, Palestine and Israel.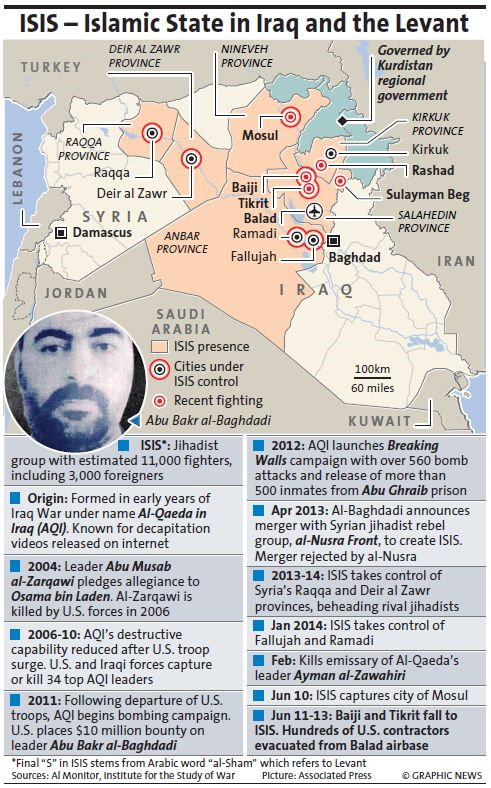 Iraqi Syiah fighters are in the Syrian civil war supposedly to keep Syrian President Bashar Assad in power. Many of them were trained by Hezbollah, the Syiahs' Islamic militant group, and Iran's Islamic Revolutionary Guards Corps.
But while the civil war rages on, intelligence agencies and the Ma­­lay­­sian police are said to be more concerned with the links that are being forged between Malaysian militants and foreign fighters, mostly linked to al-Qaeda, as they fight alongside one another.
"The terror network that would be forged would eventually have an impact on our Malaysian and regional security," a security analyst said.
"The personal bonds, the arms training, and the use of powerful weapons by these Malaysians need to be seriously taken into ac­­count."
A police source confirmed that Malaysian authorities were indeed concerned about the potential terror links being forged in Syria.
"Over there, they are meeting with militants from other countries, including those from Indo­nesia, the Philippines and even the United Kingdom," the source said.
"The militants will still keep their ties with the other comba­tants, even after they return to Malaysia … in short, the battle in Syria gives the militants avenues to form new terror networks."
Malaysia and other countries in the region, according to the source, might be future targets.
"The militants are coming back well trained, and have the network for weapons and other support. This must be clamped down before it gets worse," the source said.
Inspector-General of Police Tan Sri Khalid Abu Bakar said the police were aware of militant teachings being spread through social media platforms such as blogs and websites.
Bukit Aman is working closely with the Malaysian Communica-tion and Multimedia Commission (MCMC) to track such sites.
"We are also intensifying our efforts to track and detain suspected militants in the country. Any threat to security will not be tolerated," he said.
On the battlefront in Syria, it is likely that the Malaysians would link up with the ruthless Jabhat al-Nusra or Al-Nusra Front, an al-Qaeda offshoot behind the decapitation of Syiahs and murders in Syria and Lebanon.
There is also the Harakat Ahrar ash-Sham Al Islami or the Islamic Movement of The Free Men of the Levant, comprising Islamist and Salafist fighters, with reportedly over 20,000 men. It operates under the Syrian Islamic Front.
Then there is the Free Syrian Army (FSA), set up at the start of the Syrian war, comprising mostly defected Syrian Armed Forces personnel and volunteers who are against Bashar.
The Star, in a report on Friday, quoted Syahrir Azfar, the coordinator of Malaysia Life Line in Syria (MLLFS), as saying an estimated 30 Malaysians are fighting in various militant groups, including the ISIL and with the FSA rebels.
He said a Malaysian, Ahmad Salman, and his commander, Lotfi, were part of a little known militant group called Ajnadusy Syam, which is trying to align itself with ISIL.
CNN has quoted the Soufan Group, a security consulting firm, which estimates that there are already thousands of foreign fighters in Syria, with around 700 from France, 800 from Russia, mostly Chechens, and almost 300 from Britain.
Last month, US officials said Moner Mohammad Abu-Salha, a 22-year-old American known as Abu Hurayra Al-Amriki, drove a truck full of explosives into a Syrian army position and detona­ted it, killing himself in the pro­cess.
Ahmad Tarmimi Maliki has also reportedly become the first Malaysian suicide bomber, blowing up soldiers at Iraq's SWAT headquarters in al-Anbar on May 26.
The conflict in Syria has also captured the imagination of Indonesian extremists in a way no foreign war has before, the Jakarta-based Institute for Policy Analysis of Conflict (IPAC) has been quoted as saying.
IPAC said the conflict in Syria had sparked outrage in Indonesia because the atrocities of the Syrian government forces were widely covered in the Indonesian media.
The number of Indonesian combatants who have got involved, although still in the dozens, is likely to climb as it is relatively easy to get to Turkey from Indonesia and enter Syria from there.
According to IPAC director Sidney Jones, "Jihadi humanita­­rian assistance teams now appear to be facilitating the entry of fighters as well."
IPAC further reported that the Indonesian organisation that had been most active in Syria since the conflict erupted has been Jemaah Islamiyah (JI), the organisation responsible for the 2002 Bali bombings that since 2007 has disengaged itself from violence in Indonesia.
JI leaders, who have been vilified in recent years by more militant groups for abandoning jihad, are now seeking to regain their prestige by venturing abroad. They argue that the "jihad expe­riment" in Indonesia is just a waste of energy and they could be better deployed in a war with global consequences.