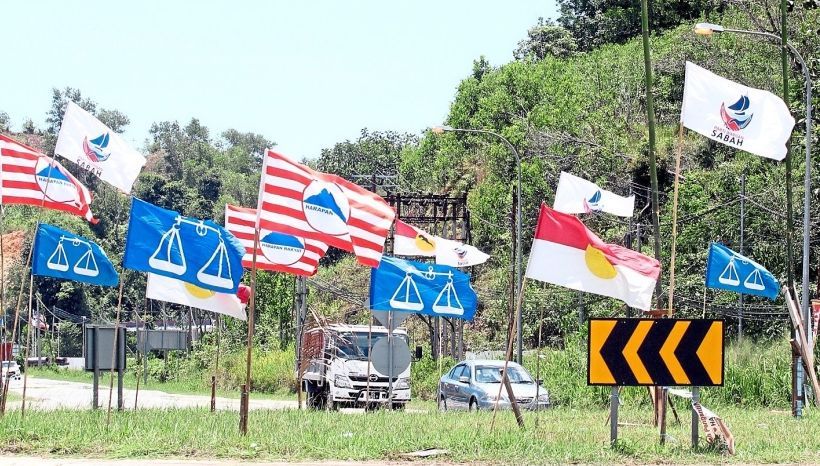 THE Sabah state elections has turned out to be a "numbers game" in every sense as the polls will see the most multicornered fights in the history of Malaysian elections.
This is one election where there are no straight fights, no unopposed victories and, most certainly, the largest number of eight-way contests the country has seen.
It has the most independents, newly-formed parties, breakaways and even contests between parties which supposedly share the same platform.
Sabah voters are notoriously indecisive – past voting patterns have proven that they seldom elect a strong government, and this has led to defections which caused past state governments to collapse, as what happened in the 2018 state elections.
The Barisan Nasional government fell apart when six of its state assemblymen jumped to Datuk Seri Shafie Apdal's coalition, comprising his Parti Warisan Sabah, DAP and PKR.
The party hopping of the six state assemblymen from the United Progressive Kinabalu Organisation (Upko) and Umno helped to end Barisan's 24-year rule in Sabah.
This time, Malaysians are watching if there will be another hung state government or one that has a razor-thin majority, which would only tell the same story.
The largest number of contenders indicates that the individuals wish to be spoilers, or perhaps they feel they could make a difference for themselves or Sabah.
There's a word Sabahans use to describe the situation: "democrazy".
I had completed this column late Friday night with a general analysis of what could take place in the state, but by midnight, my mobile phone was ringing nonstop. There were endless text messages from several candidates who wanted to update me with the latest information.
It was turning into a nightmare for them, especially those from the opposition, as last minute negotiations to work out straight fights had broken down.
While there were better results in reaching a consensus between Umno and Parti Pribumi Bersatu Malaysia, it was a different story elsewhere.
In fact, Warisan and PKR kept their alliance intact despite earlier talk of a disagreement.
But the MCA, which is fielding four candidates, has to face Parti Bersatu Sabah, a friendly party.
In a nutshell, my original piece turned out to be outdated, and while we had expected plenty of candidates in the fray, it was more crowded than we had imagined.
Sabah's politics have always been complicated, and despite having covered many past elections in the state, this is one campaign which my colleagues and I have found hard to read.
But it will be the most exciting ever because many variables will come into play as the daggers are drawn.
Party loyalty doesn't exist in this town, where defections are an acceptable part of the political culture, and sabotaging comrades is common.
I'm not sure if you can believe politicians, especially when they put on their straight faces and "welcome" the involvement of new political parties and possibly independents, apparently embracing "the more the merrier" belief.
Political parties supposedly aligned could well be contesting against each other unless they come to an agreement.
Until last week, the media reported cracks were distinct in the opposition alliance of Sabah Perikatan Nasional, Sabah Barisan Nasional and PBS, when party leaders began naming candidates for the same seats on Thursday. The media revealed that it was clear open war had broken out on the opposition side, while fissures appeared in Warisan Plus where Sabah PKR initially held back its participation, only agreeing to a seat-sharing deal later in the evening.
But consensus worked out in most constituencies to ensure a more effective opposition,
Newcomer Datuk Seri Anifah Aman's party, Parti Cinta Sabah (PCS), is contesting in all 73 seats.
Contesting in the Sabah polls is an expensive affair, but it has managed to raise funds in a short time. This former Umno MP and former Foreign Minister is also throwing down the gauntlet by taking on the parties of the ruling federal government.
He's also the brother of former Sabah chief minister Tan Sri Musa Aman, who hasn't been nominated by Umno to contest.
Without the ticket to contest a seat, it's uncertain what kind of role – directly or indirectly – this powerful strongman will play in the elections.
PCS can certainly cause serious damage as a spoiler to Sabah Perikatan, Sabah Barisan and Warisan Plus if the margins are tight. Anifah, however, has indicated PCS is ready to be a kingmaker.
However, party observers say that's simply because family members are contesting, including Aman's relative and Musa's son-in-law. Another seat is held by Musa's senior aide when he was CM.
In the eyes of many, PCS has been formed to wreck Barisan's plans and frustrate Datuk Seri Bung Moktar Radin, who is heading the coalition's campaign.
However, Bung Moktar knows the political terrain like the back of his hand, even if he's often perceived as crude.
I have visited his rural constituency of Kinabatangan, where most voters seem fond of him. That explains why he gets re-elected, to the bewilderment of urbanites on the peninsula.
Umno's structure and machinery are strong in Sabah, so the party shouldn't be underestimated.
The battle in the Sabah polls will be in the Muslim bumiputra seats, and Warisan is popular in the east coast areas, especially in Semporna (Shafie's stronghold), Sandakan and in pockets on the west coast and on the northern side.
The west coast is made up of Kota Kinabalu, Ranau, Kota Belud, Tuaran, Penampang and Papar; up in the north, there's Kudat, Pitas, Kota Marudu and Banggi.
The opposition, especially Datuk Dr Jeffrey Kitingan, has made an issue of Shafie's ethnicity, saying he's a Bajau-Suluk, the same group of people in southern Philippines.
The accusation is that under the current government, illegal immigrants will flood the state, but Warisan has refuted this claim.
The key battles will also be in the Kadazan-Dusun-Murut (KDM) majority seats, where close fights are expected between Warisan Plus and the opposition.
In the last general elections, Barisan fared way better than Warisan, winning 15 KDM-dominated seats through Umno, PBRS and its then component parties PBS and Upko.
Warisan, now with Upko on its side, is hoping to do better than the three KDM seats it secured. Upko won five seats in GE14 in 2018.
According to a news report, 22 seats were considered as KDM majority areas from the 60 state seats contested in May 2018, but in the upcoming elections, there could be at least four more seats with KDM majority voters out of the 13 newly-created state seats. This means the KDM seats will represent over a third of the 73 seats up for grabs in the 16th state elections.
Much of the campaign will involve visits to the homes of the electorate. The campaign will be a quiet one because of the rural setting, as well as the absence of big gatherings due to Covid-19-mandated social distancing practices. So social media will play a huge role in areas with online access.
Given the unpredictability of this elections, voters could well return a hung government or a government with no clear majority, like in previous polls.
No wonder the frogs always have a place in Sabah politics. You can almost hear the croaking now in this wet season, well before even the first votes are cast.
Let's be clear — defections are diabolically wrong. It's perplexing how people can condemn the crossover to Barisan but cheer the leap into Pakatan. If this isn't democrazy, then what is?