Sunday April 20, 2008
Datuk Seri Syed Hamid Albar is responsible for one of the most important, if not powerful, ministries in the Cabinet. Speaking to The Star's Group Chief Editor Datuk Wong Chun Wai, the senior politician talked about his tasks from heading law enforcement agencies to deciding on the role of the media, his upcoming plans for the ministry, Umno, and the country's political outlook.
What are your plans for the Home Ministry?
Syed Hamid: The Home Ministry is the second biggest with a staff of 159,000. I think the most interesting part of it is bringing it into its original state. We are undertaking the merging exercise of both the Internal and Home Ministries. Now we are more open to public scrutiny. This is a challenging and interesting ministry and it's close to the people's hearts.
If you talk on matters of immigration, visas, passports, the National Registration Department, permanent residence and citizenship status, all are in the limelight.
In the case of newspapers, you have the licensing. I'm conscious of a lot of things that need to be adjusted. A few people have spoken about our successes in implementing the delivery system. One thing that is crystal clear about the Home Ministry is that things are moving very fast now, like the issuance of passports. The ministry is like a ministry of "till death do us part" – from the registration of death in one section, the other section is freedom.
You are holding the portfolio of one of most powerful ministries. In the changing political scenario in Malaysia, how do you see yourself handling this portfolio?
Since Pak Lah came to power, there has been a paradigm shift. We try to be more liberal and free, but at a cost, because our intention of creating a harmonious and peaceful society is still in the process of being moulded. It's tough. I consider it challenging because as a person who believes in due process and freedom, whatever I do, I will search my conscience first.
Public rallies or demonstrations create public debate and excitement. I will not interfere. I will ask the police to access it and see the perception of their threat to national security, peace and public order. We are just like being on a trapeze. We provide the balance and we do want freedom. But we also fear the consequences if we keep on inciting and adding fuel to the fire and that will not help. My thinking is that we are not going to control you (media).
One factor behind why the Barisan Nasional did badly in the recent elections was the issue of the Government not being able to tackle crime. Even as the police want to hire more personnel, the Government needs to race against time to stop this problem. It's still a lingering concern of the Government.
It's a question of whether you believe in absolute numbers, whether you believe in percentages or in relative comparison with other countries. On that score, we have done very well. We need the public to have confidence in the police. Most importantly, the force must be more visible and be seen as a protector of the people. The thing that jeopardises our efforts is the question of high-profile cases. We need to solve them.
We have improved anti-crime efforts through Rakan Cop and community policing at the police station or district level. These have produced results. I want to see the police improve their overall performance through better pay, welfare and assets. The police don't even have enough MPVs. I've told the ministry to get these things done.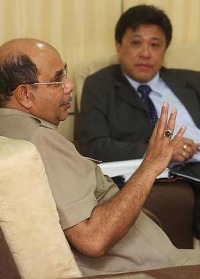 For KL International Airport, security is under the Malaysia Airports Bhd. I've decided that this place is an important target area, which the ministry has gazetted, so we want to be involved. On the recent robbery there, the transfer of money to the moneychangers is being done in the millions, they've been doing it quietly. This time it's an inside job. The worst part of it, for example, is that only 30% of the CCTVs are working. You can't have that. The static CCTVs were also not turned on and you cannot replay the recordings. I said this is ridiculous. I've given instructions. We are going to have special units at the airport. It's done that way all over the world. I've also asked for a discussion about this with the Transport Minister.
The Chinese community is not happy with the police. We need to have more Chinese officers. We have asked, but not many want to join. We have to go on another campaign. We asked that we take action on secret societies. I said I don't like detention orders. I want them to be charged in the courts. But they told me the witnesses are not willing to talk. Now we taking in retired soldiers. The police are doing many things including moving people to fill up the posts. I told them it's still not enough. Let's try and see how we can revamp and see how to give the best service.
One way for the Government to lighten the burden of the police is by employing volunteer policemen to do simple crowd control like they do in the United Kingdom, where the community police are involved in crowd control. Can that be done here?
It's not as simple as that. For example, people who have been placed under restricted residence for drug offences are being put under observation by the police, especially by the anti-narcotics department. The police have to do that. I'm trying to get the anti-narcotics agency to study this. Our drug problem is that we have 10,000 undergoing rehabilitation while 300,000 are in the anti-drug community programme. The police have to observe all these people. We need to get more volunteers. We are utilising Rela and Immigration Department officers along with the police.
But many Rela officers are not well trained, as seen in several negative incidents reported in the past.
We have got 500,000 Rela members. The Rela is a good concept because it is a multi-racial organisation. We now use smaller trained units, not the ordinary Rela personnel, because of a lot of complaints before this. We are giving a lot of emphasis on training. We still need a lot of public feedback on how to improve Rela.
What are you going to do about the influx of illegal foreigners in Malaysia?
Malaysia cannot take more foreign workers. There are three million of them here and at least one million are illegal. Everyone is asking for new workers to be brought in. I think it's wrong. People are complaining to me from all sides. I think we must have a certain minimum wage for workers. Otherwise we will continue to see foreigners as security guards, lift attendants and restaurant workers. I asked (MIC president) Datuk Seri S. Samy Vellu why so many young Indians are unemployed, but yet there are young barbers coming in from India? Can't you train Malaysian Indians? He got angry with me. The Indians have a lot of social problems because they are unemployed. So why can't we train our own people? Have we actually searched enough for our own people?
Is there a timeline for these plans?
Taiwan has a population of 23 million, whereas the number of foreign workers is only 400,000, and it's a very competitive country. We need to look at our salary structure. Part of the problem is also our political problem. You must think of your country, we are our own stakeholders. We must stick to the rules that professional foreign workers work here for 10 years and five for unskilled workers and not more, and they should be sent back. In Singapore it's two years. Sometimes these foreign workers leave their children here. We have stateless persons –people without documents – and their country of origin don't want them back. We're stuck. I'm addressing this. Malaysians must recognise that.
Public perception about the huge number of illegal immigrants here is it's due to corruption and bad enforcement. What's your take on this argument?
That is a possibility. We have long maritime borders, over 3,000km long, and the land is porous. I've asked all our enforcement agencies to look for the source and kill the demand, which means that we can tackle the illegal immigration problem from both sides. Otherwise we cannot succeed. We need public cooperation too. A lot of people use shortcuts (in employing illegal foreign workers) because they can pay low wages; they don't have to pay Socso or EPF benefits. The matter of tackling illegal immigration should be made a Malaysian agenda because it's for the good of the country.
Does the experience of having served in so many ministries make you more than qualified to become Home Minister?
Usually this portfolio is held by the Prime Minister and the Deputy Prime Minister because the ministry handles a lot of sensitive issues. The foreign diplomats met me recently and said the thing that kept people very happy and that the country is okay is when I was appointed Home Minister. That is quite nice to hear. People see that I'm a tough person but at the same time I'm fair. I've never taken emotions or sentiments into my decision-making process.
You are the first Home Minister who is not Prime Minister or Deputy Prime Minister since Tan Sri Ghazali Shafie held that post.
He was the last Home Minister. The other part is that I also don't have political ambitions. I'm not an Umno vice-president and I don't seem to be aspiring for anything. I've never considered a job as part of the party position. I'm in the old school mould – I think people should recognise me for what I can do. Pak Lah sees me and thinks: "This guy works hard." My wife always tells me that I'm a workaholic.
One month after the general election, the public perceive, rightly or wrongly, that Umno has not changed in the way it tackles issues.
Umno has not found its direction. It's still in a state of shock and there's the infighting within the party. We have produced different cultures and values. I'm not surprised the public is watching with dismay the squabble in the party and calls for the leaders to step down, which is not the Umno style. If there is any problem and when one wants to bring down the leaders, it's done very subtly. It's a new culture.
People must recognise that we have moved away from the elections. We have to start doing something that the public wants, and we have quite a number of issues that we need to tackle. It should be that Umno leaders are serving the public; we don't want abuse of power and we are not corrupt. When we talk about corruption, we must be whiter than white.
The message is to teach us a lesson. The non-Malays were dissatisfied with Umno; everyone is blaming Umno. But everyone has got a share in tackling these things, especially in the Barisan.
The Barisan has not come together cohesively because the component parties suffered badly.
The Pakatan Rakyat governments have introduced a lot of populist decisions. How does Umno intend to counter these with its own reforms?
On the giving of land titles in Perak, we have issued over 50,000 titles but that is actually an accumulation over time. You don't see that but when it's a new thing, people can see straight away and pick these things up. It's because you're not being judged yet. You are starting on a clean sheet.
We have done so much and yet the people rejected us. We planted the trees and now they are bearing fruit and other people are plucking them. Our problem is that we didn't package ourselves well, and in this election, there were a lot of issues that we didn't address properly, like crime, tackling corruption and countering allegations of bloggers, where all sort of things tend to become the truth.
The sentiment is that Umno as the biggest party has a chance to represent Malaysians. Why does it choose to talk about Malay issues only, when it can talk about Malaysian issues and represent everyone?
Since independence, Umno has always represented everyone. It has done very well for everybody – the current policies; the economic growth of non-Malays has been very good. Sometimes when we emphasise things, it's as if it's for the Malays.
During the NEP process, for example, the economic growth rate and equity ownership of the non-Malays was bigger than during the British administration period. We need to realign our policies. We need to help the people who are left behind. I feel Umno has done so much to create a multi-racial society. Otherwise this country will be in turmoil and it will become a failed state. The Chinese schools are better now than before.
The industries are controlled by non-Malays, but the non-Malays have not taken their money out. Instead they have reinvested into the country. They are Malaysians. Let's make the country grow. Unfortunately, when you start to talk of the NEP, it's about the Malays. No, NEP is for everyone – problems affecting the Malays, the Chinese and Indians are a national problem.
Don't you think that now is a good chance to overhaul and repackage the policies?
They have to repackage. An example such as the eradication of poverty has succeeded across racial lines. We can say that we have a national economic policy or the Wawasan economic policy. People say it's only the Malays who are benefiting, that the ketuanan Melayu (Malay dominance) concept is a Malay concept. My Chinese friends told me: How can you say ketuanan Melayu when they were born and lived here for 50, 60 years.
I think we need to mould the concept properly that this is Malaysia and it should be recognised that they are indigenous and we have built the country together. When we want to move forward, we have to work together. But we cannot work together from a racial perspective. My idea, and I told (Deputy Prime Minister) Datuk Seri Najib Tun Razak the other day about this, is that we need to reinvent or revisit the ways that we do things as a political party.
Do you see Barisan becoming a single entity gradually?
We need to, but we need to also revisit the power-sharing concept. The Pakatan Rakyat used our concept. But they are a coalition formed after the elections. They are not bound by strictures of accommodation and compromises, which will make everyone unhappy. The only compromise they made was not contesting against each other – a PAS or PKR candidate for a Malay area, the DAP for Chinese area, the Indian representatives go to mixed areas. They are improvising what we have done.
But what you are suggesting is very difficult (to implement). You need to introduce a new way of looking at things. The role of the media is also important. The media is still arguing on the basis of race. It's very difficult – the media is saying that this community is not benefiting. I read the Tamil papers: it's terrible. I was looking at the number of arrests – there are quite a number of Malays who have been put to trial for treason, put under the Internal Security Act and hanged because of extremism.
There is no place for extremism in this country. Of about 50-over ISA detainees, over 40 of them are Jemaah Islamiah members and some have been held for six years. This is not about an ethnic issue. It's because of what extremism can bring. Extremism is like a spark – when you cannot control it, it will become very bad.
The game of politics is about presenting populist ideas. So far I've not been successful in bringing forward my suggestions. I've suggested that the Government should give this or that. I'll also suggest that the bottom 15% of the poor should receive free schooling and university scholarships.
I once suggested that we should have an anti-corruption body like Hong Kong's Independent Commission Against Corruption, and judges should be given back their integrity and credibility. – Transcribed by ZULKIFLI RAHMAN