But there's hope. Here's a piece of good news. Malaysia remains a good place to pump funds into. At least that seems to be the view of top investors from the Middle East, especially Abu Dhabi, who have been making steady enquiries about opportunities here.
Tomorrow, two important agreements will be inked between Abu Dhabi institutions and Malaysian parties, cementing the special bilateral ties between Malaysia and one of the richest nations on earth.
The first agreement will see the Abu Dhabi Commercial Bank (ADCB) buying a 25% stake in RHB Capital Bhd. The acquisition will see ADCB emerge as the second largest shareholder in the financial services group after the Employees Provident Fund, which after its disposal, would have its stake in RHB Cap reduced to 57.23%. RHB Cap owns RHB Bank Bhd, the nation's fourth largest lender.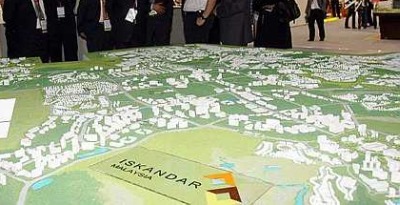 The second agreement will witness Mubadala, the investment agency of Abu Dhabi, confirm its commitment to develop Node 1 of Iskandar Malaysia. But, as important as the two agreements will be the presence of senior officials from the emirates.
Leading the entourage will be chairman of the Crown Prince Court Sheikh Hamed Zayed al-Nahyan, chairman of the Executive Affairs Authority of Abu Dhabi/Mubadala chief executive officer Khaldoon al-Mubarak and ADCB chairman Said al-Hajeeri.
The chairman of the Crown Prince Court has a standing higher to that of the prime minister while the Executive Affairs Authority handles the day-to-day running of Abu Dhabi.
This visit is important because in the last 10 months there has been growing interest from the Middle East in investing in Malaysia. Businesses from the United Arab Emirates, Kuwait and Saudi Arabia have been scouting for opportunities in real estate and infrastructure projects here.
They weree attracted by Malaysia's strong economic fundamentals, political stability and investor-friendly climate.
But the election results, which saw Barisan Nasional lose its two-thirds majority in Parliament and control of Perak, Selangor, Kedah and Penang, has introduced an element of uncertainty into Malaysia, claim political analysts and economists.
These people argue that foreign investors from Singapore, the US, the Middle East and the European Union will be cagey about pouring money into a country where there appears to be a few centres of power. Rumours and speculation of a leadership change have not helped either.
But the continued interest by Abu Dhabi investors in funding projects here or taking strategic stakes in Malaysian businesses shows that their faith in the country's economy is largely intact.
Mubadala has stakes in a string of businesses, including Ferrari, the Carlyle Group and oil exploration in several countries. It is said to be keen on teaming up with Malaysian partners to jointly undertake infrastructure projects here and in the Middle East.
Malaysian government officials say that Abu Dhabi decision-makers are keen to use Malaysia as a gateway to the region, despite serious overtures from Singapore.
They also believe that there should be more joint ventures between their institutions and Malaysian financial services houses to promote Islamic banking further. This could help Malaysia cement its position as the global Islamic finance centre.
The signing ceremony tomorrow will be witnessed by Deputy Prime Minister Datuk Seri Najib Tun Razak. From there, the key imperative now is to make sure that Iskandar Malaysia succeeds, thus augmenting further confidence in Malaysia as an investment destination.