On The Beat
By WONG CHUN WAI
THERE were three reactions when Datuk Seri Abdullah Ahmad Badawi said he was quitting as Prime Minister and Umno president in two years' time.
The first reaction was that he finally has a succession plan with his deputy Datuk Seri Najib Tun Razak as his successor, thus setting a smooth leadership transition.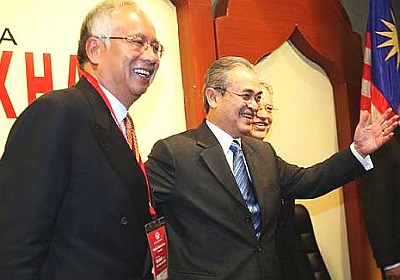 Then, there are some who said two years is a long time and that would be unfair to his successor, as anything can happen in two years. But there are also those who said that Abdullah should not even have announced the date as that would make him a lame duck PM. In short, Abdullah can never expect to please everyone.
Datuk Seri Dr Mahathir Mohamad, who led the country for 22 years, stayed on for 16 months after saying he was quitting.
Tuanku Abdul Rahman, who became the first prime minister since independence in 1957, dragged on for a year after the May 13 racial riots, when he knew he had to go.
Abdullah, as a seasoned politician, must have weighed the pros and cons of the deadline before finally making the formal announcement. Obviously, he had to ensure Umno would not be destabilised in the transition process and that his deputy would be loyal to him until his exit.
By securing Najib's support not to challenge him, Abdullah has secured his position in the upcoming party polls in November. By winning his party post unchallenged, it would be an honourable exit for him come 2010.
But those who expect Abdullah to be an ineffective PM would be wrong. He has told his supporters and friends that he would devote his next two years to reforms, which he has committed to the rakyat.
It would be much easier for Abdullah now as he would no longer be too preoccupied with seeking popularity as all politicians do.
From reforms in the judiciary to fighting corruption, he would be fighting against time to make all the positive changes – and in the process make it easier for Najib when he takes over.
Among the changes Dr Mahathir implemented in the final stage of his administration was to introduce English in the teaching of Mathematics and Science. For 22 years, despite being aware of the deteriorating standards of English, he did not do much, presumably fearing that there would be a backlash from the Malay nationalists.
Having made the changes, there is still pressure from the Chinese educationists who are against the decision.
It has not been easy for Abdullah for the past few months – the Barisan Nasional lost five states and its two-thirds majority in Parliament. Reeling from the losses, he ran into a global price hike.
Now, he has to implement what he needs to do so that history will judge him more kindly, with reforms as his priority.
It will not be easy, as reformist leaders like Datuk Shahrir Samad, Datuk Zaid Ibrahim and Datuk Ahmad Shabery Cheek have found out.
While many are convinced that only major changes in the policies of the Government and party can reinvent Umno, there are also many who feel these reforms have hurt them actually.
The setting up of an independent inquiry into the VK Lingam video clip issue hurt Abdullah in the general election. The incident took place during the administration of his predecessor but despite the pressure from some quarters, Abdullah went ahead with the setting up of the panel.
Some want Umno to go back to its old ways, believing that a strong and firm leadership is the answer.
Abdullah has allowed more democratic space than all the previous leaders although many may not agree, including those who want instant changes, not aware that powerful forces are also attempting to reverse the clock.
With the clock ticking away, Abdullah must race against time to push for meaningful reforms.