On The Beat
By WONG CHUN WAI
LEE Chong Wei has to be the true Malaysian hero as the nation prays that he will deliver the first Olympics gold medal for the country. That would be the best National Day gift!
At a time when some of our politicians are spewing racist and intolerant religious views, watching our badminton hero keep the national flag flying is so refreshing and motivating.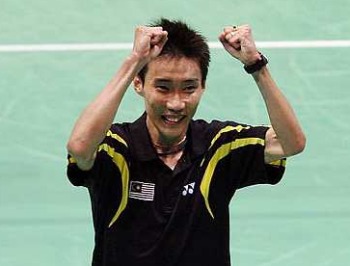 On Friday night, the nation cheered as Lee made history by becoming the first Malaysian badminton singles player to reach an Olympics final.
The 26-year-old Penangite is now assured of at least a silver medal following his victory over South Korea's Lee Hyun-il. The last Olympics medals were a silver and a bronze, won by badminton players Cheah Soon Kit and Yap Kim Hock in the men's doubles and Rashid Sidek in the men's singles respectively at the Atlanta Games in 1996.
But it was the front-page picture yesterday that said it all – a victorious Lee hugging his coach Misbun Sidek.
There is so much Malaysians can do if we put aside race and religion and focus on commonalities instead of differences.
We can talk of being a global player only when we can devote our attention to competitiveness and excellence. The world waits for no one; and on the international stage no one will have the patience to hear any kind of whining.
Like Rashid, Lee has proven what sheer grit and training can do if we set our hearts and minds to doing something. They prove that Malaysians, regardless of their race, can make it at the international stage where the rules are the same.
Lee is now one step away from achieving greater history. Certainly, we all believe that the gold medal is on Lee's mind, not just the RM1mil incentive.
When he steps into the court today to face Lin Dan – currently the world's no 1 – he knows the whole of Malaysia is behind him.
For a moment at least, no one would bother to listen to the negativity expounded by some of our politicians.
Lee is our champion – not the self-declared champion of their races, the very same people who extolled the virtues of our education system in the name of nationalism and yet packed off their children overseas, even at primary school level.
Not the ruffians who cannot tolerate a divergence of views and forcibly broke into the Bar Council forum.
Or the self-proclaimed heroes of our respective communities who talk about patriotism but whom we suspect of squandering the nation's wealth.
Then there are the self-appointed moral guardians who decide for us what we can hear or see from their narrow perspective, and they haven't even become the government.
If Malaysians are disgusted by our politicians, they have plenty of good reasons for being so, and since Aug 8, many have been seeking refuge by following the Olympics.
From fencing to equestrian, where we have little knowledge of how the scores are awarded, these sports are making more sense to us than the silly antics of some politicians and activists.
Together with my family members and friends, we are ready with our Jalur Gemilang to support Lee and we fervently hope he will beat China's Lin Dan.
We are Malaysians, and like the rest of ordinary Malaysians, we want him to bring back the best Merdeka gift for all of us.
Let's set the mood for National Day by celebrating our diversity as an asset for unity and achievements.
Chong Wei, thanks for what you have done. Malaysia is proud of you; you are a true patriot!