By WONG CHUN WAI
IT was 9.30pm when former United States president Bill Clinton walked into his duplex suite at the Sheraton Manhattan.
He had just finished attending the second day of the Clinton Global Initiatives (CGI) meeting, which was attended by a galaxy of international personalities, ranging from politicians, activists and businessmen to journalists, scholars and celebrities.
"Grab a beer before we get started and try the sushi (from the famous Nobu restaurant); it's good," he said, pointing at the spread of food and drinks along the corridor outside his room which was catered for his Secret Agents and aides.
Just minutes before, he had presented awards to outstanding recipients at an event at which Senegalese singer Youssou Ndour and his American counterpart James Taylor performed. As their performance came to an end, the room took on a different note with The Beatles' Here Comes The Sun.
The CGI meeting has always been hip, as are most of Clinton's fund-raising gatherings, drawing young liberals and democrats as well as beautiful people like Brat Pitt and Angelina Jolie.
This year, the attendees included former vice-president Al Gore, cyclist Lance Armstrong, singers Bono and Wyclef Jean, presidential candidate John McCain and his running mate Sarah Palin, Afghan president Hamid Karzai, British Prime Minister Gordon Brown, Queen Rania Abdullah of Jordan and even boxing legend Muhammad Ali.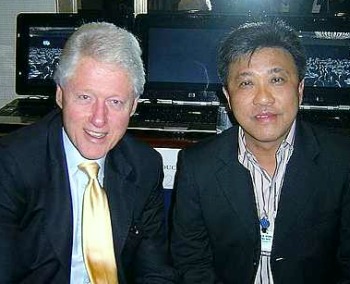 Philanthropic movement
But it is also a world summit. Coinciding with the annual United Nations general assembly, it has sometimes attracted more media attention than the UN assembly taking place at the other side of town.
The CGI is a global philanthropic movement initiated by Clinton in 2005 to bring together influential people to commit themselves to resolve health, energy and poverty problems across the globe.
People pay US$25,000 (RM88,000) to be members and, so far, they have made over 1,000 commitments amounting to over US$30bil (RM105bil) to provide help for over 200 million people in over 130 countries, mainly in Africa.
"The CGI meetings must be the only one where people pay to attend and they end up paying more at the meetings,'' the 42nd president joked.
Clinton is tall, and I had to look up at him when he spoke.
But he quickly put his interviewee at ease and the task was easy as he had much to say. In fact, he doesn't know how to stop talking; you have to cut short his answers sometimes.
"So, I understand you attended the Forbes CEO Conference (in Singapore) recently. So, what's the difference. Tell me, I'd like to hear," Clinton asked me as an ice breaker.
The Forbes conference is presided over by Steve Forbes who once campaigned to be a Republican presidential nominee. The meeting's format is conservative and the list of speakers even more conservative – and older.
Forbes makes no excuses for his endorsement of McCain while the Clinton crowd shouts for Barack Obama although if they had their way, it would be for Hillary Clinton, Senator for New York.
Since he left office as the US president, Clinton has devoted his time and energy to the CGI, with emphasis on tackling climate change, poverty, education and AIDS.
It is no secret that he now sounds and acts like a statesman. The CGI, in fact, makes him look like a global president.
It is an image he has successfully cultivated and the Economist recently wrote that the CGI meetings "are inextricable from the man himself" and at the meetings, it appears like "we are a nation under Bill."
Clinton personally conducts some of the plenary sessions, posing questions and giving his views.
The CGI meeting has received global billing too with his appearances at talk shows hosted by Larry King, Jon Steward, Whoopi Goldberg and David Letterman. But at this interview, Clinton wants to talk about his coming CGI meeting in Hong Kong in December — the first outside the US.
He wants to involve Asian businessmen in his causes and get them to commit to them financially too. He is aware of the strong resources of Asian corporate donors from China and India but said that many were not aware that the CGI had projects in many parts of Asia.
"I am aware the perception is that we are focused on Africa but that's because the most acute problems are in that continent. We have on-going projects in Vietnam, East Timor and Papua New Guinea."
Urban migration and poverty, he said, had become central issues in China, India and Indonesia. The Hong Kong CGI would focus on energy and climate change, public health and education.
Clinton said the list of speakers and invitees were being drawn up but Singapore leader Lee Kuan Yew has confirmed his participation. Martial arts actor Jet Li, who heads the One Foundation, is also expected to speak.
He said the plan was to promote "actionable outcomes" by providing participants with "meaningful opportunities to articulate their own commitments."
Malaysian businessman Datuk Vinod Shekar, who runs the tyre recycling Green Rubber Global group, is the underwriter for the HK meeting.
Vinod, who heads the Petra Group, is involved in developing a Jatropha biofuel facility in the Caribbean nations of St Vincent and the Grenadines as well as in Guyana to help eradicate poverty and promote biofuel as part of the CGI commitment.
Ahead of the meeting, Asia's largest wind turbine maker, Tulsi Tanti, has committed US$5bil (RM17bil) in total value project through his company Suzlon to develop over 35,000 megawatts of green power assets around the world. He has been ranked eighth among India's richest.
"If we want to build a more sustainable world for future generations, we have to work together. We need more partners and fewer enemies.
"The HK meeting will see the participation of Asian leaders talking about issues of importance in Asia, an increasingly important part of the 21st century world.
"Asian leaders have a large and growing capacity to shape our economy, climate, health and security."
He said Hong Kong was chosen because of its accessibility but he acknowledged that hehad been mesmerised by what he saw at the opening of the Beijing Olympics.
Clinton said money was not the main criterion in CGI; he was also looking for ideas and talents in Asia to help make the difference.
The CGI already has an office in Hong Kong headed by Nancy Hernreich Bowen, Clinton's former assistant and director of the Oval Office.
He hopes to visit Malaysia after the meeting in Hong Kong and this would be his first here.
"I have been invited by Vinod to see Malaysia. I don't know if Hillary would pick Malaysia; she would want a say on where we should go. I don't even know if she'll join us as she would be involved in trying to deal with the financial crisis.
"Obviously, I want to see places where I haven't been to. I am not that young anymore, you know," said the 62-year-old who is still regarded as youthful and exuberant. Dubbed the "Charmer in Chief," his charm is regarded by his admirers as his greatest political gift but a weakness by his detractors. Against the backdrop of China and India as Asia's giants, he said, Malaysia hasn't done too badly, and he pointed out the impressive economic growth of Malaysia.
"You guys have had some pretty impressive growth rates in Asia. I remember that," he said.
Vinod, who is a pioneer strategic partner of CGI, said there has been a growing mind shift among Asian leaders and businessmen.
"It is not just about giving money but, more importantly, to be part of a cause. Young Asian leaders want to make a difference."
The CGI, he added, was about bringing people together, people who had ideas but needed financial backing.
"The CGI essentially holds your hand and helps you see through your commitments. If you have a problem, they will help you resolve it but if you don't fulfil your pledges, you are dropped."
Stress on environment
Environment features strongly in the CGI, where Americans see strong potential in environment-related stocks. Businessmen like Vinod and Tanti, who participate in the CGI meetings, have certainly had a higher profiling. For Vinod, environment projects should not merely be in the form of subsidies but also be sustainable if they were profitable.
Said CGI chief executive officer Bob Harrison: "Asian businessmen, for example Chinese companies, are now spread across the globe. They can make an enormous impact in countries where they are involved with projects that can enrich the lives of the people, including in Africa."
When Clinton arrives in Hong Kong, his message to Asian political, business and social leaders would be that they need to be involved in global concerns beyond their shores.