The wedding of Prince William to Kate Middleton has not just been a British event but also a global one with over two billion people worldwide following the telecast.
Outside Westminster Abbey, there were huge numbers of foreigners, many from countries that have long dumped their kings and queens for presidents, and they were cheerfully waving little Union Jacks.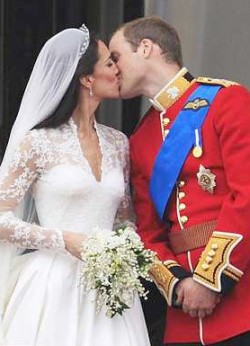 Most are not even from Commonwealth countries, which would have at least explained their affection for the British monarchy.
Along Oxford Street, the shops burst with flags and mugs made by Guangdong Enter­prise. If you were not careful, you might have ended up with mugs with the face of Prince Harry instead of Prince William with Kate Middleton.
At Tottenham Court Road, even the Socialist Workers' bookshop took advantage of the celebration, albeit with a difference. There, little bags with the words "For You To Throne Out – the Royal Wedding Makes Me Sick" and mugs with "Forget about the Royal Wedding – Remember the Cuts" were the star items.
And in British newspapers and television, there was really nothing much besides huge write-ups and shows about the marriage of a middle class woman, whom they are now touting as the future Queen Catherine, and a Prince.
I am in London but I chose to watch television instead of joining 500,000 people on the streets to try to catch a glimpse of the royal couple. My family members, friends and colleagues were upset with my choice and would probably not talk to me when they read that as the world paused to watch if the newly-weds would kiss each other on the balcony of Buckingham Palace, I was sitting at a Queensway coffee shop trying to write this column. The pubs were not open yet, for the record.
I do not think I am alone. A report in the Daily Mail said that in a poll of over 1,000 people across the UK, 46% said they were neither interested nor excited by the royal wedding. Thirty-seven per cent said they were while 17% were ambivalent.
Either the UK is a nation of liars, as the newspaper's writer implied, or people were just following the trend set by the media and decision makers.
But I still like to believe that the majority of people liked this little bit of escapism. The royal wedding may seem like an expensive and trivial distraction to a country that has to cut down on subsidies but it has also brought people together.
Except for British anti-monarchy sour grapes and cynics like me, who did not get an invitation, the world loves a story of a beautiful commoner marrying a handsome prince. It's a great love story and all of us want to feel good and be happy for them. The world already has enough news reports of earthquakes, riots and hunger.
But there's a lesson for royalty worldwide. The world has changed and they, too, have to change if they want to remain relevant and still be loved.
On the eve of his wedding, Prince William was at The Mall, not far from the palace, to meet well-wishers who had camped there for the celebrations.
And they must be the first British royal couple to let the world know that they have been living together for years before they wed. That would have been entirely unacceptable in the snobbish Victorian age.
We all know how important public perception is for kings, queens, presidents, politicians and celebrities. The hype around them is created by the media but sometimes, some of them end up believing they are immortals.
The public hold them in high esteem but when they are not quite the saviours or role models that they are expected to be, the public's misty image of them will come crushing down. There's sometimes shock, denial and disbelief.
Fairy tales sometimes do not have a happy ending, as in the case of Diana, the Princess of Wales. She was probably a bigger figure than Kate but we hope the ending would be a much happier one for the young couple.
The world expects that but William and Kate are also ordinary human beings even if they are not common people.