SINCE the first On The Beat was published on Feb 23, 1997, Datuk Seri Wong Chun Wai's column has appeared religiously every Sunday, except when there was no Sunday Star due to press shutdowns. That means he produced pieces while managing breaking news about national and international crises, when he was on leave or on holiday, when he was ill.
It must be passion.
To Wong, Star Publications (M) Bhd executive director and group chief editor, his column is, "essentially, my life".
"It's my job, yes, but I also feel it's something I need to do. And I always feel that if I do not write about an issue that week, news moves so fast that by the following week, the issue would have been overtaken by events or lost its relevance," said Wong at a recent interview following the May 25 launch of a compilation of his columns in a book that shares the same name, On The Beat.
In the 14 years since that first column, Wong has produced over 600 articles covering everything from politics and Government policies to education, the media, unity and religion; 200 of those articles were put together for the book.
The articles were sorted into six categories for the book: politics, unity, corruption, education, media and "other things besides". Each section also features a new article written especially for the publication.
Out of so many, can he pick one piece that he enjoyed writing very much, we wonder. Wong recalls a recent article about turning 50, which received a good response from readers of The Star (Confronting the 50s head-on, On The Beat, Focus, May 22).
"I talked about things that people could relate to, including ageing and relationships. I think people also enjoyed it because I took potshots at a few politicians," laughs Wong.
He readily admits that humour is especially difficult to convey through the printed word.
"If there is one person in The Star who can do that, it's (acting editor, iPad) Philip Golingai. It's not easy to write humour. The most satisfactory part of writing the column is when I write a piece with a satirical touch," he says.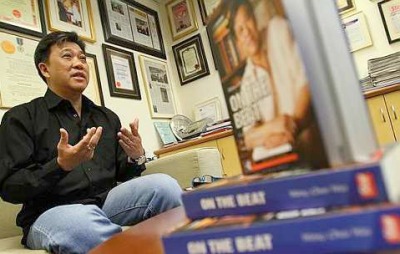 Path of moderation
At times, Wong receives 10 to 20 responses to his column in a week. And sometimes, there is no feedback at all – "Then I wonder if the article is inconsequential, has no impact or people are just bored by it."
He gets a fair share of both bouquets and brickbats, says Wong, adding that, "My wife constantly reminds me not to let (the bouquets) go to my head!"
He has a rather unique perspective on the negative feedback: "Politicians from both sides of the political divide will call to criticise my writing. I always say that if both sides are not satisfied, it means that you have taken the correct path, which is the middle path.
"Running a newspaper is never easy because politicians and supporters want you to write positive things about them. Even if something is just slightly not beneficial to them, they get very angry," he says.
"With celebrities, they become who they are because of the publicity that the media give them. But when there is negative publicity about them, they get angry and suddenly start talking about privacy!"
The brickbats do get to Wong sometimes. "At times, I feel it's unfair. I've been accused of being racist, a chauvinist, an Opposition sympathiser and a Government lackey.
"That bugs me because I see myself as a true Malaysian. I am proud to have relatives who are Malay, and my favourite aunt is a Muslim. I have friends from both sides of politics too. And I studied Malay literature in school and at UKM, where I also had to pass a compulsory Islamic Civilisation course," says Wong, a political science and history graduate who joined The Star in 1984, a day after he finished his final university examination.
"I find (the accusations) disappointing because if you were to go through my 600 columns, you would notice that moderation and national unity have constantly been my theme," he says emphatically.
"Consistently, it is about taking the middle road. Many people ask whether it is true that in Malaysia, there are certain things we cannot write about. In some ways, we do steer clear of sensitive issues like race and religion, but with most other issues, we can talk about them. (The problem) is that most writers do not have the skill to talk about such issues without offending people.
"Basically, I do not use the thunder-and-lightning approach, like a politician would, because I am not trying to score political points with anyone. Instead, I discuss and talk about an issue in a measured tone and a sober manner.
"I do not offend people nor try, or even want, to put people down, so even when people are criticised they can accept it. That has essentially been my style."
Wong adds that too many issues in Malaysia are unrealistically treated as either black or white.
"You are either for the Opposition or for the Government, yet both sides have their strengths and weaknesses. Malaysians have become so emotional that they refuse to see the weakness in their favoured side or the strengths of the other.
"For example, if a politician is seen as their saviour or hero, even when there are blemishes or black marks on his record, people try to justify or deny them. People do not see politicians as human beings with weaknesses, they're seen as either saints or devils."
When Wong first began writing On The Beat, he was a news editor; now, he is the group chief editor – is it different writing the column now?
"When I look through my early columns now, I feel that some of them were not well-prepared, not well-researched or not analytical enough. In some mentions of people, I feel I may have been too kind, not critical enough," says Wong.
"Now, I feel I am more analytical, more mature, more critical and courageous. I suppose this is confidence built up over the 14 years."
Unity and change
Of all the topics he has explored over the years, closest to his heart is national unity, he says, recalling his school years when it seemed the norm rather than something that we are struggling to achieve now.
"For older Malaysians who had the benefit of studying in English medium schools, we made large numbers of friends outside our racial group in a very natural way.
"I studied in a Catholic school (St Xavier's Institution, Penang), made many friends there who, until today, remain friends.
"English medium schools were considered neutral ground. I have relatives who are Muslims, and there are Christians and Buddhists in my family. I have very good Malay and Indian friends, and working in The Star has always been the best because it has people of all races, and we are able to discuss issues in a very open manner.
"I have always felt and maintained that we should bring back English medium schools, which are a good way to forge national unity."
Wong usually starts writing on Friday nights to meet the Saturday night deadline; however, he has no qualms starting anew if something crops up that he feels he should address urgently.
And when the muse remains silent, what does he do?
"I surf the Internet to get a feel of what could be a current issue I may have missed or need to expand on. When all fails, there are always certain issues that never go out of date and that need to be addressed over and over again, but in different ways.
"One of them is, of course, the deteriorating standard of English and the need to promote the language here if we are to become global citizens. Corruption is also something newspapers need to write about over and over to drive home the message. The third issue is the need to push for better democratic space, more room for press freedom, and to do away with laws we do not need.
"I have always said that we need to repeal the OSA (Official Secrets Act) and the Printing Presses and Publications Act. It does not make sense that print newspapers have to apply for a licence every year when online media do not have to."
Apart from gathering the columns together for posterity, the book will also give back to society: nett proceeds from sales of On The Beat will go to Kenosis Home, a Kuala Lumpur drug rehabilitation centre founded by Pastor Richard Lee, who was a drug addict for more than two decades before seeing the light.
Says Wong: "It's easy to give sermons every Sunday but to go out into the streets to talk to drug addicts, prostitutes and the homeless is very difficult. Pastor Richard does that every day."
After he heard about Lee's work, Wong went to one of Lee's street feeding exercises in Brickfields, KL, and was amazed that people from all races and faiths came to receive food and counselling from the group.
"He does not preach or try to convert them. I was really touched by what he does.
"He asks questions that take us out of our comfort zone. For example, he asks, 'A lot of you go to church every Sunday in your very middle-class PJ. But how many of you will be comfortable if I bring my flock, who are drug addicts, prostitutes or HIV-positive, and seat them next to you in church?'
"For me he is a real do-er, not a talker. The Kenosis Home is also not very well known because Pastor Lee does not shout about it, so he deserves that support," says Wong.
On The Beat is available at MPH, Borders and Popular Bookstores nationwide at RM38 a copy. Proceeds from its sale will be channelled to Kenosis Home in Jalan Kelang Lama, Kuala Lumpur. For corporate or bulk purchases of the books, contact The Star's circulation department at 03-7967 1777 .
The book is also available as an e-book at The Star Online's new e-book shop, ebooks.thestar.com.my. Customers must log in using their MyStar ID to purchase the book (registration for the ID is free).