It all started when Chancellor George Osborne, the equivalent of our finance minister, suggested imposing VAT on freshly baked products including pastries and pies sold hot from the oven.
In the 1980s, the Government had imposed VAT on hot food but somehow freshly baked products were exempted due to certain loopholes. And so Osborne, in a bid to increase national revenue, decided to tie up these loopholes.
The change, if there is no U-turn, will be in force by October and would raise £50mil (RM242mil) for the current financial year, rising to £120mil (RM580mil) by 2016/17.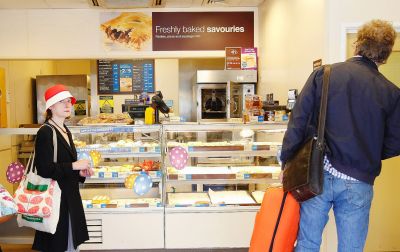 In short, it will make 20% VAT payable on all food – pasties, sausage rolls, toasted sandwiches and rotisserie chickens – sold hot in any shop, just like the Chinese duck rice, McDonalds burgers and the pubs' fish and chips.
But the problem is Britons, hit by high unemployment and other economic woes, are not in the mood for more taxes, and especially one that affects the middle class.
I am now in London, and the stories I hear from ordinary wage earners are always the same: they are coping with the rising cost of living and fear losing their jobs, and they feel there are too many foreigners in their country.
Protests against the tax proposal have gone out of control, and the talk now is that Cameron is unlikely to proceed with the plan.
It didn't help when, last month, he was reportedly caught telling fibs about his love for Cornish pasties.
In a bid to improve his public image after he was accused of being out of touch with ordinary people, he claimed that he last ate a Cornish pasty in an outlet of the West Cornwall Pasty Company at Leeds station.
But his claim was proven to be untrue when it was found out that the shop was closed five years ago. Another outlet at the station, belonging to Cornish Bakehouse, was closed two days after the tax proposal was announced.
Labour's Ed Miliband has attempted to cash in on the issue but he isn't doing a great job. He recently bought eight sausage rolls with the full glare of the media trained on him but many voters felt it was a publicity stunt more than a real gesture.
Furthermore, he was accused of never entering a Greggs outlet, a popular pastries shop, before that PR exercise. The so-called pasty tax issue has become a controversy with many pointing out that it is absurd.
For example, they say that someone waiting in the front of a queue for a fresh hot sausage roll may have to pay the tax as he would get the food hot. But someone at the back may not have to pay as the pastry could have turned cold when he gets his turn.
There's also nothing to stop a baker from selling the pastries cold and then asking the customers to warm them up in a microwave oven just to avoid paying the tax.
The voters dumped the Labour party under Gordon Brown in the 2010 general election, forcing the Conservative and Liberal Democrat parties to form a coalition government headed by David Cameron.
Two years later, the Tories are fighting to keep their ratings from sliding. Voters are losing patience with both the Conservatives and Labour.
They see the Conservatives as a party of the rich and for the rich while Labour is perceived as being too pro-trade union and too ready to meet their unrealistic demands.
Politics have become tenuous in Britain. Just two years ago, the Brits couldn't wait to dump Labour and they ended up with a hung parliament.
It was only after the Liberal Democrats agreed to form a coalition government with the Conservatives that Cameron was able to become PM.
Dip in popularity
Barely three months after Cameron was sworn in, about 50,000 students staged a rally in London during which they smashed the windows of the Conservative party headquarters.
Many of the students would have previously campaigned for the fall of the Labour party. Labour is now back, confident and smirking at the free-fall dip in Cameron's popularity ratings.
Last month, it was so confident of winning the Bradford West by-election, a 40% Muslim constituency that's solidly opposition, with its Muslim candidate that it reportedly invited film crews to attend its victory parade.
Instead, it had a rude jolt when the seat went to the radical George Galloway from the fringe Respect Party, who won with a huge majority.
But the people were again let down by their politicians as, just four days after his victory, the 58-year-old Galloway flew to Amsterdam to marry his 27-year-old girlfriend, Putri Gayatri.
His new bride is two years younger than his eldest daughter.
The wedding took place just four months after Galloway's third wife, Rima Husseini, gave birth to her second son. Galloway is now away on honeymoon, so forget about him serving the people.
His private life rather than what he intends to do for his constituency has grabbed the headlines.
The point is, politicians now need to work harder to come up with fresh plans and identities instead of falling back on their traditional ways because voters all around the world are becoming increasingly demanding and cynical.