I recently got a copy of an email that was addressed to Chief Minister Lim Guan Eng and several state executive councillors. The writer, having just read the latest issue of Buletin Mutiara, did not mince his words when he slammed the government for misleading Penangites with its front page report stating that "the hills are alive".
He wrote: "… a view from the hilltop of Penang Hill showing green uncut foliage does not mean our other hills in Penang Island are safe."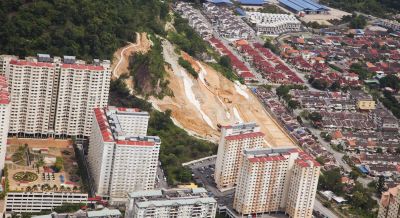 He then went on to reveal that there are many patches of hills that are being cleared at this very moment.
"One of them is the township of Sungai Ara. You cannot miss it when you are passing PISA on the way to the airport, on the right. Go closer and you will be shocked at how bad the situation is."
Overall, the content of this email clearly shows that this Penangite is very angry over the wanton destruction of hill slopes and is not amused that every time the issue is brought up, the current government keeps throwing the buck back at the previous administration.
As he puts it, "You are the current government, address and close this current issue."
It serves no purpose to organise a climb up Penang Hill and then claim everything is fine. Seriously, with due respect, the state officials were just looking at the wrong side of the hill. It was nothing more than just a publicity stunt in the hope that the issue will go away.
Penangites care as much about their hills as their beaches, and also every social and civic issue in town. It has always been so although they may appear louder these days simply because there are more platforms and social media channels for them to shout through.
But why is it that any genuine airing of grievances, like the hill issue, is perceived as "politically motivated"?
And why is the state always going after journalists who, because of their connection to the ground, are but mere messengers in airing these concerns?
It is so convenient to blame everything on "media lynching" and to call journalists all sorts of names, including being tools of Barisan.
The DAP did well in the March 2008 political tsunami because Penangites wanted change. They were fed up of the Koh Tsu Koon government and wanted a strong leadership for the state. No one was surprised when Lim Guan Eng cruised to such a convincing victory.
But with the current term almost at the end, the DAP-led government is still singing the same old tune of claiming credit for itself when things go right and shifting blame on others when things go awry.
The writer of the email cited development in the Sungai Ara area and challenged the CM to get the state executive councillor Abdul Malik to show him around.
"Come after a heavy downpour or rain and you will see the clear streams from the hills turn RED … it's bad," he wrote.
"Most of us residents and rakyat here are executives in the Bayan Lepas industrial zone. We are happy and support our current government, but please bear in mind, we will not tolerate further scavenging and rape of our beloved hills. They must be preserved at all cost, kept on behalf of our children and returned to them in the future."
Strong words indeed. But that's how Penangites are. However, instead of understanding and listening to them, the state leaders prefer to talk down to them or, worse, label them with all sorts of names.
At the end of the day, we should all agree that there is a need for a comprehensive urban planning policy with clear focus on sustainable development. The hills are choking, and there is no need to engage in political semantics over whether a project is above or below 76m, or whether a project is deemed "special".
Will there be more high-rise condominiums on the way, as a DAP assemblyman has revealed?
Confusion can arise when there is lack of clarity. The ordinary Penangite, without access to the files, will comment on what is apparent before his very eyes.
Listen. And listen hard to the Penangites who still care.