MALAYSIA has made it into the front page of the respectable Sunday Times newspaper here our plan to reward our badminton players with gold bars if they win the gold medal is featured in this week's edition.
Headlined "A gold can be worth £600,000 (RM2.9mil)", the article by James Gillespie began, "If you spot a particularly steely determination among Malaysia's badminton players, or notice athletes from Chelyabinsk Oblast in Russia putting in extra effort, do not be surprised they have more reason than most to give their all."
It added that Malaysia will pay its Olympic champions about £400,000 (RM1.96mil) but if victory comes in the country's strongest sport of badminton, they will get an additional gold bar worth £380,000 (RM1.87mil).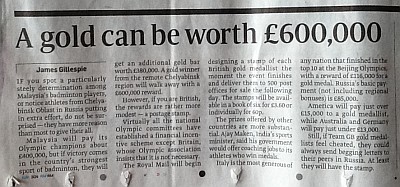 "However, if you are British, the rewards are rather more modest a postage stamp," it reported, adding that "virtually all the national Olympic committees have established a financial incentive scheme except Britain, whose Olympic association insists it is not necessary."
The Royal Mail reportedly will begin designing a stamp of each British gold medallist the moment the event finishes and deliver them to the 500 post offices for sale the following day.
Gold producer Datuk Seri Andrew Kam, who is in London to lend support to our badminton team, in particular Datuk Lee Chong Wei, has been enjoying some unusual attention since he made public his glittering challenge to our badminton heroes.
Whatever the form of reward, in the case of the Brits, the first gold medal has been elusive and pressure is mounting on the Olympic host.
World champion Mark Cavendish finished 29th in the 154-mile cycling race, dashing Britain's hope of the first gold.
On Monday, cyclist Lizzie Armitstead finally put the host on the medals table by winning the silver.
Her picture was splashed on the front page of almost every local newspaper.
Swimmer Rebecca Adlington, who took a bronze in the women's 400m freestyle, too shared the limelight.
The Brits were bound to win gold medals but as host nation, the media has started asking what has been done to encourage their athletes and whether more should be done as the bottom line is "money does talk".
Russia is paying £85,000 (RM417,958) for a gold medal and this excludes other bonuses from their regional governments.
"Still if Team GB gold medallists feel cheated, they could always send begging letters to their peers in Russia. At least they will have the stamp," the report said sarcastically.
But this writer is optimistic that our badminton players will get more than the RM2mil worth in gold bars if they make history by winning our first ever gold medal.
Imagine the national euphoria they will create if they just bring home one gold medal.
The timing couldn't be better as we celebrate National Day.
I even think it will be perfect timing for the Prime Minister to call for general election as an elated nation celebrates Datuk Lee Chong Wei's victory.
Sorry if I get carried away with placing such high expectations on Lee, but we have waited too long.
This is his only chance and our best hope in a long, long time. We will definitely put Lee's face on our stamps, that's hardly an issue.
Our politicians cannot unite us but over the next few days, Lee will.
Let's cheer for Malaysia!