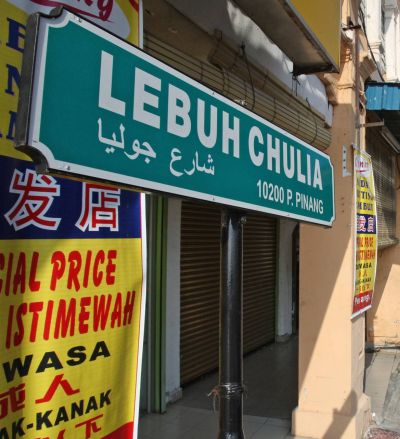 Bilingual:
A road sign with Chulia Street's name written in Bahasa Malaysia and Arabic.
FEW would have imagined that the pre-war houses along Chulia Street are now the most sought-after properties in George Town.
They were once dilapidated, with many of its residents and owners moving to upscale and more respectable neighbourhoods in the suburbs.
But today, savvy professionals from Singapore, Hong Kong and Kuala Lumpur, with an eye for heritage and the arts, are snapping them up.
A property that was valued at RM400,000 was sold at double the price some years back. But these days, the price ranges from RM1.8mil to RM3mil. One old hotel was bought at RM7mil just recently.
(Based on a per square foot rate, the going price now is RM1,200 psf, having gone progressively upwards from RM600 psf in 2010, RM800 psf in 2011 and RM1,000 psf in 2012. A typical pre-war house is about 12 to 14ft wide, and some 60ft in length.)
Not bad for a street that was once known for its cattle pens – to this day, older Penangites still call Chulia Street Gu Kan Tang, or the place where the Indians kept their cows.
The early settlers were mostly traders from Tanjore and Ramnand, both districts in Tamil Nadu, according to one book.
Chulia Street was one of the four main roads laid down by Captain Francis Light as part of his earliest development plan when he founded George Town, the other three streets being Beach Street, Light Street and Pitt Street.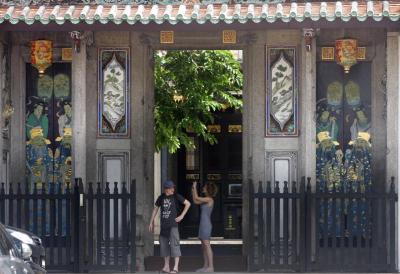 Popular site:
Tourists admiring the paintings on the front door of Han Jiang Ancestral Temple ( Teow Chew Association ) in Chulia Street.
Historians said it was named after the Indian kingdom of Chola or Chulias, as the inhabitants were known. It was earlier known as Malabar Street, after the Malabari Indians.
But Chulia Street has a personal meaning for me. At the age of 15, my father had to leave his home in Kuah, Langkawi Island, to work in Penang.
Wong Soon Cheong, now 88, had aspired to be a teacher, like some of his childhood friends in Langkawi. They had moved to Penang to study in the famous Chung Ling High School before joining the teaching profession. He too wanted to join them.
But his life was to take a different path.
His father, who had landed in Langkawi from Kochow, then a small agricultural place in Guandong, China, was too poor to help his son fulfil his dreams.
Instead, Wong Ah Fook told his son to leave the island to search for a job. It shattered my father's dream of becoming a teacher.
It is still a mystery as to why my grandfather began his life in this country as a farmer in Langkawi, presumably thinking he had arrived in Penang.
I hardly have any recollection of my peasant ancestor as my father has been reluctant to divulge any bits about him.
So my father arrived alone in George Town with just a bag and a shirt on his back. He found a job as an assistant in a hardware shop. He slept in the shop at night – it was either his boss' act of kindness or his way of exploiting him.
He had his share of ghost stories, including one eerie encounter with his boss shortly after the latter's death. But even after that, dad continued sleeping alone in the shop.
Wong Soon Cheong, who is fluent in Malay, with a thick northern accent, taught himself to read and write English while he improved his command of Chinese.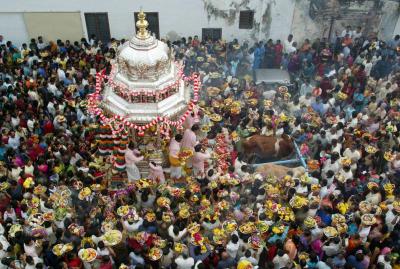 Major festival:
The crowd surrounding the silver chariot as it stops in Chulia Street Ghaut during Thaipusam.
Love blooms at Cheapside
He not only found a job in George Town but also found love. Just off Chulia Street, there was — and still exist — a lane called Cheapside. The lane is named after a street in London that links Newgate and the Bank tube station. Cheapside used to be meat market during the medieval times but is today known for being a flea market in modern London.
My mother, Yeoh Poh Choo, now 82, stayed with her parents and three sisters at a pre-war house which still exists today. The father owned a stall selling hardware at Cheapside.
My father took over the business from his father-in-law, Yeoh Boon Kee, not long after he married Poh Choo. He was 25 and my mum was only 18 years old then.
As Yeoh did not have a son, my father, his son-in-law, was the best person to run the business. The catch was he now had to financially support the entire in-laws, including Yeoh's wife Neoh Ah Lan.
It was a heavy burden as not long later, he had to take care of his own four sons, the additions to the family. He also had to take of his mother, Chow Ah Sam, who had come to Penang to join his son.
The house off Chulia Street was hardly the best place to grow up. The place was dirty, smelly and dusty. The people who stayed there were rough with many of the children swearing openly. Most fared badly in schools and ended up as stall hands, or as triad members.
It was very much a working class neighbourhood. There were no modern toilet facilities and the people had to use the bucket system. The night soil — or human waste — collectors were mostly Chinese immigrants and while they earned an honest living, the job was surely demeaning.
Ironically, despite the term "night soil", collection was done in the morning.
It may come as a shock to many but until the early 1980s, there were still some parts of Georgetown which had no flush toilet system.
I was lucky. The rubber boom, in the 1960s, saw a demand for rubber tapping knives and my father's financial status improved sharply. He bought a double-storey linked house in Jalan Kampung Melayu, Air Itam.
But I still spent a large part of my childhood in Chulia Street. There was the famous wantan mee stall at a coffee shop at the junction of Chulia Street and Carnarvon Lane. And after my father closed the hardware store in the evening, a hawker selling char hor fun or fried rice noodles would take over the area. Down the road, at Sky Hotel Coffee Shop, the best char siew (barbecued pork) and roast duck still taste as heavenly as they did 40 years ago.
The past lives on in the present
At night, one side of the road was transformed into a food haven and it was certainly a sight and smell to remember as the locals, backpackers and honking vehicles jostle their way through the narrow street.
In some strange ways, nothing much seems to have changed. The children of these hawkers have taken over the trade but their fathers, much older now, are still around to keep watch. Likewise, my brothers — Chun Sang, my eldest, and Chun Keong, my second brother, still run my father's hardware stall.
As with any old city, there is always a myriad of alleys and lanes connecting the main street. These lanes became my playground and allowed me to escape from my grandmother's watchful eyes.
Carnarvon Lane, or kam kong lai or "within the kampong" to the Hokkiens, is a road off Chulia Street leading to the Campbell Street market. There used to be a Malay village then, according to historical documents, which ran until Malay Street and Armenian Street but nobody would have imagined that today.
Chinese sundry shops still line the road with a thriving morning market but the shops are fast becoming a thing of the past as modern air-conditioned supermarkets take over these mom-and-pop joints.
As a child growing up there, I had to run errands for my mother buying condiments or ingredients for her cooking from these shopkeepers.
My childhood memory of breakfast in Penang is particularly strong in Carnarvon Lane. I could not resist the dim sum shop there where I bought my lor mai kai or steamed glutinous rice.
The street was named after the 4th Earl of Carnarvon, Henry Herbert. He was the Secretary of State for the Colonies, or simply the British Official in charge of the colonies from 1866 to 1867.
The town and county of Carnarvon were located in the principality of Wales. He was a prominent member of the Conservative Party and the Lieutenant of Ireland.
Another adjacent road is Chulia Street Ghaut — which was actually a reclaimed street leading to the shoreline. The narrow path was filled to enable people to have easier access to Weld Quay during the 19th century. It was also a landing spot for firewood supplies, thus the name "chha lo thau" or literally, firewood landing place, to the local Chinese.
Chulia Street has continued to keep its cosmopolitan and colourful flavour. From the early Indian settlers to the thousands of backpackers of the hippie days in the late 1960s and now the new property investors, it's never dull.
Readers write
I was in Gurney Drive, Penang, recently and came by Birch Road. My immediate reaction was to compare it with Birch Road in Kuala Lumpur which has since been renamed Jalan Maharajalela. Can you tell us about who this Birch is? – Klang Valley Penangite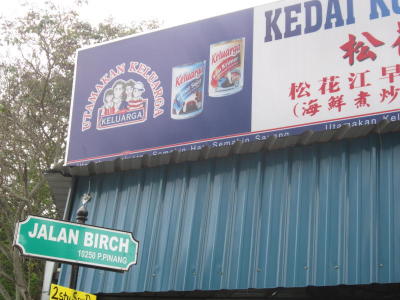 Chun Wai replies:
Interestingly enough, one reason Penang was awarded the Unesco Heritage status was that it managed to maintain much of its old road names, unlike in other parts of the country. Birch Road in Penang, according to my research, is named after James Kortright Birch, Resident Councillor of Penang from 1905 to 1906 who had, over various periods from March 1897, served as Acting Resident Councillor. The more famous Birch Road in Kuala Lumpur was named in honour of the popular Sir Ernest Woodford Birch and not the infamous first Resident of Perak, James Wheeler Woodford Birch, as many commentators had erroneously stated. The road has since been renamed Jalan Maharajalela after Dato' Maharajalela, the local Malay chief who was partially responsible for JWW Birch's assassination in 1875. That the road is now named Jalan Maharajalela may seem like poetic justice but Ernest Birch was actually a one-time Acting Resident of Selangor before becoming the eighth Resident of Perak (1905-1910).
If you have queries on the streets of Penang, or want to share your own snippets, email to mystory@thestar.com.my