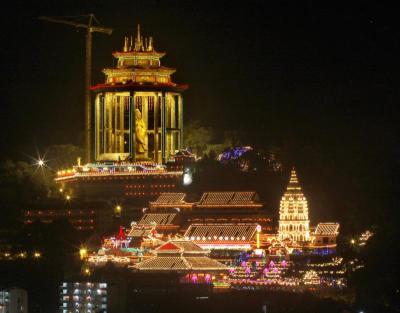 MENTION Air Itam and what comes to mind is the famed Kek Lok Si temple, the Penang Hill railway, the State Mosque or Masjid Negeri, nutmegs and laksa asam.
The Kek Lok Si has become even grander with its 30.2m-high bronze Goddess of Mercy statue, making it the largest Buddhist temple in the region.
The same cannot be said about Penang Hill, which has lost much of its ambience and even cool breeze, while the funicular railway breaks down too many times.
I was born at 89, King's Street in George Town, but was fortunate enough to grow up in a new 1960s suburb in Jalan Kampung Melayu, Air Itam.
My father, who made a small fortune from the rubber boom, bought a double-storey terrace house at the once leafy neighbourhood.There were plenty of swaying coconut trees and even rambutan trees, which grew in the compounds of our neighbours, for the plucking.
But the best part of my teenage years in Kampung Melayu was spending time at a river nearby which was abundant with peacock fish, or more precisely guppies, and also the occasional catfish or two.
Every Penangite is aware that the catfish that we love in our curries are the sea variety while those from the rivers tend to have a muddy taste.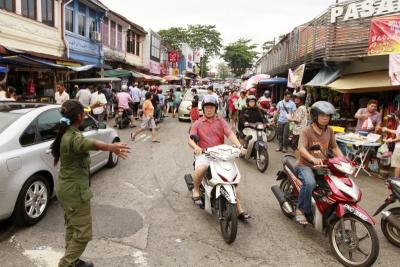 But for teenagers, hunting catfish in the river can be quite an adventure. All you needed was a stick with a pointed end and as you walk along the river, you look out for one in the nooks and crannies and take a stab at it. This was when the principle of refraction in water that we learned in Science class came in handy.
Of course, one had to be extra careful and watch out for snakes in the water.
Although Air Itam means black water, the tributary that ran through Kampung Melayu was clear and clean. My parents did not worry about me suffering from skin problems.
Although they feared that we would get bitten by snakes, they were just as excited to see what my brothers and I collected from the river.
My parents, now in their 80s, still live in the house they bought. The coconut and rambutan trees are gone though.
Dr Faridah Abdul Rashid, who wrote a book on Malay doctors in early Malaya and Singapore, said Kampung Melayu "is possibly the only British-created Malay reserve on Penang island, and which had survived till today".
Quoting local historian Abdur Razzaq Lubis, she wrote that in 1933, the Penang Malay Association (Persatuan Melayu Pulau Pinang) submitted a memorandum to the Colonial Office in London, for the creation of a Malay reserve in Air Itam.
"The memorandum was drafted by Dr Kamil Mohamed Arif, Captain Mohamad Nor Mohamad and Captain Syed Salleh Alsagoff. A piece of land in Air Hitam costing RM40,000 was purchased for the purpose and the settlement became known as Kampung Melayu, Air Itam, the one and only Malay reserve in the Straits Settlement."
But there are more historic gems. The mausoleum of Sheikh Omar Bashir is in Kampung Melayu but many, including residents, would not be aware of its location, let alone its signifance.
Nestled among some kampung houses, the mausoleum of Sheik Omar Basheer is a Moorish-style shrine with a white exterior.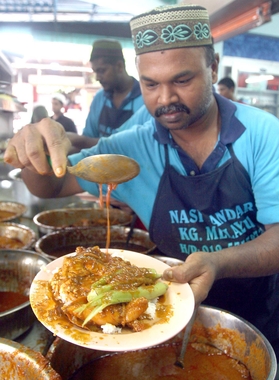 Sheik Omar Basheer Al-Khalidi was a highly regarded imam at the Acheen Street Mosque and trusted by the British during the famous Penang riot in 1867.
It had been written that the head of Malay families were made to swear in front of Sheik Omar Basheer that they did not support the secret societies of Hai San and Ghee Hin in 1867.
According to the Streets of George Town, he settled in Kampung Melayu at the invitation of his sufi disciple Syed Hassan Al-Haru, the founder of the original Air Itam mosque. Syed Hassan had inherited the land from his adopted father, who worked with Captain Francis Light.
Not far from Kampung Melayu are the foothills of Penang Hill, where Light set out the island's agriculture hub, growing vegetables, flowers, nutmeg and pepper.
In fact, Australian-based historian Marcus Langdon has even claimed that the first botanic garden was set up in the middle of Air Itam valley in 1794.
He said Irish botanist Christopher Smith set up a small garden on a 10.5ha plot in the valley, adding that Smith later set up another garden in Sungai Keluang in Bayan Lepas on a 158ha site.
Langdon, who specialises in Penang's early history under the East India Company from 1786 to 1858, said Smith chose Penang to be the nursery for thousands of nutmeg and clove plants brought in from the Molucca Island (Maluku Islands) in Indonesia over a six-year period.
"The responsibility of breaking the monopoly of the Dutch on the highly valuable nutmegs and cloves, as well as delivering a new source of revenue to the East India Company fell almost solely on Christopher Smith," he reportedly said.
According to reports on the Internet, the Maluku Islands, located between Sulawesi and New Guinea, were commonly referred to as Spice Islands and was once the only source of mace and nutmeg.
The Penang Botanic Gardens in Jalan Kebun Bunga were established in 1884 from an old quarry site under the supervision of Charles Curtis, who became its first superintendent.
Today, I still make it a point to visit my parents in Kampung Melayu, at least once every month, making my food pilgrimage to my favourite eating spots.
Topping the list has to be the country's best nasi kandar stall at the low-cost flats, the Teochew braised duck rice at the annex of the Air Itam wet market and, of course, the duck roll rice noodles or koay chiap at the Wah Meng café, near the Paya Terubong bridge, where the best coffee is served.
An elderly couple still sell curry mee, where the aroma-rich soup is kept boiling over hot charcoal, and their customers have to sit on stools.
At the Reservoir Garden-Air Itam road junction, where the Keat Seng coffeeshop still exists, I remember the char koay teow came with crab meat and bamboo mussels, besides prawns and cockles! Of course, no one cooks like this any more.
But there are plenty of historical facts that will be lost if we do not share them with the next generation. Near the market, opposite the police station, it used to be a tram stop. In 1906, trams connected the General Post Office in George Town and Air Itam, with eight cars operating.
The trams were replaced in 1935 by trolley buses, which operated through the war years until they were replaced by diesel buses, according to reports.
The late tycoon, Lim Goh Tong, had his earliest break when he was given a contract in the construction of the Ayer Itam dam, the first time where a local contractor was given a project of such magnitude.
The old Air Itam market area remains almost as it used to be decades ago with the vegetable sellers fighting any plans to move them away from this over-congested area.
Not bad for a small village that once consisted only of attap-roofed homes, which were razed to the ground in 1934 on Chinese New Year's Eve.
And as fate would have it, my wife is also from Air Itam. She grew up at a simple zinc-roofed home opposite the police station and going home for Chinese New Year, thankfully, has never been a difficult issue, as with many couples who come from different states.
Readers write
Reader Klang Boy emailed: "I often go to Padang Brown, where the food stalls, are located. The best popiah and Chinese-style pasembor, I swear, are there but can you shed some light on who is Brown? I also see a memorial there.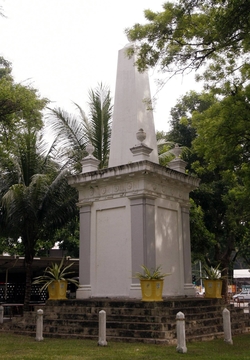 Chun Wai: To younger Penangites, the playing field opposite Convent Datuk Kramat is simply Padang Datuk Kramat, named after an ascetic of Tamil and possibly Acehnese origin, of the 18th century, according to history books. To the Chinese, the area is called kam mah hui or orange groves. But older Penangites call the field Padang Brown, after David Brown, who was a business partner of Captain Francis Light. The other partner was James Scott. Brown was a lawyer from Edinburgh before making his way to Penang. As the largest landowner in Penang in his time, he had property in Glugor. He was rich enough to donate his land for the construction of the Snake Temple and Sungai Glugor Mosque, according to Khoo Salma Nasution.
Reader George Loh said he is a regular visitor to Kimberley Street but has no idea who is this man.
Chun Wai: The road is named after the Earl of Kimberley, who was Secretary of State for the Colonies in the 1870s. In short, he was a very powerful British official. To the local Hokkiens, the road is called sua thow kay or Swatow, a port city in Guangdong, southern China. It is very much part of Chinatown with its predominantly Chinese working-class population. Some of the best street food can be found there.
Reader James Kay wants to know more about Macalister, after whom another road is named.
Chun Wai: The road is in honour of Colonel Norman Macalister, who was the Colonel Commander of the Artillery Department and a close friend of Captain Francis Light. Another influential British official, he went on to become a Governor of Penang from 1807 to 1811.