IT'S 11am at Kampung Simunul. The sprawling village on stilts, on the outskirts of Semporna, is the largest of the squatter colonies scattered around the coastline. It is usually a hive of activity but as I meandered through the maze of rickety walkways, I felt like I was walking through a ghost town.
I had taken a one-and-a-half hour journey by road from Lahad Datu to Semporna, a distance of some 140km. We passed by three road blocks manned by security officers along the way and the security presence was obvious as we saw three people being detained at one of the road blocks.
At Kg Simunul, most of its thousands of mainly Suluk settlers have disappeared, with their homes locked up and belongings removed to safer places. It was here that six intruders and six of our policemen were killed last Saturday in a fierce shootout.
A few of the villagers have stubbornly refused to leave, saying they cannot imagine themselves camping out in a school hall or community centre.
Depending on who you talk to, the figures vary as to the actual size of the village. Some say there are between 300 and 500 houses while others claim that the number is closer to a thousand.
This is home to the Suluks, who fled the southern Philippines in the 1970s, during the civil war in Mindanao. They had originally settled in refugee enclaves set up by the UNHCR but many have since become Malaysian citizens while a large number probably had no documents with them.
The water village has a reputation of harbouring bad hats, and the locals avoid entering the area. It is difficult to navigate through the maze of wooden boardwalks and it is likely that in the incident on March 5, our policemen were ambushed when they lost their way in this dangerous territory.
When I walked into Lorong 4 with my two colleagues, we felt like we were being stared at by hidden figures. An elderly man approached us and asked what we were doing there. He seemed a little friendlier when we said we were from the media.
"Do you want to see the bullet holes and the spots where the three gunmen were killed?" he offered, as a few men suddenly appeared to join us. I had to watch my step as one could easily fall into the water as the boardwalk had many gaping holes in them. The water below was filled with all sorts of rubbish and a horrible stench emanated from it. I could not help wondering how these people could live under such filthy conditions.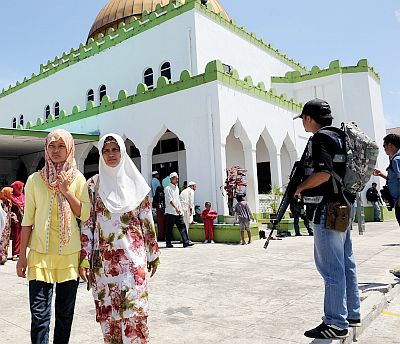 My thoughts drifted to the stilt villages off Weld Quay in Penang, which are generally clean, safe and properly maintained.
We had to take a detour to reach Lorong 5, where the fighting took place, because the village headman Ramli Saraman had ordered the boardwalk from Lorong 4 to be broken down as a symbolic gesture to show the "bad men" were from Lorong 5.
They showed us a home that was riddled with bullet holes, and pointed out the spots where three of the intruders were killed, and their bodies left untouched for three days.
One was on a boat, one on the walkway and another on the verandah of a home. The dried splattered blood, close to where the bodies were found, are still very visible. The bodies, which included that of a Filipino councillor of Pulau Sitangkai in the southern Philippines, were eventually removed for burial by the religious authorities.
But the superstitious villagers excused themselves when we walked towards the abandoned home where a policeman was beheaded, saying they did not want to go into that "house of evil."
We saw what appeared to be the remains of human tissue on the wooden entrance. The thought that two of our men in blue were beheaded while another had his eyes gouged out sent shivers down my spine.
I walked freely inside the house even as I thought of the horrible and cruel acts that were carried out by these heartless militants. I felt angry and sad at the same time, wondering how human beings could carry out such acts.
The television set had clear traces of blood, which horrified me. The walls of the home were adorned with family photographs, like most ordinary homes, except that something extraordinarily evil had taken place.
None of us wanted to stay any longer than necessary at that place.
As we walked out of the village, we came across a young boy who had come back to collect more of his belongings, saying the family was not ready to move back in.
The men we met said they feared more gunmen may come back, and they also worried about the repercussions from our security men.
They impressed upon us that they were just ordinary people trying to eke out a living in peaceful Malaysia but these militants had given the Suluks a bad name.
"Some Sabahans now look at us suspiciously when they know we are Suluks from this village. It's embarrassing," a restaurant worker said.
Ironically, the word "Semporna" is said to be from a Sanskrit word meaning "a place of rest" or "a journey completed" but for these Suluks, who fled from their homes, they know they are unlikely to get much sympathy from the Malaysians, especially when their countrymen still want to make a claim for Sabah.
Many Malaysians have long questioned the influx of these foreigners into Malaysia, especially into Sabah, and if we do not take a stronger, even harsher, stand against such easy entry into our country, we only have ourselves to blame when security threats arise.
Semporna is the gateway to Sipadan, one of the world's most beautiful diving spots, but it should never be a gateway for illegal immigrants.