Comedian-singer Hilmi Gimmick is able to bring the message of unity, love and peace in one evening more effectively than what our politicians can do in their lifetime.
HE calls himself by the stage name Hilmi Gimmick and while he is not a household name, he is a familiar face in the Klang Valley entertainment circuit.
Whether it is at a fund-raising concert or a dinner performance, this comedian-singer sure can hold his crowd, and has them cheering for more.
Now, what has made this entertainer so outstanding is that he is able to bring the message of unity, love and peace in one evening more effectively than what our politicians can do in their lifetime.
While racist talk, threats, rumour-mongering and outrageous claims seem to be dominating our political scene, here is someone who assures us that among us, ordinary Malaysians, there is still hope.
Hilmi was the main entertainer at the fund-raising dinner of the Emmanuel Methodist Church at the Yuk Chai school in Petaling Jaya last week. Although he is a Muslim, he told the audience that he has no problem performing at a church event.
Turning to the cameraman, he jokingly challenged him to upload the clips on YouTube, as he loudly proclaimed that those who make racist remarks should have their heads examined.
He certainly struck a chord among us when he said it was more important to think and do good. A good heart, he declared, is what matters the most.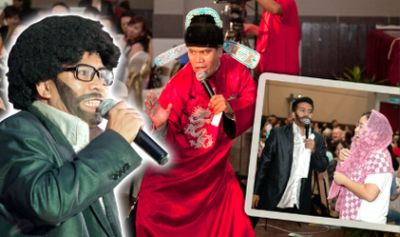 The 52-year-old, who hails from Kampung Datuk Keramat, Kuala Lumpur, always kicks off his performance with the popular Cantonese song, Friends, made popular by Hong Kong singer Alan Tam.
Hilmi's pronunciation isn't perfect but it's about 60% accurate. Certainly he can put many of the Penangites who still struggle with speaking Cantonese in Kuala Lumpur to shame. His voice isn't exactly Akademi Fantasia standard but it isn't bad. His strong point isn't his singing prowess but his ability to bring the house down.
He told his audience that Malay­sians, regardless of race, are all pang yeow, or friends in Cantonese, and that they should disregard all the disruptive noises from the politicians.
Later on, he donned a Chinese costume, very much like Justice Pao, complete with head gear, to sing the popular Cantonese folk song, On The General's Order, which has been adopted as the theme for the movies on Wong Fei Hong, the legendary kung fu master.
Captivated by his rendition of the classic Chinese song and mesmerised by the striking red flowing gown, the surprised audience was told that they should not look so stunned.
And he had all of us in stitches when he said, "From the head to my abdomen, I am a Chinese but from my pants downwards, I am a Malay. But I don't think there is a need for me to prove that to you."
Walking from table to table, he held the hands of the elderly, addressing them as "ah pa and ah ma" (father and mother) – as he extolled the importance of filial piety to his listeners, telling that such values cut across all racial lines.
It was at this point that one wondered why such an inspiring approach to life is not present in many of our lives. Instead, we have allowed divisive and pointless political talk, which only serves the selfish interest of the politicians, to take control.
As part of his repertoire, he next appeared on the stage impersonating Datuk David Arumugam, complete with a fake Afro and beard, and he kept saying "terima kasih" in the manner the Alleycats lead singer is famous for. And the audience joined in.
Saying thanks with a sincere heart certainly beats all the terima kasih tiruan that politicians dish out every so often, especially when they want your vote.
From the popular Malay tunes of the Penang pop group, Hilmi then switched to a combination of Tamil and Hindi songs.
And he brought Bollywood to the hall when he invited a female member of the audience to join him in a sing-and-dance routine. The Chinese girl was asked to put on a shawl to partially hide her face, in a modest way, "but not to the point of looking like a Taliban".
Well, Hilmi may be regarded as merely a singer and comedian but, seriously, having followed many of his shows, which are actually repeated acts to me, I have found him to be consistent and, more important, he is genuinely comfortable in a multiracial gathering. He interacts with his audience well and his repertoire of songs has endeared him to his audience.
If only our politicians could emulate half of what he has done, maybe we wouldn't be laughing so much at their political antics.
Malaysians want to hear more stories of unity after a bruising general election. It is time to heal and not to hurt further. It is time to show reconciliation, not retribution.