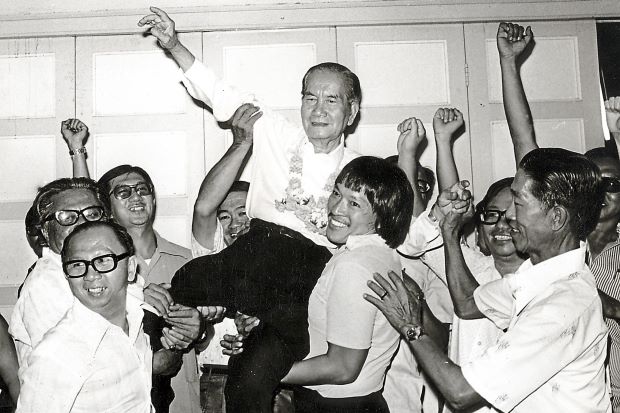 JALAN C.Y.CHOY
IF THERE is one thing that Penangites are noted for, it has to be their independent streak. Penang remains the only state that has voted out every single one of its chief ministers.
It started with its first chief minister, the late Wong Pow Nee of MCA, then the late Tun Dr Lim Chong Eu and his successor Tan Sri Dr Koh Tsu Koon, both of Gerakan.
The state has produced numerous outspoken opposition leaders activists and journalists.
But one person stands out above the rest — the late Choy Chee Yew, or popularly known as C.Y. Choy.
He was part of the Socialist Front and had the distinction of being the third and last mayor of George Town. It became a city by a royal charter granted by Queen Elizabeth II in 1957.
Historian Tan Kim Hong wrote in his research paper that in 1953, 16 intellectuals including D.S. Ramanathan, Tan Phock Kin, N. Patkunam, Lee Kok Liang, C.Y. Choy, Tan Chong Bee and V. Veerapan of the Fabian Society of Penang joined the Pan-Malayan Labour Party (PMLP).
"These professionals and teachers, all social democrats, moved to immerse themselves in politics, offering analyses, recommendations and political participation vastly different from those of the moderate trade unionists favoured by colonial officials.
"By early 1954, PMLP had come to resemble the British Labour Party, advocating gradual economic nationalisation and a welfare state."
Choy won a city election in 1964 as a candidate of the then Socialist Front but ceased as mayor when the Federal Government suspended local elections two years later as a result of the Indonesian Confrontation.
Today, a road has been rightly named after him but ironically by the Barisan Nasional state government under Dr Lim, who had faced Choy in many political battles.
According to a newspaper report, Choy, who worked as an office assistant, was such a populist figure that when he walked into the streets, the people came out to shake his hand.
The Socialist Front later disbanded after its partners, the Labour Party and Parti Sosialis Rakyat Malaya, went separate ways due to the political upheavals of that time.
Refusing to join any other party but still wanting to serve the city folk, he took part in the 1969 general election as a candidate contesting the Pengkalan Kota state seat and won easily.
He remained an assemblyman until his death in 1980 at the age of 73 and Bridge Street, the main thoroughfare of the constituency, was re-named Jalan C.Y. Choy.
Choy's symbol during his campaign was a set of keys. It was symbolic with independence as he won the seats under that banner.
The Pengkalan Kota constituency has always been a working class area.
His humble and down-to-earth approach reportedly endeared him to the voters.
Local historian and publisher historian Khoo Salma Nasution described Jalan C.Y. Choy as a former working-class quarter of the Hokkien community which once supported a triad society.
"The shophouses along the whole length of Bridge Street are strikingly regular – most were rebuilt in the late 19th century, replacing houses of wood and attap which had been repeatedly set on fire by the rival society."
Despite having no official position after the Socialist Front deregistered, he still commanded the support of his constituents.
He often went around the constituency, stopping at five-foot-ways with a typewriter to write petitions and letters to the authorities.
His mostly-illiterate voters called him 'the father of hawkers' and by 1974, Choy retained his seat with a 5,000 vote majority. By then, he was nearly 70 years old.
Jalan C.Y. Choy still remains very much a working class area, with its hawkers, traders and blue-collar community.
Every state assemblymen for Pengkalan Kota; from Teoh Teik Huat (DAP), Lim Kean Siew (MCA) and Lee Hack Teik (MCA) has all tried to emulate Choy's populist image.
They have all come and gone but none will be able to match Choy's legendary ways and legacy as the fighter of the downtrodden.