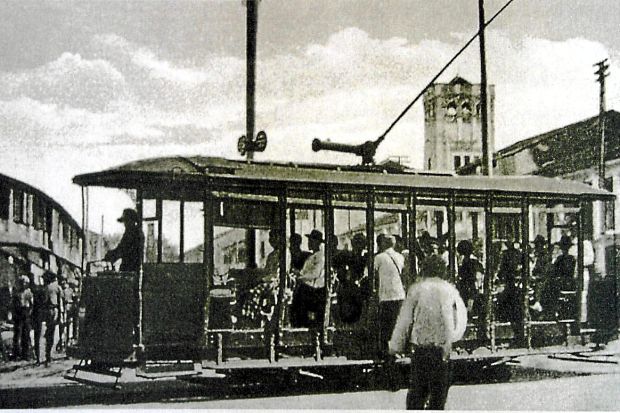 IT IS a fact that public transport is crying out for attention in Penang, as the roads get more jammed with cars, especially during weekends and long holiday breaks when just about everyone visits the island.
No one would recommend any tourist to wait for the public bus and taking a cab is not so easy either. Unlike in Kuala Lumpur where metered cabs are easily available, if you were to flag down a cab in Penang, chances are the driver will not use the meter.
Most Penangites prefer to use their own transport, which is probably one reason why vehicular traffic is high.
And many still use motorcycles, which are suited for short-distance travelling. To the surprise of many outsiders, most women in the state are able to ride the two-wheelers.
Yet, unknown to many young Penangites, the island used to have the best transport system in the country.
Public transport in George Town, especially at the turn of the century, was second to none. The state was the earliest to have tarred roads, electric trams, double-decker buses and cars.
There were also the man-pulled jinrikishas — which are not like the trishaws which are pedalled — and horses!
In fact, George Town was accorded city status on Jan 1, 1957 — the first in the country to be granted such a status. According to the book Old Glimpses of Penang, the first motorcar to make its appearance in Penang was recorded in the state's annual report of 1903.
It was reported that by the end of that year, there were 80km of roads used by 791 carrriages, 73 gharries, 3,185 public and 323 private jinkrishas, 679 bullock carts and 803 handcarts. Horses and bicycles made their appearances between 1896 and 1900.
The book described that Penangites owned four cars in 1904, but 10 years later, 174 were licensed by the municipal council.
Tram cars were first introduced in Penang in the 1880s when a businessman, one Mr Gardner, set up a steam-run tram service in the Air Itam and Waterfall roads.
"There were 11 cars on those routes in 1890 and the Penang Steam Tramways Co had its headquarters in Western Road," the book said.
By 1904, when electricity supply came, the trams were run on electricity and more routes were added. Two years later, a 4km route was introduced between George Town and Air Itam.
The tram lines can still be found in Penang Road in front of the Odeon Cinema while the Tramway Office was located in Jalan Tramway (renamed Jalan Trem), off Datuk Kramat Road.
There were many reports of accidents and the trams were described as unreliable with operators losing money from the business.
"Difficulties were encountered by the enterprise with declining receipts due to the economic slump in 1907-1908, and the destruction of a bridge in 1909. But by 1913, the trams were making a profit and continued to do so until the trade depression of 1922," wrote Ric Francis and Colin Rayney in Penang Trams, Trolley Buses and Railways.
Another means of transportation in town was the first regular private bus service which started as early as 1919. Unknown to most Malaysians, it has been recorded that the world's smallest trolley bus was founded in Penang.
The electric-run nine-seater buses were used as shuttle buses between the Lower Station on the Hill Railway to the Air Itam market.
In the 1970s to 1980s, most Penangites depended on the bus services operated by the municipal council. It had to compete against private operators such as Penang Yellow Bus, Lim Seng Seng, Sri Negara and the Hin Company.
They were easily identified by their colours. You would take the yellow bus to places such as Balik Pulau and Bayan Lepas, the green bus to Air Itam, the blue bus to the beaches and the plain-coloured municipal ones around town.
My colleague reminded me that when he was growing up in Jelutong, his aunt in Balik Pulau would regularly send vegetables and even live chickens via a friendly bus driver to their house at no cost.
Ridiculous as it may sound to many youngsters now, many of us then used to collect the colourful bus tickets as a hobby, as one would collect stamps.
There was always a conductor on board who would give you the ticket based on where you are going and occasionally an inspector will join the bus halfway to check that you had a ticket.
The bus was probably the most popular form of transport among students although we had to literally fight our way to get onto the buses daily.
Today, there are air-conditioned buses in Penang but it does not have the colour, nor the efficiency of the network back then. The times are a-changing and Penangites yearn for a proper mass rapid transit system to connect various parts of the island to the city centre.
But it is still a dream, even as development continues to increase the population density, and by extension, the number of cars on the roads.
Readers write
YOUR article brought back sweet memories. House No 28 in Nagore Road (the synagogue) and the three adjacent houses originally belonged to my maternal grandfather, – NgUng Eng.
* * * * *
In typical Penang Peranakan culture, the sons got a house each.The house No 28 was given to the eldest son, my tua ku (uncle). He must have sold the house very much earlier.All the children and grand children's lives revolved around house No 26.
Every school holidays we would pass time at No 26 where the household was dominated by our grandmother. Our grandfather passed away before I was born.
My mum was about 13 years old then. Our grandmother was a real dragon lady. Anybody causing any mischief would get a cubit (pinch) from her. I miss her a lot.
My parents, uncles and aunties would gamble away in the hall. Come tea-time everybody will stop their activities while the nyonya kuih man would drop by. He would be carrying laksa soup on a pole on his shoulder while balancing a tray of kuih on his head.
Since my grandmother passed away, the three houses owned by my uncles were sold.
Nagore Road evokes sweet memories of my childhood. We would peek inside the synagogue when we hear noises inside and without fail we would get a scolding from the elders.
– GK Pak Chan, Xavierian class of 1970
* * * * *
I truly appreciate your article on June 29 about Gottlieb Road, especially the photo of the Penang Chinese Girls' High School.
I happened to pass through this busy road with my grandson Michael Wong at the wheel.
He also drove me to Air Itam as it was few decades since I last went there.
I made a point to walk to the tortoise well, located half way to the Kek Lok Si Temple.
I was hoping to take the new furnicular train up Penang Hill but it did not materialise because the place, being a Saturday, was terribly congested with construction work in progress at the foot of the hill.
We also went to Gurney Drive, Esplanade and Padang Kota Lama. I wanted to savour the famous char koay teow at Kota Lama. But we had to abandon the idea because the queue was too long and I had to rush to catch the flight home to Subang at 5.30pm.
However, we did manage to enjoy tandoori chicken, naan and chicken briyani at Restoran Kapitan in Chulia Street.
– S.Ragunathan, Petaling Jaya
* * * * *
I wanted to let you know how much I enjoyed reading Penang's History, MyStory.
Your articles are nostalgic to me because I was in the police force in Bukit Mertajam from 1975 to December 1978.
I used to go to the Chemistry Dept in Jalan Tull and during the night, I would visit several cabarets, nightclubs and discos.
I wanted to point out in one of your articles where you said Seberang Prai was also called Prai. Seberang Prai is divided into Utara (Butterworth), Tengah (Bukit Mertajam) and Selatan (Nibong Tebal).
Prai was a small Indian settlement between Chai Leng Park and Sungai Prai estuary. I am now retired, aged 65 and residing in Damansara. – Anonymous