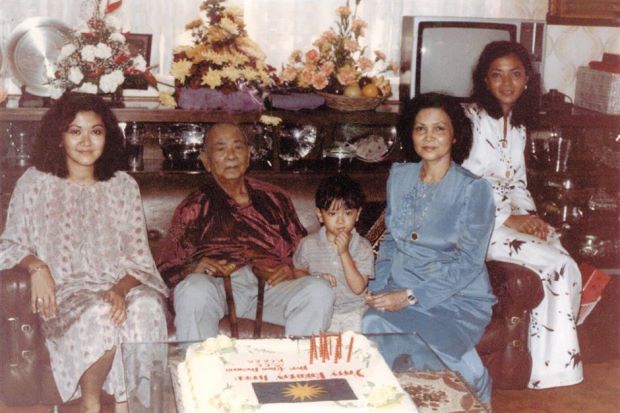 IT WOULD surely not be appropriate if a series on the streets of Penang and the origins of the names does not include the first Prime Minister of Malaysia Tunku Abdul Rahman – more so on National Day.
Tunku chose to retire in Penang and not the federal capital because he simply loved the island.
Although Tunku's royal line was from the Kedah Sultanate, his connection to Penang came early, when he was sent by his mother, back in 1916, to be educated at the Penang Free School.
Ayer Rajah Road has been aptly renamed Jalan Tunku Abdul Rahman because he lived his last years in that leafy, affluent neighbourhood.
The Tunku also had a bungalow along the beach front in Batu Feringghi.
The name Ayer Rajah was in reference to Teluk Ayer Rajah, a bay between George Town and Tanjung Tokong.
According to Penang writer Khoo Salma Nasution, by 1796, 10 years after Captain Francis Light founded Penang, over 2,000 acres of the area had been cleared.
As a rookie reporter in The Star's Penang office in 1980, I had my first meeting with the Tunku at this residence.
I cannot remember clearly the date but, accompanied by a senior reporter, I was totalling in awe of meeting a living legend up close and personal.
Here was the person I have read about not only in the newspapers but also in my school textbooks.
At that point in time, he was not just a former prime minister but also the chairman of the board of directors of The Star. But it wouldn't be right to say he was also my boss.
I was then waiting for my university entrance results. So my initial stint in The Star was short and only renewed four years later upon my graduation in 1984.
Meeting the Tunku became part of my regular beat.
I would head to the residence when he wanted to give a statement, or when he had visitors paying him a courtesy call. On such occasions, he would add value to the news reports by dispensing some advice, often on the need for moderation and for all the races to live together in harmony.
He had many visitors and they ranged from ordinary Malaysians to VVIPs.
Since some of the assignments were seen as having little news value, it was left to rookies like me to handle.
And the one message that came from him was simple, consistent and clear – all Malaysians must live in peace and harmony, and there's no room for political and religious extremism.
Tunku was a man of another era. He was open about his love for horses and his trips to the Penang Turf Club were well documented.
The Star certainly owes much of its initial success and growth to Tunku. His column, Looking Back, which began in 1974, was featured every Monday, and quickly gained popularity and a loyal following.
His recollections of the fight for freedom enabled Malaysians to gain first-hand insights into the struggles and challenges that took place.
He may not be a historian but as a direct participant in our nation's history, his writings were powerful.
Occasionally, I had to go to his house to collect his article, typed in huge letters by his secretary, owing to his diminishing eyesight.
He often used a magnifying glass to check the facts and spelling, before passing the articles to me.
Those were the days before the computer and the Internet.
As fate would have it, our two lives would inevitably be intertwined, no matter how minute, for a long time to come, and beyond his natural life.
In 2011 I wrote the foreword of the book, Looking Back – Monday Musings and Memories, which was a collection of his best columns.
The book was published by MPH Publishing and The Star.
The Tunku's association with The Star was so strong that many believe, to this day, that Star stands for Suara Tunku Abdul Rahman.
I wish it is true, but it isn't.
It was the paper's founder K.S. Choong who selected the name for the newspaper which made its debut on Sept 9 1971 which was long before the Tunku came on board as chairman. But such a link is fated and we are thankful.
I am also fortunate to work with th Tunku's grand daughter Sharifah Intan, a former deputy executive editor of The Star.
Sharifah's daughter, Sharyn, is now a columnist with this newspaper.
I count it a privilege to have his family member as my colleagues.
Tunku's cook, Salmiah Md Isa, who cooked for him for over 20 years, since she was 16 years old, is also a colleague at the Menara Star headquarters in Petaling Jaya.
She was originally hired as a nanny for Tunku's children in 1968 but took over as a cook in 1970 when he retired in Penang.
The official cook in Kuala Lumpur did not want to join him in Penang and the job was suddenly entrusted to Salmiah.
Some of Tunku's favourite dishes, she recalled, were ikan masin goreng, gulai Siam, kailan goreng belacan and, of course, curry, particularly fish curry.
Thanks to Salmiah, invited guests to The Star still get to enjoy some of Tunku's favourites.
Tunku was a simple man who did not care about protocol.
He would sometimes go marketing at the Pulau Tikus market, located not far from his home, by himself.
He even dropped by a few times at my father's roadside hardware stall in Cheapside, Chulia Street, instead of the many shops in the area which were more comfortable.
He told his bodyguard that he liked my father, who was born in Langkawi, because my dad could speak impeccable Malay with a Kedah accent.
I remember seeing the Tunku at his stall often when I was a boy.
As the nation celebrates National Day today, I must count my blessings to have been given the opportunity and honour of having met this great man.