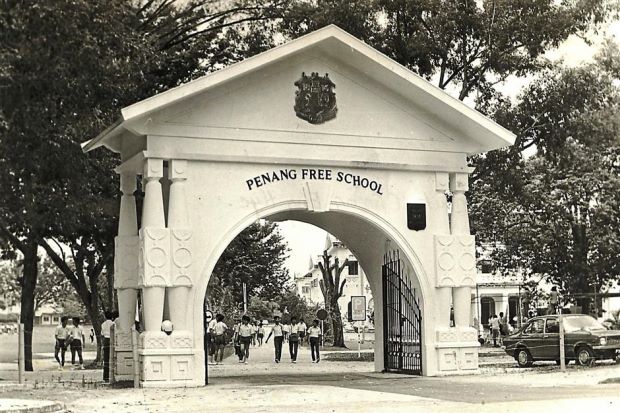 HAJI S.M. Zainul Abidin, of which Jalan Zainal Abidin is named after, was no ordinary Malaysian. He was a teacher, politician, community writer and author.
Besides Jalan Yahudi, which has been renamed Jalan Zainal Abidin, a school in Hamilton Road and a block of flats in Jalan Perak have also been named in honour of him.
Jalan Zainal Abidin is a minor road in George Town, which runs from Macalister Road to Burmah Road and is parallel to Madras Lane and Lorong Selamat.
Zainul was an old boy of the Penang Free School (PFS) and had his education there until Senior Cambridge, which was a high achievement at that time.
As head prefect for two years, Zainul was awarded the Medal of Merit by his principal Ralph Henry Pinhorn. In 1918, the then school head Harold Robinson Cheeseman offered him a job as a school teacher at PFS.
Pinhorn, with the colour blue, is one of the school houses at PFS. A road nearby the school is named after him. The current Chief Minister lives on that road.
Zainul went on to teach at that premier school for 20 years. He was actively involved in promoting cricket, football and judo. He was also a scouter.
He taught geography, literature and even Latin and French, two languages which were offered to the students then.
Not satisfied with his academic achievement, Zainul went on to enrol in an off-campus course, where he became the first Malay to receive a Bachelor of Arts external degree from the University of London in 1933. By then, he already had six children.
The best known son, at least, to those of us in our 50s, has to be the late Datuk Zainal Alam, who was a senior RTM broadcaster. However, he was better known as an entertainer, singer and stand-up comedian.
The multi-lingual legend also wrote the country's first Undilah song to encourage the people to vote in the 1955 election campaign. He was also the ring announcer for the Muhammad Ali-Joe Bugner boxing match at Stadium Merdeka in 1975.
There are also other well-known personalities linked to the family. Zainul Abidin's youngest sister, Shaharom Bee was married to S. Mohamed Ismail who set up Ismalia Bakery (now renamed Maliia Bakery) on Transfer Road.
The bakery is an institution in Penang known for its roti benggali.
By most accounts, roti benggali is actually a misnomer derived from two Tamil words: roti (bread) and penggalis (sharecroppers). It is said that Penangites in the early years of the 20th century mistook penggalis for Bengali and the name stuck, until today.
The most famous son of the bakery owner has to be former Court of Appeals judge Datuk Shaik Daud Ismail.
But it was Zainul Abidin's active involvement in politics that earned him national prominence.
At the Umno Malaya meeting in Penang on April 24, 1948, he was elected as the permanent chairman of the party. The meeting was chaired by the late Datuk Onn Jaafar at the Francis Light School, of which Zainul Abidin was then headmaster.
In 1955, Zainul Abidin's first foray into Federal Elections started when Tunku Abdul Rahman picked him to contest the Barat Daya seat in Penang, where he polled 14,865 votes against independent Isa Sulaiman with 2,925 votes. The MCA candidate Chee Swee Ee, who was challenged by two others, won the Timur Laut seat with 7,253 votes.
His place in history has been correctly recognised with a road named after him, where he and his family actually lived.
Zainul Abidin passed away peacefully on Dec 8, 1969. His place in Penang and national history must be remembered.
His fifth son, Datuk Zainul Aziz, has put together a book in Bahasa Malaysia titled Pengkisahan Riwayat Hidup Haji S.M. Zainul Abidin to record the family history and more importantly, the contributions of his late father.
This writer, who earlier wrote about the origins of the Jews in Penang and how the road was named Jalan Yahudi (The Star, July 6), had wrongly attributed Jalan Zainal Abidin to the late Za'aba, one of the most respected Malaysian writers and Malay language experts, whose real name was Zainal Abidin Ahmad.
The Penang government should consider using the correct spelling of Zainul Abidin for the road to prevent future misunderstanding.