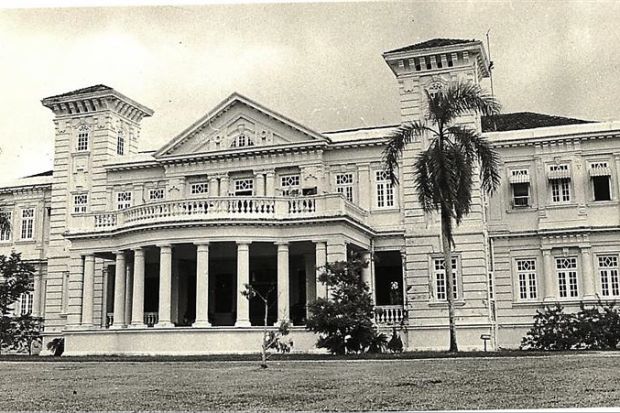 A SERIES on the roads of Penang would not be complete, even considered unjust, without the mention of Jalan Yeap Chor Ee.
Yeap was known as The Grand Old Man of Penang.
His was a classic story of an immigrant who came from China penniless but worked hard to become one of the richest men in Penang of his time.
Stories of what we termed as Old Money would eventually become a memory of the past.
Yeap Chor Ee was a businessman, philanthropist, banker, commodity dealer, land owner, community leader and educationist.
In short, he had his fingers everywhere.
According to a report, he arrived in Penang, off a boat from Nan An, Fujian, China at the mere age of 17, with "little money and big dreams."
He started his life in George Town, then a bustling port city, as a barber's assistant.
Older Penangites, in their 80s, still recall his nickname as Thi Thau Ee or Barber Ee.
He was supposedly quite deft with his hands and plaiting the pony tails or towchang of the Chinese immigrants was a specialty.
After five years, the entrepreneur in him saw Yeap working his way up to start his own provisions shop – which he named Ban Hin Lee or a "ten thousand flourishing profits" – at the age of 24.
His business grew from sugar trading to other commodities including rubber, rice, tin, tapioca and coconut oil.
According to one report, it was his association with Java's sugar king, Oei Tiong Ham, that led him to eventually control a significant share of Malaya's sugar market.
As a natural fit to his trading business, Yeap set up a financing arm in 1918.
By 1935, the business had grown so big that he incorporated the Ban Hin Lee Bank – the state's first home grown bank, with its headquarters at Beach Street, the financial district of Penang.
Until today, he remains the only individual in peninsular Malaysia and Singapore to single-handedly fund the setting up of a bank.
He married a local girl, Lee Cheng Kin, and they had two sons, Datuk Yeap Hock Hoe and Yeap Hock Hin.
Everyone in Penang knew where they stayed, an elegant mansion called Homestead – at 54, Northam Road – on what was then known as the Millionaires' Row.
Northam Road, which is called Ang More Lor (White Men's Road), has been renamed as Jalan Sultan Ahmad Shah and many of the mansions that belonged to the millionaires back then still stand, although some are now used for commercial purposes.
The area has seen much development over the years, with high-rise buildings coming up, which has taken away much of the grandeur of the past.
Despite his lack of education, Yeap understood the importance of teaching the young to read and write.
He supported institutions and set up several charitable trusts just before his death in 1952 at the age of 85.
By then he was known as The Grand Old Man of Penang.
Today, Homestead has been donated to the Wawasan Education Foundation, which has led to the setting up of the Wawasan Open University, the country's first private non-profit university.
Of course, the Yeap family also owns other properties in the state, including a row of nine shoplots in Penang Street and King Street which have since been converted into the Yeap Chor Ee memorial museum stretching from Penang Street to King Street.
The museum showcases, among others, photographs of the interior decoration of the historical Homestead.
Interestingly enough, the road named after Yeap is nowhere near his points of greatest influence within George Town itself, be it near his residence or the bank he set up.
Instead, Jalan Yeap Chor Ee, named in honour of this great man, is on the other side of the island.
The road connects Green Lane, now called Jalan Masjid Negeri, to Jalan Bukit Gambir and Jalan Lembah.
This quiet neighbourhood link road has since become quite a busy road as traffic continues to grow on this part of the island.
On a personal side, my wife, Teh Tsui Ling, worked at the Ban Hin Lee bank headquarters in Beach Street for 11 years.
She was introduced to me by a colleague, senior editor Lim Cheng Hoe, who used to work with her at the bank.
The first time I saw her was at the nearby Komtar food court.
My wife continued working with the bank at its Petaling Jaya and Kuala Lumpur branch when we moved down to the Klang Valley after we got married.
Ban Hin Lee Bank merged with Southern Bank in 2000 before SBB was taken over by CIMB in 2006.
Many who worked with the original Ban Hin Lee Bank have fond memories of its very personal approach to banking in line with its founder's philosophy.
Officers recall visiting clients, many of whom have rags-to-riches stories like Yeap, at a very personal level over a cup of coffee to accompany them to the bank, carrying huge sums of money in paper bags.
Another interesting snippet about the bank's headquarters, which is now a heritage building, is that it housed the office of the first Chief Minister of Penang, the late Tan Sri Wong Pow Nee.
For visitors entering Penang via the ferry, this iconic building is one of the first they see as the ferry heads towards the island.
My connection to the Yeap family took an interesting turn recently when The Star refurbished its Penang Star office building in Pitt Street, now called Jalan Masjid Kapitan Keling.
The 107-year-old heritage building, where I first started work as a rookie reporter, is now home to the Penang Philharmonic Orchestra, comprising the most talented musicians in the state.
And the chairman of the PPO is Datin Seri Irene Yeap, an architect by training, who is the wife of Datuk Seri Stephen Yeap Leong Huat, Yeap's eldest grandson.
The story of Yeap Chor Ee and his legacy will live on forever in Penang, deservingly for sure.