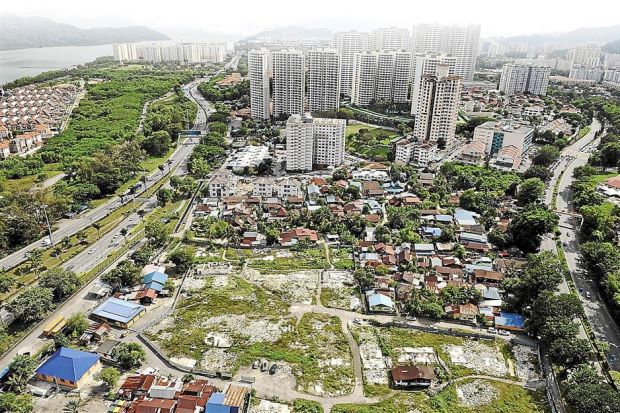 ANYONE driving towards the Bayan Lepas International Airport is unlikely to miss the Batu Uban village but most of us would probably not even give it a second look.
But Batu Uban is a treasure trove of history with possibly one of the best stories to tell of early Penang.
The traditional Malay village is regarded as one of the earliest settlements in Penang before the arrival of Captain Francis Light.
It is also the home of the state's oldest mosque, Masjid Jamek Batu Uban, built in 1734.
The mosque is said to have begun as a surau, or prayer hall, erected by Haji Mohammed Saleh, popularly known as Nakhoda nan Intan bin Tuanku Patis nan Sabatang, a Muslim leader from Kampung Bodi in Payakumbuh, West Sumatra.
Kampung Bodi, Pagaruyung and Sungai Tarab are reportedly in the Minangkabau province and are associated with early Penang and Batu Uban.
Haji Mohammed Saleh and his followers arrived in Penang, which was then still densely covered in jungle, and built a settlement by the coast, to be inhabited mostly by fishermen.
It was named Batu Uban, meaning "grey hair rock", after a sea boulder in the vicinity which had some dried grass clinging onto it, which seemed to resemble white hair.
But Batu Uban was founded by a Minangkabau trader-warrior, Datuk Jenaton Raha Labu, who had business interests on both sides of the Straits of Malacca.
In return for having thwarted a Siamese invasion, the then ruler of Kedah, Sultan Muhammad Jiwa Zainal Abidin, granted Jenaton a one-hundred acre site in Batu Uban.
Jenaton and his 90-odd followers from Batu Bara in North Sumatra, cultivated land in what is now known as Bukit Batu Uban.
This is where Minden is now, the site of the Universiti Sains Malaysia (USM).
In June 2013, more than 200 descendants of Jenaton flew in from different parts of the country and Indonesia to attend the sixth Jenaton family gathering in Penang.
The event brought together members of six generations of the Jenaton family, with some coming from the original hometown of Batu Bara.
Jenaton, who was a trader and plantation owner, had three wives and six children. His descendants now number more than 5,000.
Datuk Jenaton Family Gathering committee head Abdul Halim Ahmad said the event had been held every few years since 2002 to commemorate Jenaton, and to give his descendants a chance to mingle and get to know the extended family, the newest additions and the latest updates.
According to Dr Ahmad Murad Merican, a sixth-generation member of the family, the family lineage started from Pagar Ruyong and Bukit Tinggi in Indonesia.
"Jenaton was a Minangkabau court prince and a chieftain in Batu Bara, Sumatra, before leaving for Penang in early 1749," he said, adding that prior to that, Jenaton frequently travelled between Penang, Kedah and Batu Bara for trading activities.
Dr Ahmad Murad said Jenaton can be counted as one of the earliest settlers in Penang after being awarded the land by the Sultan of Kedah.
"The land was a gift from the Sultan for Jenaton's help in strategising Kedah's war against the Achenese and the Bugis back then," he said.
The Star quoted Dr Ahmad as saying that the land encompassed Batu Uban, Minden Heights and Bukit Gelugor, where Jenaton ventured into farming and trading by planting coconuts and sugar cane.
As a committee member of the Penang Malay History and Heritage Society (Pewa­ris), Dr Ahmad also spoke about latest developments tied to the Jenaton family.
"We have written a letter to the Penang Islamic Religious Council (MAIPP) to allow us to preserve Jenaton's burial site in Persiaran Changkat Minden as a heritage site," he said.
The Jenaton family history is closely linked to our nation's history with notable descendants such as brothers Aziz and Yusof Ishak, who founded Utusan Melayu in 1939.
Yusof was also the first president of Singapore while his other brother Rahim served as Singapore's Minister of State under Lee Kuan Yew. Rahim was also ambassador to Indonesia.
Other notable descendants are the late Supreme Court (now Federal Court) judge Tan Sri Wan Sulaiman Pawanteh and the distinguished career diplomat Tan Sri Razali Ismail.
Razali made an impact at the United Nations when he headed the Malaysian delegation in 1989 and 1990 during which time he also served as chairman of the UN Security Council. From 1996 to 1997, he became the president of the United Nations General Assembly.
The Batu Uban of today is also the site of a number of high-rise residential properties such as Sunny Ville, Villa Sri Kenanga, E-Park and N-Park.
And as Dr Murad correctly said the "village is now squeezed by land reclamation and the coastal highway, and the construction of apartments and condominiums. No one cares about history and heritage unless it has commercial value."
But the story of Batu Uban must be remembered and recognised so that the legacy of Jenaton and the others who settled and built up the vibrant coastal settlement is recognised and honoured.