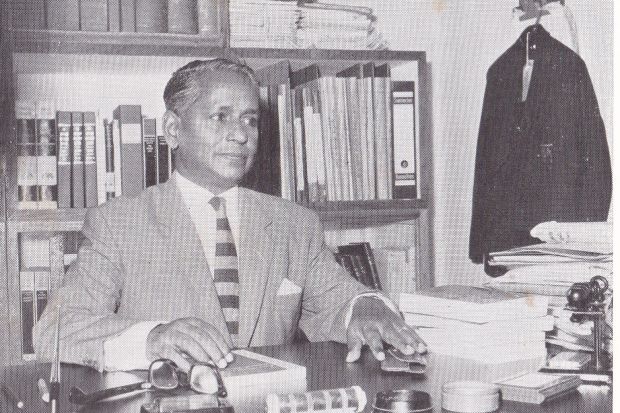 PENANG, or more specifically George Town, still does not have a mayor or Datuk Bandar although it has long attained the status of a recognised city.
Many towns in Malaysia are eager to seek city status and have to work hard to meet the requirements and standards.
Ironically, there are also those which have attained city status but in reality, are not functioning as cities, in the eyes of many.
Back in 1956, George Town had become the first municipality in the Federation of Malaya to have a fully elected council, with G.H. Goh from the Alliance comprising Umno, MCA and MIC as its first president.
More importantly, on Jan 1, 1957, George Town became a city by a royal charter granted by Her Majesty Queen Elizabeth II.
George Town, in other words, was the first town in the Federation of Malaya to be elevated to a city, and the only city in Malaya/Malaysia until Kuala Lumpur was granted city status in 1972.
The first mayor of George Town was councillor D.S. Ramanathan from the Labour Party of Malaya.
The former teacher, who began his career in Perak, was the president of the National Union of Teachers from 1959 to 1962 as well as vice-president of the Malayan Teachers National Congress from 1961-1962.
During that period, he was also an active member of the National Joint Council of Teachers.
But it was his involvement in politics that Ramanathan made his mark in the state's historical landscape.
He was a founder member of the Pan Malayan Labour Party and was its first chairman.
Politics at the local level was very vibrant back then.
The people at that time elected over 3,000 representatives to head 37 town councils, 37 town boards, 289 local councils and seven district councils.
George Town was said to be the richest local council with reserves totalling $6.037mil.
Local elections were suspended in 1964 because of the Indonesian Confrontation.
Ramanathan was popular and was elected the mayor of George Town for two terms – 1958 and 1959.
According to a report in The Star by Neil Khor and Khaldun Malik, after elections were suspended, "Ramanathan accused his local council colleagues of corruption and mismanagement" leading to the formation of the Athi Nahappan Commission to study the alleged corruption and inefficiency of local government in Malaysia.
Despite his socialist inclinations and fiery image, Ramanathan was a dedicated Methodist.
After finishing his term as mayor, he was appointed as the headmaster of the Penang Pykett Methodist School.
The appointment by the Annual Conference of the Malayan Methodists was reported in the Straits Times issue of Dec 15, 1959.
Ramanathan, who passed away in 1973, was married to Ruth Vanniasingham, who now lives in Kuala Lumpur.
But her family members declined The Star's request for an interview.
Hailing from a prominent Jaffna- Tamil family, her father, Kanagasa-bapathy Vanniasingham founded the Tamil Methodist Church in Penang.
According to reports, Ruth was the first person in Penang to obtain the Licentiate of the Trinity College of Music in 1936.
She initially taught Penang's renowned pianist Dennis Lee before he went to the United Kingdom.
Scott Road, a small road off Air Rajah Road, has been renamed in honour of Ramanathan.
Scott Road is said to have been named after James Scott, who was a partner of Francis Light.
The land on which the then Scott Road passes through was formerly the Ayer Rajah Estate which belonged to the Brown Family, which has close ties with the Scotts, according to reports.
Although Ramanathan has been described as "an erstwhile socialist challenging the colonial and federal authorities for the most downtrodden people in the country, and stood side by side with Lim Kean Siew and other socialists" the politicking from within the ranks made him quit the socialist platform.
With various allegations hurled against him, Ramanathan resigned from the LPM to become an independent councillor and subsequently an Alliance councillor, representing the MIC.
Not surprisingly, the Left has not spoken highly of him, and has refused to accord him the kind of respect given to other socialist comrades.
When Scott Road was renamed in his honour, it sparked off controversy and the road sign was defaced on numerous occasions.
One reader wrote in to The Star, at the height of the controversy, to say that if any road should be renamed in his honour, it should be Pykett Road, since he was the headmaster of the school there.
Some said the residents, who are mostly affluent, did not like being linked to someone with a socialist background.
Others claim the controversy was ignited by his former socialist comrades.
But a compromise seems to have been struck, ending the standoff, with the city authorities putting both the names of Ramanathan and Scott on the roadsign now.
As a student, then in my secondary years, I spent a fair bit of time playing football with my school mates at the open field at the then Scott Road.
Although I lived in Ayer Itam, which was far away from the area, it did not stop me from cycling all the way to Scott Road, where many of my friends were living nearby in Pulau Tikus for our games.
My years as a Boy Scout also led me to spend my time there, carrying out my patrol (or team) activities there.
While his politics were contentious, Ramanathan has surely left his mark as a school principal with many of his former students posting fond memories of him on the Internet.
In fact, he was also credited for his pioneering efforts to set up a university in Penang.
The idea of a university in Penang was first mooted by him in 1959 in the State Assembly and later crystalised when he was nominated chairman of the Penang University Project committee.
The Universiti Sains Malaysia opened in 1969 and is today one of the leading tertiary institutions of learning in Malaysia.
Ramanathan will certainly be remembered for his contributions as a mayor, politician, teacher, unionist and educationist.