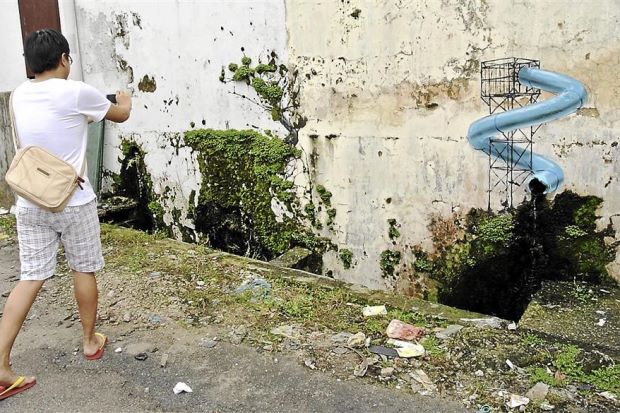 Many of us have no clue how to deal with the explosion of ideas in various platforms – whether it's just graffiti on a wall or on social media.
IF there's a prize for over-reaction, then the winner has to be the Johor Baru City Council for removing artist Ernest Zacharevic's artwork with a coat of whitewash. Well, for many Malaysians, it is a whitewash for sure.
The graffiti artwork, deemed offensive at least in the eyes of the council, showed a character holding a knife and apparently waiting to attack a female victim.
Most of us would have just chuckled at the drawing, nothing more than that. But to the super-sensitive council and some politicians, the cartoons have the potential to trigger off an alarm, resulting in panic-stricken tourists staying away from Johor.
It's unbelievable but nothing here surprises us any more. We would have expected our authorities to worry about real life robbers – and not a cartoon character on a wall.
But that was precisely what has happened. There are thousands of stencil-sprayed illegal advertisements offering "volcano massage" and "honey massage", with mobile phone numbers provided, but I do not see the same kind of zeal being displayed.
We all know that such illegal advertisements cannot just be about simple massages to rejuvenate tired bodies. These clandestine services are mostly likely to be the kind that will make you more exhausted once the explosion of the volcanic massage is over.
Well, from a warped angle, maybe such graffiti are welcomed in Johor because it may actually attract tourists.
But the two cartoons by Lithuanian-born artist Ernest Zacharevic has thrown the council into a frenzy as its workers quickly whitewashed the wall, just because one or two politicians are worried that it would tarnish Johor's image.
Well, with the news being spread around the globe, including by major media like BBC and The Jakarta Post, one wonders how the state's image will actually be affected.
The reality is that many Malaysians have the perception that Johor has a problem dealing with crime. Whether the graffiti work is there or not will not make any difference.
Almost every single one of my colleagues who has been transferred to Johor Baru from Kuala Lumpur and other states have fallen victim to crime after reporting for duty. But in all fairness, crime happens everywhere and in every state, not just Johor.
Johor politicians also get defensive and all riled up when Singapore leaders tell us that we have a problem with crime.
Malaysians seem to have developed the way they respond into an art form – just call the Singaporeans by all sorts of names each time a controversy breaks out. If only we spend more time looking at ourselves and our problems, in an honest way.
None of us will believe that Singaporeans will stay away from Johor despite its noto­rious image because they need to fill up their tanks with subsidised petrol and also buy cheap food items, including our subsidised sugar and other price-controlled items.
Neither will Singaporeans stop buying our landed property in Johor, with the graffiti artwork or not, because our homes are dirt cheap when they use their strong Singapore dollar to snap up our properties. The reality is Johor is heaven compared with their cramped HDB pigeon holes in Jurong.
Our politicians and authorities really need to grow up. What is perceived as sensitive, in the eyes and minds of older people, has been greatly reduced in the digital age.
Many of us have no clue how to deal with the explosion of ideas in various platforms – whether it's just graffiti on a wall or on social media.
The council may have cleaned up the wall but they won't have the resources to "whitewash" the thousands of more creative and even hard-hitting parody that has sprung up all over Facebook.
And this time, with a vengeance, because national leaders get dragged in as well by angry Netizens.
It's simply getting harder to censor anything now. You can force CD distributors to clean up certain offensive words from rap but you cannot stop young people from watching the full unedited version on YouTube.
Come on, let's get real. How many of our schoolgoing children have watched Miley Cyrus in the nude in her video "Wrecking Ball" on YouTube, again and again. At least 300 million people, including our kids, are watching it in their room, while mum and dad think they are studying hard for the SPM. Well, it's possible mum and dad are watching her twerking too.
The point I am making is that instead of wanting the graffiti to go away by simply whitewashing it, the issue has now snowballed into a national controversy.
The days of talking down to the people are over. Politicians can no longer tell the masses what to do, and what not to do. And they are probably living in dreamland if they expect the people to be grateful for their advice.
And if Malaysians are expected to believe that two cartoon characters can drive away tourists, then we simply have real life cartoon characters at the Johor Baru City Council.