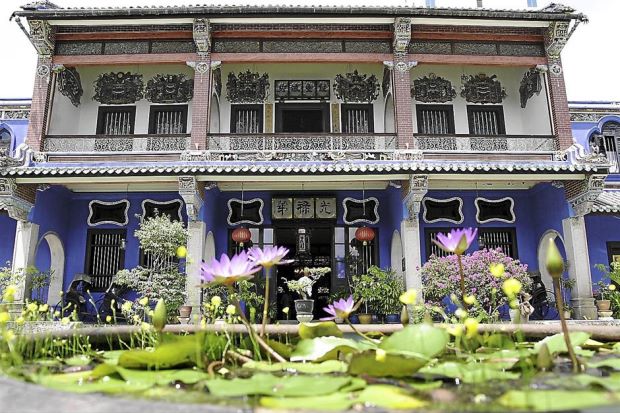 From harbouring revolutionaries to founding schools, Cheong Fatt Tze made his mark on history.
THE Cheong Fatt Tze mansion sits opposite my alma mater, the St Xavier's Institution.
For more than 10 years, I had to walk past the building every time I went to school and I never knew about its historical significance.
Neither did anyone tell me about its once legendary owner.
It was never in the history books that I had to study in school.
None of the school teachers even mentioned him. They probably did not know too.
No one taught me that Cheong built the first Chinese school in South-East Asia in Penang and that it was the first such school – sanctioned by the Qing Dynasty, complete with royal seals – outside China.
Neither could I find in my textbook that Cheong Fatt Tze – despite being a highly decorated official of the Manchu imperial palace – also secretly financed the work of Dr Sun Yat Sen, the Father of Modern China, who was in exile in Penang, presumably because he was disgusted with the corrupt practices of the palace.
But it's better late than never.
Thanks to the Unesco World Heritage status accorded on Georgetown, Penang, in 2008, there is now a revival in the state for its glorious legacy and a desire to find out more about the early fathers of Penang who built the state to what it is today.
The Cheong Fatt Tze Mansion, located at Leith Street, has become a must-stop for tourists.
But for a long time, it was rundown and almost derelict.
It was never the Blue Mansion, as it is dubbed today, when I was a student at the SXI.
In fact, it looked haunted and most of us, worried by its imposing but frightening look, stayed away.
We instead remembered the state's first real disco called Unit One, located at the basement of a hotel, just behind the mansion.
The other hotel next door used to bring in Thailand's "tiger shows," which essentially showed women performing various sexual acts in a somewhat acrobatic manner.
As students in a school located in an entertainment area and near a beach front, we certainly had the best exposure to the real world.
I can bet that most students in other states never had such experiences. Well, we grew up faster for sure.
But for me, the real education of Cheong Fatt Tze only came in my adult years.
Penangites surely need to know one of the most influential personalities of the 20th century in old Malaya better, now that they appreciate the true value of the protected heritage building.
He was born in 1840 in Dabu, Guangdong Province in China, where he grew up working as a cowherd in a backward, poverty-stricken Hakka village.
It was a time when civil war had broken out in China.
Like many, Cheong Fatt Tze migrated to South-East Asia, hopeful for a change in fortune.
He started as a water-carrier and then became a shopkeeper in Jakarta, Indonesia.
After his marriage, he started a trading company with the help of his father-in-law.
Through hard work and perseverance, he soon expanded his business to Medan, the nearest Indonesian city to Penang, where he traded agricultural products such as rubber, coffee and tea. Soon after, he bought a bank.
In 1886, he expanded to Penang and ran a lucrative business with the three ships he owned which plied between Penang and Medan.
The Chinese community in both towns to this day use identical hokkien.
Dubbed the "Rockefeller of the East", he occasionally resided in Penang, so it made sense for him to own the mansion in Leith Street, which has 38 rooms, five granite-paved courtyards, seven staircases and 220 windows. It even had horse stables.
He also built a row of houses opposite the mansion for his army of servants.
The mansion has won several awards, including Unesco's "Most Excellent" Heritage Conservation Award in 2000.
It has also been used as a location for various films.
In 1890, in recognition of his hard work and contributions, Cheong was appointed the Chinese Consul, to be based in Penang.
He was accorded the status of a first class Mandarin by the Manchu government and also served as economic advisor to the Empress Dowager.
According to reports, in 1899, he was summoned to China twice by the Emperor of China, where he was asked to present a national development plan.
He was subsequently appointed Minister for Agriculture, Industries, Roads and Mines for the provinces of Fujian and Guangdong.
But he also contributed much to Penang.
In 1904, he established the first Chinese school in Southeast Asia, the Chung Hwa Confucian School in Penang, which was founded in 1904, and has today become a premier school in the state.
It is now located at Green Lane, now called Jalan Masjid Negeri.
It is the only overseas Chinese school to be sanctioned by the Qing Dynasty Government of China then, which officially presented it with royal seals bearing the school's name through its consulate because of its founder, Cheong Fatt Tze.
The original site of the Chung Hwa school was at the Penang Chinese Town Hall – opposite The Star office – at Jalan Mesjid Kapitan Keling or Pitt Street. It later moved to Maxwell Road, now Jalan Dr Lim Chwee Leong.
Older Penangites would remember that the school was located next to Paramount cinema, which has since been demolished.
Cheong also provided shelter and financial backing for Sun Yat Sen, the Father of Modern China, when the latter was in exile in Penang for six months in 1910.
Sun used 120, Armenian Street (now converted to be the Sun Yat Sen Museum) as his base to plot his 1911 Revolution.
While in Penang, he enrolled his daughters to study at the St George's Girls School.
Sun also founded the Kwong Wah Jit Poh, one of the oldest Chinese newspapers in the world.
The masthead of the newspaper, still in use today, was written by Sun himself.
The mansion of Cheong Fatt Tze, who made Penang his base, certainly had plenty of room for his eight wives and six sons.
Cheong died in Indonesia in 1916.
The former Hong Kong Street, which is off Carnarvon Street, has been aptly renamed Cheong Fatt Tze Road in recognition of his contributions to Penang. Interestingly, this road is just a short walk to Armenian Street.
Certainly, if you have a good grasp of history, walking in this part of the heritage zone will be quite an experience.