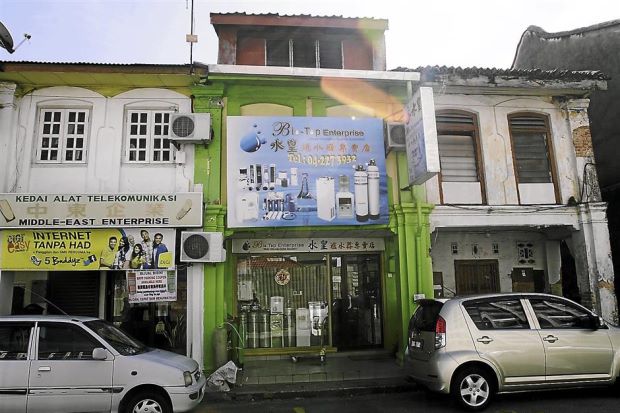 THE biggest contemporary Malaysian singer who originates from Penang has to be Datuk David Arumugam.
There is no contender for the title.
Although the lead singer of the famed Alleycats group made Kuala Lumpur his base, he still travels back to Penang regularly.
He regards Penang as home and still uses the "4" number on his mobile phone to denote he has registered his number from Penang.
"I still remember vividly growing up in Argyll Road in Penang.
"There were 11 of us in the family – eight brothers and three sisters.
"There were so many of us but we had good fun playing around the many lanes and alleys in the busy neighbourhood. "The home – 181 B, Argyll Road – still stands there today," he recalls.
The band's name "Alleycats" came from the many cats that roamed in the alleys, according to David.
Together with his brothers, the late Datuk Loganathan and Shanmugam, and a few friends, the Alleycats captivated the nation with its truly Malaysian brand of music.
The group's original line-up consisted of the Arumugam brothers, Frank Ong (bass), Tan Chin Hock (drums), Chester Danielle Pasarella (saxophone) and Khoo Fok Sin and later Grenville Pereira (keyboards).
For David, prior to the Alleycats, he was already playing in a band called Super Jets.
Today, he is the sole original member as the Alleycats continues to perform in the local circuit 40 years after the band began.
His parents sent him to study at the Wellesley Primary School, which is located near his home.
There is, however, little information on the origins of the street name but it is highly possible that Argyll is linked to a region in southern Scotland, considering the number of Scottish civil servants who served in Penang in the early days.
According to a reference on the internet, Argyll can also be used to mean the entire western coast between the Mull of Kintyre and Cape Wrath.
There is also a road named Argyll Road in Kensington, one of the more posh addresses in central London.
According to Eustace Nonis, an expert on the history of the Eurasian community in Penang, the Wellesley Primary School was a feeder school, with its top pupils continuing their secondary education at the premier Penang Free School.
The many Eurasian teachers included Tony Foley, Barbara Robless, Glenn Johnson and Alexander Nonis.
The school is named after Richard Wellesley, a governor of Madras and Bengal in India.
The previous name of Seberang Prai is Province Wellesley.
It was part of Kedah until it was ceded to the British India Company by the Sultan of Kedah in 1798, and has remained with Penang ever since.
But David did not go to PFS but instead went to the rival St Xavier's Institution, my alma mater, which was walking distance from his home.
"But as a secondary school student, I was skipping classes and I left school at Form Five.
"I was busy with the band, playing at parties and gigs until the early hours.
"Needless to say, I was not doing very well in school and by 1969, with the American soldiers coming to Penang in huge numbers as part of their rest and recreation from the Vietnam War, our band was kept busy," he told this writer.
He was quoted in another news report that the band "learned a lot from the GIs."
The soldiers, he said, would come up to them and say, in an African-American manner, "Gimme souul music!"
David said they did not know what these brothers of soul looked like back then, so the soldiers took them to a record shop and bought them albums and even took them shopping to dress up like them.
And so the signature Afro hairstyle that was to be a trademark of the band was born.
Argyll Road is today a predominantly Chinese area although it used to be referred by older Penangites as Benggali Lane due to the large number of North Indians living in the area.
Argyll Road was also one the training grounds of one of the greatest Malaysian badminton players – the late Datuk Eddy Choong, the All England champion.
David said, in an interview, that he used to sit for hours watching the badminton legend train in a makeshift badminton court at the alley off Argyll Road at night.
"Datuk Eddy and the other players, all of whom were already well established at that time, used the alley as their training ground.
"My neighbourhood friends and I watched them play for hours.
"There were no high technology gadgets in those days and watching them play was entertainment for us," said David, who was then a primary school student.
One of the original Alleycats members – Tan Chin Hock – who played with the band for 25 years lived in nearby Hutton Lane, off Penang Road, where international shoe icon Datuk Jimmy Choo was brought up.
But one iconic symbol of Argyll Road, as far as many of the older Penangites are concerned, was the Fraser and Neave factory at 190, Argyll Road.
It had a glass panel where passers-by could see how our favourite orange or sarsi drinks were bottled.
During the 1960s, when many working-class Malaysians were struggling to make ends meet, soft drinks could only be ordered during festive seasons such as the Chinese New Year.
Hard as it may be for many Malaysians to understand, a bottle of soft drink was considered quite a luxury then for many poor Malaysians.
"I never forget that factory.
"As a child I was certainly fascinated and the F&N factory was an iconic building then," recalled David.
But he himself has become a Malaysian icon.
David is symbolic of what Malaysian unity is about, singing his string of Malay hit songs, with his band of Indian and Chinese musicians.
And no one will ever be able to say "Terima Kasih" in his trademark style.
And even if we do not know the origin of the street name, and its earlier history, Argyll Road should be remembered as the place where one David Arumugam spent his entire growing-up years.
The magic of the Alleycats, powered by the distinct vocals of David, is that its music is able to reach out to our multi-ethnic society to touch the hearts of many Malaysians.
And it all began in the alleys of Argyll Road.