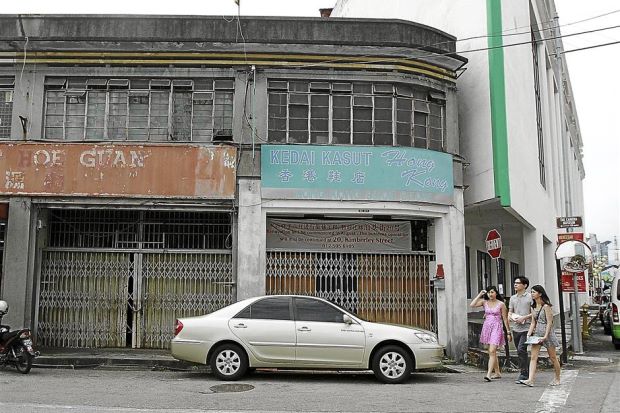 THERE is still no street named in honour of one of Malaysia's global brands, Datuk Jimmy Choo, but there is a road in Penang that bears special significance to this international icon – Muntri Street.
The only catch is that Penang has got it wrong.
Well-intentioned bloggers and writers have credited a little shop at the corner of Muntri Street and Leith Street as the place where Choo started out as an apprentice.
In fact, a steel-rod sculpture has been erected to mark Choo's supposedly humble beginnings. The sculpture is based on the caricature of local cartoonist Baba Chuah.
In an interview with Choo, he told this writer that he did not begin his career at 177, Muntri Street which is the address of the Hong Kong Shoe Store.
"The confusion may have started when I spoke at a dinner and made references to many local shoemakers as my sifu or teachers.
"If you are familiar with the Cantonese dialect, we often show our respect and admiration for these older master shoemakers with such salutations," he said.
Choo revealed that it was his Hakka father who taught him the trade.
But Choo spent much of his childhood days in that area comprising Muntri Street, Love Lane, Penang Road and Hutton Lane.
"I grew up in Hutton Lane. I remember our family shifted home a few times but Hutton Lane was the last stop. My father, Choo Kee Yin, also had a shop in Penang Road, which is the main road," he added.
It has been widely reported that Choo — or Choo Yeang Keat — made his first pair of shoes at the age of 11, with the help of his dad.
His Chinese name in Pin Yin is spelt Zhou Yang Jie, similar to former Chinese premier Zhou En Lai, Hong Kong actor Chow Yun-Fat and Taiwanese singer Jay Chou — but his name was misspelt on his birth certificate, which was common in the 1950s and 1960s.
From his humble beginnings in Penang, Choo eventually moved to London to pursue his studies. The rest, as they say, is history.
He graduated from Cordwainers Technical College in 1983, making himself one of the most famous alumnus. The college is now part of the London College of Fashion under the University of Arts, London.
I have had the fortune of having Choo as a friend and also guardian to my daughter, Su Qin, when she was studying in the UK.
Despite his busy schedule of travelling and attending many of his engagements, he always had time for my daughter and to see to her needs.
Choo, in fact, has never turned down any request for help from many Malaysians who visit London. That is his hallmark – being humble and helpful.
Both Choo and I were born in 1961. He studied at Shih Chung Primary School in Love Lane while I was schooled at St Xavier's Institution, just down the road.
Love Lane, Muntri Street and the surrounding streets were home to the humble working class, in contrast to the old days when the upper class, the politicians and rich Chinese merchants lived there.
There used to be horse stables in the homes of people who lived in Muntri Street while the powerful guilds and associations set up their premises there.
According to Khoo Su Nin in Streets of George Town, "there is a theory that Muntri Street was named after the famous Muntri of Larut, Ngah Ibrahim, the son of Long Jaafar."
Long Jaffar was the chieftain in Larut (Taiping) who was authorised by the Sultan of Perak to govern Larut. As our history books were to record, Long Jaafar was implicated in the murder of the first British Resident in Perak, JWW Birch, and was sent into exile in the Seychelles in 1877.
Another theory, according to a history blog, is that Muntri actually referred to high-ranking colonial officials living in Leith Street and Muntri Street.
For me, Muntri Street was my school's side entrance. During my time, there were students who managed to cut a small hole along the fence, allowing latecomers to squeeze into the school and also for those who needed to leave the school's premises before the bell rang for dismissal!
But Muntri Street has plenty of history and heritage. Some of the old homes have been turned into lovely boutique hotels.
The famous one has to be the Muntri Mews which has been redone by renowned hotelier Christoper Ong.
During my childhood days, the row of former horse stables – which is part of the hotel now — were actually lived in by poor families!
Many of the amahs — live-in maids who wore black pants and white tops — used to be a common sight there. Mostly Cantonese, they migrated to Malaya in the 1930s to work in the homes of rich Chinese and Europeans.
Most never got to marry, sacrificing their youths, living a frugal live, remitting their earnings to their poor peasant families in China and most never returned home to reunite with their loved ones.
The Lam Wah Ee Hospital, founded in 1883, which is now located in Batu Lanchang Road, began along Muntri Street where it served the poor, especially those seeking Chinese medical treatment.
Then there were the many Cantonese-based associations, where kung fu and lion dance classes were conducted, bringing in much excitement as the students practised.
There is also the Ta Kam Hong, or Goldsmiths' Association, founded in 1832, which is the oldest and largest association of goldsmiths in Malaysia, according to Khoo.
"The present guild temple was built in 1903 and dedicated to Wu Ching, the patron diety of goldsmiths," she wrote.
The King Wan Association is also the first union of Chinese shopkeepers and clerical workers in Penang, which was founded
in 1923 to fight for non-working Sundays and better salaries,
Khoo added.
Muntri Street, located within the heritage area, has a passionate story of people who struggled in their lives. As the name of the road implies, some made it big and famous, while others had to toil, but it is rich with history, for sure.
But it is also time for the Penang state government to honour Jimmy Choo with a road named after him. There has been only one Jimmy Choo after over 50 years of independence, surely a huge icon Penang must be proud of.