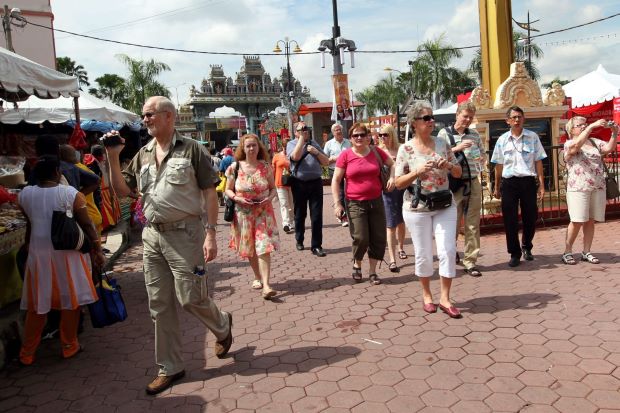 TWO incidents, which took place over the past one week, have really troubled me. These are real incidents that this writer has experienced up close and personal.
They are a strong reminder about the power of perceptive reality, and how the actions of a few can have more far-reaching ramifications than one can possibly imagine.
The first involves a student friend from Hong Kong who was planning to make his first visit to Kuala Lumpur. He had wanted to fly to Malaysia with his Malaysian friend on Malaysia Airlines.
But his father insisted that they flew on Cathay Pacific instead. He did not want them to take chances with MAS following the bad publicity over the MH 370 incident. In short, as far as he was concerned, our national airline has been deemed unsafe.
This young man, however, was rational and did not buy into his father's fears. But because the old man was paying for the air ticket, it didn't make sense to argue with him, and so he took his advice.
One has to ask, how many passengers did MAS lose in this period simply because there is such a strong perception about its safety record, although the reality is that our airline has one of the best records in the aviation industry.
In the other case, a British national, who made her maiden trip to Malaysia last week, was concerned over Malaysia's purported strict adherence to Islamic rules. So she was careful to pack the most conservative clothes for her trip.
She and her lawyer husband had been reading news reports in the United Kingdom about Malaysia's plans to impose syariah laws, the raids by religious authorities, and how the country was increasingly turning conservative. And yes, my friend has also read about the Chinese tourist who was abducted at the Semporna resort.
It didn't end there. On the plane, she was advised by the passenger seated next to her that she needed to be careful when walking the streets of KL because of the many snatch thefts! The passenger, a fellow Briton, happened to be an expatriate who has stayed in Malaysia for the last 20 years. So, she was regarded as someone who could speak with authority based on experience.
Imagine what must have been going through her mind even before she touched down in our world-renowned KLIA. And so, despite the humid weather in KL, she not only brought along thick clothing, but was all dressed up to fit into a "conservative society". Imagine how shocked she was to see many Malaysians walking about in shorts and skirts.
Let's be honest here. The current perceptions about our country are bad. And we all know that perception can be more powerful than reality.
Like it or not, Malaysia has a serious image problem right now and we really need to get our act together.
We can be defensive and act like those silly politicians who will be quick to blame the Western media for putting us in a bad light with their biased reporting. But the reality is that we are responsible, in one way or another, for this negative media image.
Those of us in the media business know instinctively what kind of news will make it to the international press and we seem to be churning out a lot of such news in recent times.
No amount of money spent to promote tourism (this is Visit Malaysia Year, after all) will work if we do not tackle these problems at source.
Don't we hate it, as Malaysians, when we hear foreigners talking about us in this manner? But in our heart of hearts, we know some of these are true, and the truth hurts.
Of course, we get upset when Kuala Lumpur is listed as one of the most dangerous and unsafe cities in the world. Just Google it.
We can moan and question the credibility of these websites but the point is that there will be thousands, if not millions, of tourists who will surf the Net every hour all over the world and they will read such negative reports. After all, we also do our own Internet research when we want to visit a city overseas.
And the fact of the matter is that we know that many petty criminals do roam our streets, and we all have stories to share about what happened to friends and relatives.
Perception aside, it will be better if these sites can tell surfers that Malaysia is safe because there is always a strong presence of the police at our airports and the streets, as well as the major tourist centres.
Just check out Changi Airport in Singapore. We always seem to be able to spot armed policemen around and even in Orchard Road, we will see them.
Likewise, at our isolated diving resorts in Sabah, we really need to station well-armed soldiers there. The owners cannot have the right to turn away our men in uniform because the national image is at stake here.
We cannot keep on giving verbal promises to tourists that these abductions are isolated cases and that Sabah is safe when we are never sure when the next abduction will happen. To these Filipina kidnappers, as long as such places are not well-secured, it will be business as usual.
The Semporna waterfront town itself, located in Tawau, also needs a serious facelift, if we wish to meet the image and standards of an international tourist gateway.
Just key in the words "Semporna, dirty" in Google search and see what you get.
Tourism is Malaysia's second largest foreign exchange earner and the seventh largest contributor to the economy, contributing RM47.2bil to our Gross National Income (GNI) in 2012.
By 2020, Malaysia is expected to earn RM168bil from the targeted 36 million tourist arrivals under the Malaysia Tourism Transformational Plan (MTTP), according to Tourism and Culture Minister Datuk Seri Mohamed Nazri Abdul Aziz.
In 2012, Malaysia welcomed 25 million foreign tourists, placing it firmly as the 10th most popular tourism destination in the world, according to the United Nations World Tourism Organisation (UNWTO). It ranked 13th in international tourism receipts of RM60.6bil.
According to Nazri, "we are targeting high net-worth tourists and continue to welcome arrivals to our high-end world's best hotels and resorts".
This writer knows for a fact that this minister works hard, even until the late hours, when he is on his overseas trips, meeting officials and tour operators, to get them to come to Malaysia.
But we do not want him to labour in vain. We also need to ensure that tourists feel safe and that in their minds, Malaysia is a safe place for them to visit. After all, in case we forget, there are many choices out there. Like switching airlines because of perception, heading to another country is also just a click away.