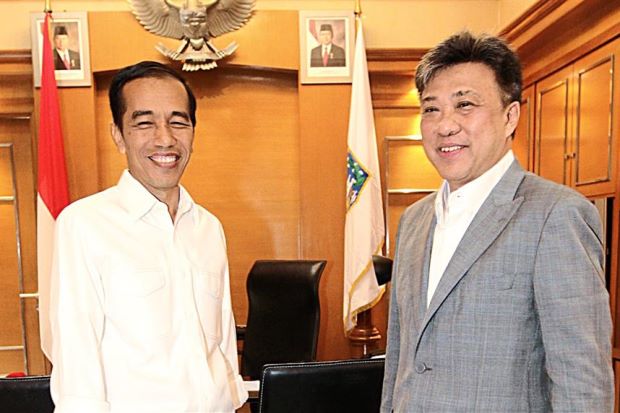 JAKARTA: Joko Widodo, the man who will be the next Indonesian president, has a directive for his officials – end the time consuming ceremonies, lengthy speeches and protocol, which have long been the mark of the Indonesian political elites.
"When I arrived in Jakarta, I was provided with countless security officers but I have cut the number to four. I hate protocol. I don't want protocol to manage me. I don't want it to be difficult for the people to reach me," he said. Neither does he care for an entourage of political leaders and officials, saying bluntly that they should be doing their work.
"This is an era of horizontal leadership; this is the new democracy in Indonesia," he said repeatedly to describe a working relationship that links people across organisational boundaries instead of a vertical relationship that promotes feudal silos.
The hugely populist politician popularly known as Jokowi enjoys megastar status in Jakarta where he is literally mobbed wherever he goes, especially during his "blusukans" or walkabouts to the squatter slums located at river banks.
"It allows me to understand the people's problems. It also helps them understand that I am working to better their lives," he said, adding that he enjoyed listening and talking to the people.
He has made surprise visits to villages, sometimes at midnight, catching villagers by surprise but the effect has been electrifying, with news of such visits quickly spreading to other villages.
Jokowi, 53, is fond of telling listeners that his father was a small-time wood collector and that his family lived in shacks on flood-prone banks of a river.
"I know what it is like being poor. Helping the poor, especially in their health and education needs, would be my priority," said the president-elect who will take office in October. He spoke of families who have to queue up daily to draw water from a single well that they share.
According to Inside Indonesia, Jokowi was born in Solo (Surakarta), Central Java, in 1961; he was the oldest of four children and the only son. His family struggled to assist him through school and he eventually graduated with a degree in forestry from Gadjah Mada University in Yogyakarta, in 1986.
Jokowi joined the forestry service of a state enterprise in Aceh before returning to Solo in 1989 to work with his uncle and learn the furniture business from design to delivery. Then he branched out on his own. He was the beneficiary of a small furniture business.
"I know that people have high expectations of me. The only way to meet this is to roll up my sleeves and keep working hard," he said.
It was his performance as the mayor of Solo, a town in central Java, that first gained him attention with his ability to resolve issues like floods, dirty streets and slums. By 2012, he was elected the governor of Jakarta, making him a contender for presidency.
Jokowi's entry has been regarded as a refreshing break from the three decades of Suharto's dictatorship that ended in 1998. He is certainly the first Indonesian president who is not from among Indonesia's elites.
Lean and tanned, he is a contrast to the conventional image of Jakarta's political and business elites, with some dismissing him, at one time, as a "wong ndeso" or a villager, but he appears to have the last laugh now.
"I don't know whether I am accepted (by the elites). You have to ask the ordinary people," he said with a smile.
According to Indonesian journalist Bob Lowry: "Jokowi is not a great or inspiring public speaker, but he is a master of symbolism and 'branding'. Nothing is left to chance, be it dress, mode of transport or unannounced inspections and visits.
"He understands that he is an outsider and that he must strengthen his robust social base outside but not independently of the prominent political parties.
"As the leader of a new breed of Indonesian politicians, he is a media darling. His consultative, no-nonsense and hands-on leadership style has endeared him to a people crying out for an end to an ineffective and corrupt government, which has been unable to address the challenges of an economically thriving but politically stunted country.
"He brings very little political baggage. His personal wealth has insulated him from the taint of money politics and cronyism. He is not driven by ideology and is a pragmatic, astute problem solver with a deep commitment to reform."
But there is also the challenge in the country of 250 million people that he would be tested by the powerful army, the political and business elites which he does not have a grip on.
His detractors have asked for how long Jokowi could continue to visit squatters and slums when he begins the mammoth task of running the sprawling country.
He deviates from the conventional in more ways than one. He proclaims his love for loud music, rattling off the names of heavy metal bands such as Led Zeppelin, Metallica, Lamb of God, Napalm Death, Megadeath and Guns N' Roses.
He was even given a guitar by Metallica bassist Robert Trujillo but he had to hand it over to the Corruption Eradication Commission when the instrument was regarded as "gratification."
With his stacks of heavy metal music CDs in his car, which he regards as "therapeutic", Jokowi has become a phenomenon that the conservative religious-political personalities in the world's most populous Muslim nation are finding difficult to get a grasp on.
This Indonesian president-elect has openly urged heavy metal Indonesian bands to grow while the other politicians are still preaching morality to a cynical electorate. If they find him an enigma now, they will just have to catch the rest of the performance as this is just the opening act for Jokowi.
Related stories
Jokowi going for moderation
Indonesian president-elect seeks new investments from Malaysia