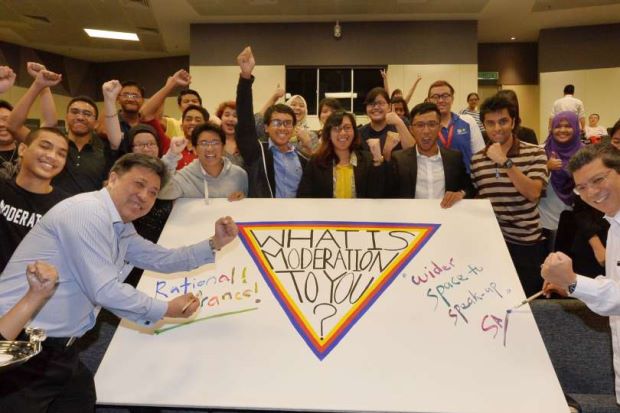 We can claim that we did our part to help make Malaysia moderate, even if it is seen as just a small step.
THANK you to the majority of Malaysians who supported and encouraged us on the Voices of Moderation campaign in the run-up to National Day and Malaysia Day.
The campaign, which urged Malaysians to emphasise on commonalities and shared values instead of differences, certainly struck a chord among most of us.
It was clear from the many messages we received that Malaysians, regardless of their race or religion, were fed up of politicians, or any group or individuals, who used race and religion to win support. They were likewise fed up of those politicians who maintained a deafening silence as the voices of some racist personalities and groups grew louder.
Many also found it disturbing and sad that it was the private sector and concerned individuals who took the lead to push the message of moderation in this season.
As with all initiatives, it is not always possible to please everyone. One complainant who sounded educated alleged that the Voices of Moderation campaign was a subtle anti-Malay and anti-Islam move.
Another reader wrote a stinging message to me pointing out that the campaign was pro-Malay as the majority of writers and personalities featured were Malays! He pointed out that there were only two Chinese and one Indian writers while criticising me in the same breath that I am racist and unable to think as a Malaysian despite what he admitted was a noble campaign.
One well-intentioned gentleman tried to call me many times, insisting on speaking to me only and no one else, because he was upset that there was no Sikh writer. I wish to thank all of you for your feedback, if you are reading this.
A small number of right-wingers, known for their ultra-nationalistic views, posted angry statements on their blogs but offered no rational and balanced view apart from making sweeping personal remarks.
Again, I wish to express my appreciation for the oftentimes humorous remarks, which have made Malaysian politics more colourful.
On the plus side, there were a few people who wanted to sign up as members, thinking that the Voices of Moderation campaign was a movement. No, we are not, and we have no intention of going into politics.
A group of young talents comprising graduates from prestigious universities here and in the United Kingdom and the United States, offered to be writers and speakers for our campaign, saying we must not stop.
To these fresh faces, you guys are certainly the beacon of hope, and the people we want to pass the baton to in our efforts to make Malaysia a better home for all.
Meanwhile, some even called us up to purchase our posters, saying that they wanted to put them up on their office and home walls.
One tycoon offered to let us use his hotel for future meetings and public forums, saying he was committed to the cause, as he, too, believed in moderate Malaysia.
BritishIndia, an upmarket chain of fashion clothing, supported us by creating a unique visual display of the campaign's personalities at its store windows as part of the National Day celebrations. Thank you for shouting for us and believing in us.
At Taylors University, a group of multi-racial students spent their lunch time listening to my views and that of Datuk Saifuddin Abdullah, head of the Global Movement of Moderates Foundation (GMM).
They were clever, articulate and attentive and it was encouraging to meet these students who shared with us what they want to see for Malaysia.
How I wish our politicians would spend more time listening to these young moderates instead of just making speeches and doing all the talking most of the time.
The first phase of the campaign has ended. We need to take a breather and assess what we have accomplished.
Our next move would be to reach the young in our colleges and universities, and together with the GMM, we are now charting our plans on how we can reach the 60 tertiary institutions spread across the nation.
It is a long-haul campaign and we all need to sustain the momentum to make it effective and at the same time, interesting.
The message of moderation should never become a blind spot. At the same time, we do not want to be preachy, nor do we want to reach out only to those who are already converted.
What is important is that most of us should, in our lifetime, be proud to support and be associated with the Voices of Moderation campaign. We can claim that we did our part to help make Malaysia moderate. Even if it is seen as just a small step, at least we walked that journey.
We are Malaysians. To quote the late civil rights leader Martin Luther King, Jr. "We may have all come on different ships, but we're in the same boat now."
As Malaysians, regardless of our race and religion, we share a common destiny. Let us keep fighting for a moderate Malaysia.