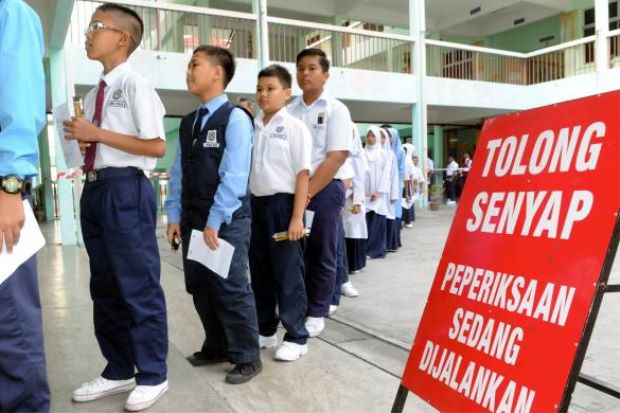 The UPSR leak fiasco seems to suggest we are in a real state of crisis and we are sending out a wrong message to our kids – it is okay to cheat.
IT'S really incredible how so many of us have reacted over the leaked examination papers of the UPSR, which is merely an assessment examination for Year Six pupils. Yes, for 12-year-old pupils who are taking their first public examination.
The UPSR, to put it bluntly, has no serious bearing on how these kids will perform in future examinations nor will it have any impact on their careers.
But I guess not many would agree with my somewhat frivolous perception of the UPSR, judging from the kind of reaction that seems to suggest we are in a real state of crisis.
Education Ministry officials have been suspended, there are allegations of sabotage, possibly even political ones, and the police have been called in.
We hope the Inspector-General of Police won't have to personally head a task force to nab the culprits.
I am not sure whether parents are upset that the papers were leaked, which in itself is incredulous, and a resit would mean the children having to go through another round of pressure, or is it because their holiday plans are now ruined?
The sad reality is that this is a country where parents and students are obsessed with the number of distinctions that one gets in public examinations.
Nowhere in the world, except perhaps in some other East Asian countries, do examination results hit the front page of the newspapers, or lead off the prime time news on national television.
And each year, we compare results like the way public companies compare their profit margins. The pressure is always to trend upwards. So, the focus will invariably be about how many more students have the perfect string of As as compared to the year before, giving the impression that we are in the business of producing super achievers.
Although the majority of students do not belong in this category, the perception is created that super-duper results are the passport for our children to become doctors, lawyers and engineers, and nothing less.
And every year, we have the same problem where the demand for places in universities for these courses far outstrips supply simply because there are so many students with the "right grades".
Yet, many employers and top-notch foreign universities do question whether their grades actually match their abilities, and have their own ways to sieve out the real talents.
There are suspicions that we have lowered the passing marks and compromised our standards and in the process allowed more students to get these distinctions.
Of course, there are many who truly deserve the As, but it is most unfortunate that there are also those whose As can be questioned.
Forgive me if I sound dismissive and cynical because I come from the old school where we took our first public examination at Standard Five. That was the assessment examination and most parents would not get excited over the outcome of our performance.
It was kid's stuff and they knew there was little bearing on our future, except perhaps to be enrolled into better classes or schools at the secondary level.
But when we took the Form Three Lower Certificate of Education, which is today's equivalent of the PMR, it was real serious. You got kicked out from school if you failed.
That's how it worked at that time with no free ride to the Fifth Form. The LCE required compulsory passes in Bahasa Malaysia, English and Mathematics.
The maximum number of As one could get was eight. If you got 5As, your name would probably show up in the newspapers.
But the standards were such that the grades truly reflected your real ability. An A in English for the LCE meant that you were speaking and writing the Queen's English at that age already.
Today, most of our Form 3 students cannot even string a sentence together in English correctly. The fact that we are now considering including a compulsory pass in English at university level indicates that an A in that subject, whether at the UPSR, PMR or SPM level, is no longer an accurate reflection of one's English proficiency.
After the LCE, we sat for the Malaysian Certificate of Education (MCE) where the maximum number of As was nine. It was a time when many Malaysians found places, on scholarships, to Ivy League universities in the United States and to Oxford or Cambridge in the United Kingdom. Yes, our MCE grades were deemed equal to the internationally-acknowledged O-Levels.
Now, despite the proliferation of the super achievers, we are told that fewer Malaysians are being admitted into these top universities.
And our students now have to prove their English proficiency to handle tertiary education overseas by taking the International English Language Testing System (IELTS) paper.
Let's get our priorities right. The fact that the English paper was leaked even at Year Six level suggests that students are looking for help to pass a subject which they know is important.
What a contrast from those days when we had English-medium schools and getting a pass in English was not all that difficult.
And it is not just about the students. Two years ago, it was revealed that two-thirds of the 70,000 teachers who teach English in the country failed to meet the proficiency level in English for the Cambridge Placement Test.
The findings were revealed by the then Education Ministry deputy director-general Datuk Dr Khair Mohamad Yusof.
"When we did the initial profiling of the English teachers in Malaysia, we found that two-thirds of the teachers did not meet the proficiency level," Dr Khair, who is now the director-general, was quoted as saying.
We really should be worried about how we can improve the standard of our education. There are many who love to score political points out of issues that affect our children's education, including the UPSR leak fiasco.
We should start by doing a survey on how many of these politicians actually send their children to the government schools. Or are their own children not part of the system, but are instead in private or international schools, or even boarding schools overseas?
Let's not play around with our children's future. Year Six students shouldn't be subjected to pressure cooker conditions in preparing for the examinations. And with this leak, we are now sending out a message that it is okay to cheat, even at this tender age.