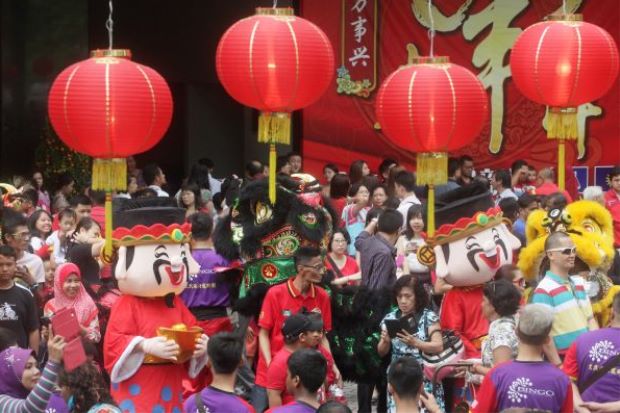 THE Chinese New Year mood is in the air. I have been eating too much, drinking too much and making my rounds of the festive visits to family members and friends.
In each of these visits, I have been asked to give my views on Datuk Seri Ismail Sabri, Datuk Seri Anwar Ibrahim, Sirul Azhar Umar and 1MDB. No one asked about the in-fighting in MIC.
I have given them the same answer: this is Chinese New Year. I have a life. I may be a political commentator but I am no expert.
Like everyone, I have made wrong assumptions – but also made correct predictions – on issues. Some of my comments have fallen flat on my face, especially when they turned out to be pretty horrible in the end, while some of my stands have been consistently correct, despite initial public ridicule.
But I am in a nostalgic mood. The last thing on my mind now, as I turn 54 years old in the next few months, are some politicians with super-inflated ego who think they are the smartest people on earth.
As I spend my time with friends and family members, I can't help but feel thankful for the wonderful things we enjoy in Malaysia.
In Malaysia, we eat too much. Our problem is trying to reduce our weight as we watch on television news of countries at war and people who find their food, water and power supplies cut off.
This CNY, most of the women in our family are not eating rice. Feeling guilty about the lack of exercise but reluctant to give up certain food, I try to eat just half a bowl of rice. After all, how can one enjoy steamed fish in soya sauce without the rice!
And how can they even refuse to touch the prawns – purportedly because they do not want to use their hands to peel off the shell or that it is supposedly laden with cholesterol? Such poor excuse.
But most of all, I feel really blessed and spirited to receive so many greetings from my Malay and Indian friends. Many of them turned up for our CNY lunch in Chinese costume, adding more colour to the festival.
My good friend Datuk Azman Ujang sent his greetings from Mecca where he is performing his umrah, and I told him to pray for me and my family.
My favourite aunt, Sarah Abdullah, made sure her son, Abu Zarin from Sabah, sent his greetings to this uncle before the festival began.
And not forgetting my media colleagues, Aziz Ishak and Rozaman Ismail, who never fail to wish me well. We have certainly gone through plenty together as friends in the same trade. Thank you, Anbu, for being on the line daily sharing our hopes and aspirations for a better Malaysia.
There are also other auspicious reasons as I pen this column on the third day of Chinese New Year. I would have taken a break but my colleague Soo Ewe Jin, who edits this column, reminded me that I have never taken a break, and this column has appeared every Sunday, except on the Sundays that happened to be press holidays, since the first one appeared on Feb 23, 1997.
Today would be just one day short of the 18th anniversary of the On The Beat column. So there can never be a day off even during this festive season.
The very first paragraph I wrote on that day went like this: "I have a confession to make. On Valentine's Day, I bought my wife three stalks of roses. Not that I am a romantic. I parted with RM40 for the flowers because I am a conformist."
The article was appropriately headlined, "Declaring your love expensively."
And I ended that column with another confession, "By the way, I have another confession. Feb 14 was also my wedding anniversary. Again it has nothing to do with my being romantic. It's an unpardonable crime to forget one's wedding anniversary. Nobody, even someone as absent-minded as me, could miss this 'double celebration of a Valentine's Day wedding anniversary'."
So much has changed over the years. I realised that in the earlier years of this column, it was more light-hearted. I tried to add humour and I realised that being funny is much more difficult than serious – and worse, it's not appreciated! But the column developed its own character that in some ways matched my career in journalism.
As I rose through the ranks, and took on more responsible positions, I had to be able to feel the pulse of the nation. Thus, my reflections on the issues of the day became more pronounced.
And in recent times, it looks like this column has been closely monitored by some groups who simply want to lodge police reports against me.
I have accepted this as part of the trade. Just as there are admirers, there will always be people who are angry with my comments.
So every Sunday and Monday, as I read my email, I get adoring as well as hate mail, with some bordering on racist tones.
But as I look back, I remind myself that I have always written purely from my point of view. I write about people and events the way I see it. I write about developments in this country that make me happy, and also about the developments that make me sad.
I have been making a tough stand against the rise of extremism and this has upset some people who still choose to see issues from a narrow racial perspective. But I believe moderation is the right approach.
I can't help talking about my old teachers and friends of all races as I grow older, talking about the era in which we grew up.
Perhaps most of us went through English-medium schools, which were regarded as neutral ground compared to the present Chinese and Indian vernacular schools and Malay-majority national schools. Only the middle and upper classes are enjoying the private and international schools.
My good friend Keng Hooi often wonders about the whereabouts of our primary school friends – Rahim, Bakri, Tengku Rohiman and Habibul. Where are you? We do get the occasional text from Azmi!
Our country is rich because we are diverse. We may be different but we all know where our limits should be when it comes to our words and actions.
This Chinese New Year, I am glad the Prime Minister in his message reiterated that this diversity is what we must "celebrate, cherish and protect."
"The lunar new year is one of the biggest celebrations in our country, as it signifies the turn of the Chinese calendar and the new beginning of a new chapter in life," Najib said.
How true.
The celebrations will go on for 15 days, and I know I will be putting on weight with the many extra dinners over this period.
And over these meals, I realise that we Malaysians who care about this country share a common purpose. We really want this country to do well. We want less politicking and more efforts to be spent on the bread-and-butter issues that affect all of us.
Even as many moan about the state of affairs in Malaysia, all of us do acknowledge that we are truly blessed to be Malaysians.
My father has turned 91. He was born in Kuah, Langkawi. If you do not see his physical features, you would think you were talking to a Malay as he speaks with a thick northern Malay accent.
And my mum, who is 86, is a nyonya who still prefers her sarong. She remains the best cook, insisting on using the freshest items for her peranakan dishes.
Keep the Malaysia we know for its multi-ethnicity and appreciate its pluralism because it is an asset – this is a beautiful country, and we are truly blessed to be born here.
Then, now and forever.