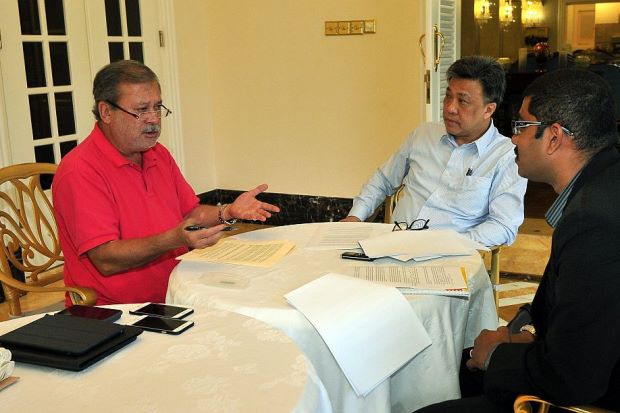 JOHOR BARU: Sultan Ibrahim Ibni Almarhum Sultan Iskandar is known to be an outspoken advocate of English-medium education. Meeting with scholarship recipients recently, he asked them point blank whether their English fluency was good enough for them to deserve the awards. He is also fond of equating the English language to the US dollar, saying "it's accepted everywhere and used everywhere, even in countries where the people don't speak English well."
English advances and unites
Q: Tuanku, in your address at the opening of the Johor State Legislative Assembly recently, you suggested that Malaysia should adopt Singapore's education policy that uses English as a medium of instruction, especially to forge unity. Could you elaborate?
A: Singapore is our closest neighbour. We don't have to go very far; we should emulate them as the island republic has achieved development way ahead of us.
Let's be honest with ourselves. Singapore has done well as a country. Their students have fared very well in Mathematics and Science. The prominent use of English has set them ahead of us.
We shouldn't kid ourselves. We have politicians in Malaysia who are in self-denial or choose to play politics with education. They want to be heroes of their races. They talk about nationalism but at the end, do they send their children to boarding schools in Australia and the United Kingdom to learn in Malay medium?
I also know of so-called Chinese educationists who champion Chinese education, even insisting non-Mandarin speaking teachers should not be allowed to teach in Chinese primary schools. These are the extremists. I know one such leader had tertiary education in Western countries. We have many such hypocrites.
One thing that we can learn from Singapore is their way of forging national unity via their education system. The use of English as a medium of instruction has been effective in the development of the country and uniting their people regardless of race or religion.
English schools are neutral grounds. We used to have such schools in Malaysia until it was changed. Was there any problem then?
The proficiency of English is bad among children, and our children do not mix among themselves. The Malays go to national schools where the Chinese feel alienated, while the Indians go to Tamil schools. Where is the unity?
Then some people also want Chinese and Indian universities. All this is driving the races apart. Yet we say we are all 1Malaysia. Unfortunately, I see all this as 5Malaysian.
The richer Malaysians send their children to private and international schools where English is the medium of instruction. So, who says there are no English-medium schools? But they are only available to the middle and upper-middle class from urban areas.
So, soon we will also have a class issue. This is all due to the myopic planning and thinking of our politicians.
For me, education is the foundation to create the country's future generation.
As such, I hope Johoreans will start to open up their minds. I have sent the signals across and I hope they start thinking now with regard to the country's education system and are willing to change for the benefit of the people and long-term development.
I am confident if we have an education system based on a single stream for students from a young age, we will be able to create a community which is more harmonious and can work together to face challenges in the future.
Anyway, we can also teach Bahasa Malaysia in schools as it is the country's national language. You can still have English as the medium of instruction but BM and Chinese or Tamil are compulsory.
Don't forget, when English was used as a medium of instruction in schools in the 1950s and 1960s, a pass in BM was compulsory. Even a pass in Mathematics was compulsory to pass the Form 3 exam but now you don't even have to pass your Maths test!
GST implementation needs to be reviewed
>Tuanku, you were against the implementation of the Goods and Services Tax (GST) for the public and after it was introduced, the Johor Government decided to absorb the GST amount. Since then, other state governments have followed suit. Your comments?
I understand that detailed study was done before the Government decided to implement GST nationwide. Until now I have been hearing about the many problems faced by not just the people but businesses with regards to its implementation.
I have heard complaints from businessmen that April was their worst business month. They suffered huge losses with some retail shops reporting zero sales for days.
I am aware of these ground sentiments. I hope our leaders are listening too. Be honest. Listen to the people.
However, its implementation needs to be reviewed, as it does not make sense if services provided by the Government for the people are also subjected to GST. This will further burden the people.
Someone who comes to pay house assessment will be subject to double taxes.
That is the reason why I asked the State government to review it. I commend the Johor government for taking the first bold step by absorbing the fees, which has since been followed by other State governments nationwide, including Penang, Terengganu and Sarawak.
Housing, development and maintenance
> Tuanku, there seems to be a slowdown in the property market, especially with too many high-rise buildings within Iskandar Malaysia. To make matters worse, banks are also tightening regulations when it comes to giving out loans and this can be a problem for first-time homebuyers. What are your thoughts on this?
Yes, the State's property market, which has spiked in the last three years, is a bit sluggish now but I am confident that the local property market has bright prospects and can handle this. I see that there is still more demand than supply, but there are other factors which are causing problems, especially difficulty in securing loans. So if banks do not provide loans to young people, when will they ever be able to own houses?
I hope the banks can give some leeway to overcome this. I also suggest that the Govern­ment intensify "lease and buy" schemes to help the low-income earners own homes in the State.
Right now, at least 40% of housing loan applications get rejected, so how does a house-buyer get to own a house? Developers have had to refund their deposits. We understand the need to prevent speculation, but the banks have over-reacted because of strict policies from the central bank.
Besides attracting local buyers, the Government should attract more foreign buyers to boost the property market, including speeding up the setting up of international zones which will surely attract foreign buyers.
I also feel that the State government should continue with its policy of building more affordable houses for the benefit of the people of Johor. More affordable homes need to be built jointly between developers and the State.
>Tuanku, cleanliness seems to be an issue that you have always been concerned about. However, is the cleanliness level in our towns up to the mark, especially with Ah Long posters put up everywhere? Also, many say that Johor Baru is badly lit with many streetlights not functioning. What are your thoughts on these issues?
I have always emphasised the need for cleanliness in our State, especially with Johor Baru so close to Singapore. That city is clean and well maintained. However, I notice that there are still irresponsible locals who litter everywhere, including throwing rubbish out of their vehicles without being embarrassed.
I hope the Government can be strict with such people, who give the State a bad name and image. I hope our Johor Baru City Council can learn from Singapore instead of spending public funds going on study tours to far away places.
I am also upset and disappointed when I see these Ah Long stickers or posters pasted around the city. I hope the authorities do not just go after those pasting the posters but also after those whose numbers are printed on the posters, and also cancel the business licences of the printers designing these posters and stickers.
Their numbers are printed on these posters, so why can't the authorities go after them? Call the numbers on the posters and nab them and force them to pick up rubbish.
I also commend the local councils for putting up iconic structures in conjunction with my coronation in March and hope that the cleanliness of these structures will be maintained to ensure these places become tourist attractions.
I also hope for more enforcement to be carried out around Stulang in Johor Baru as there is too much rubbish after people litter the place at night.
On streetlights, the Public Works Department should immediately replace all faulty lights to ensure the streets are well lit and not just along protocol roads.
I also want the State's local councils to standardise advertisement boards in all business outlets so that the boards do not cover the windows or the outlet's façade.
Action should also be taken against those who put up billboards along pedestrian bridges or along roads with different sizes, which do not just become an eyesore, but also pose a danger to people.
> Tuanku, you have refused to sign the Johor Housing and Property Board Enactment and have even called for it to be reviewed. Will this not hamper the State's property market or housing policy?
When the State government first prepared the Bill, they followed the enactment of the Johor Corporation Act and Yayasan Pelajaran Johor Act. There was only a bit of modification. It was brought to me by the Johor Mentri Besar and state legal advisor.
But when it went to the state assembly, something else happened. Outsiders started making statements. Then the State government bowed to outside pressure and made amendments.
As Ruler, it was my prerogative whether to sign or not. As long as the Ruler refuses to sign, the law cannot be implemented. Now I want them to discuss further.
Since I took the oath to become the Johor Ruler, it is my responsibility to take care of the people's interest. It's a kind of check and balance.
The Mentri Besar brings the people to the board. It is not that I take people from anywhere and put them there. I do not even know the background of some of them.
At least someone can call for the paper immediately when I hear complaints from the people. On the Bill, the Government can come back to me and I will see the contents again. I will just tell them to follow the original one and do not change due to outside pressure.
Here in Johor, we know what Johoreans want. That is why we started the Sultan Ibrahim Foundation, mainly to look into affordable homes for the rakyat. That means we do not take profit and the Government does not charge us premium for the land. We run this project and build the affordable homes at cost.
Anyway, the State government can continue with its plans to build more affordable houses for the people. I wanted the state to review it based on the feedback that I gathered from my people when I first asked the State government to explain the Bill to the people.
During the rule of my great-grandfather, Almarhum Sultan Ibrahim, the British government tried to interfere with the administration of the State government, but Almarhum was firmly against it and stood by the principle that Johor Must Remain as Johor (Johor Mesti Jadi Johor). As such, I want the same principles to be emphasised and to be the foundation of the State government and development in the State. Only Johoreans will know about the situation and the needs of locals. I do not want outsiders to interfere in the State's affairs.
> Tuanku, in the 11th Malaysia Plan, Johor only got a new public hospital in Pasir Gudang while there were no announcements about major development projects for the State. What do you think about this?
As a State which contributes a huge amount towards the Federal Government's coffers, more allocation should be channelled to the development of the State and not just money to the federal growth corridors alone. Yes, we got a hospital as there is a shortage but we also need more infrastructure in Johor.
I hope projects like the RTS are given priority as these will spur development not just for Johor but the country. I believe that more allocation is also needed to improve public transport and also improve flood mitigation projects. Allocation should also be channelled for the completion of infrastructure projects such as roads, including timely completion of road expansion projects such as Pasir Gudang, Muar and Segamat.
Illegal land clearing
> Tuanku, the issue of illegal land clearing activities, illegal logging and illegal mining seems to be still happening in the state. How bad is the situation?
I know Kahang and Mersing are the worst places for illegal logging. Everything is illegal and between 5,000ha to 6,000ha is planted with oil palm. Don't tell me nobody sees it!
The same is also happening in Kluang and Bukit Kepong. Who are the culprits? The new OCPD of Mersing, who has been tasked with clearing up the district, has also received death threats.
Besides thousands of hectares of land cleared for oil palm, there is also a lot of illegal mining, especially illegal gold mines. The area between Gunung Tahan until Pungai in Johor in the east coast is a gold belt. You chase them away today, and they are back within three days.
I know that these things are still happening and the officers are giving me the same excuses — that they lack enforcement personnel and the land clearing is happening deep inside the jungle.
The Government loses between RM30mil and RM50mil per annum to such activities. Multiply that by 10 years. That adds up to huge losses for the Government.
The time has come for the Government to use new and effective methods, including using helicopters to carry out aerial surveillance and enforcement.
Do not lease but instead own one. It is still cheaper as a new aircraft is about RM15mil. Besides surveillance, it can also be used to help evacuate people in the islands off Johor during emergencies and during the monsoon season. We cannot just be relying on the air force and fire department all the time.
There is a need to make government machinery efficient to ensure more revenue for government coffers.
There should also be coordinated cooperation between state and federal agencies when it comes to taking action against such people who plunder the state's resources instead of taking action separately.
Transport links
> Tuanku, both Singapore and Malaysia have agreed to delay the High-Speed Rail (HSR) project as more time is needed to study the project. However, talk about the Rapid Transit System (RTS) between Johor Baru and Singapore seems to have slowed down. Any comment on this?
If you ask me, there is an urgent need for the RTS project to be implemented to improve connectivity between both countries. Each day, thousands of Malaysians commute between both countries and the RTS will be an effective way to ease travel and traffic, especially on the Causeway.
That is why I have stressed that whatever policy is discussed between the Federal Government and Singapore, it should also take into consideration the sentiments of Johoreans before being implemented. This is because whatever policy is agreed, it will have a direct impact on the people of Johor. That is why I want the Johor government to play an active role when it comes to relations with Singapore, instead of just following what has been set at the federal level.
To me, if we give in on something to Singapore, they should reciprocate, especially with regards to the bridge project across the Causeway. If the HSR project needs more time, it is up to them, but I feel that the RTS will make Johor a more vibrant city for economic growth.
We are all Johoreans
> Tuanku, you seem to place a lot of emphasis on the need for unity and racial harmony in the State, and for politicians to always toe the line. What are your observations on this?
I have always believed that people in Johor should be united and not be divided by ideology or any political affiliation. I want my people to be loyal, obey the law, be courteous and respect each other. We are all Johoreans.
We must unite regardless of whether we are Malays, Chinese or Indians. We should be an example to other states, not just in our development projects but also our racial harmony. That is one reason why I announced the setting up of the Sultanah Fatimah Foundation and also donated RM1mil towards the foundation to help the needy, during an event organised by the Chinese community.
I am happy that the foundation has also got other private donors and has grown to RM2.68mil. I intend to give a similar donation of RM1mil to the Indian and Malay communities. I want to be fair to all my subjects.
On the Tunku Laksamana Cancer Founda­tion, we are waiting for the necessary approval before we carry on. Anyway, the money is already there.
I would also like to remind our politicians, including our assemblymen, that I am observing their debates at the State Assembly and I do not want leaders who try to cause break-ups among the people. I understand that there are assemblymen from different political parties, but I believe that everyone holds on to the belief that they are fighting for the people. Thus, they should always do it in a courteous manner without offending anyone or any particular race. Finally, I would like to say that I want what's best for Johor and for Johor to move forward.
Land in Perth
> Tuanku, your business dealings have again raised eyebrows, especially your recent acquisition of a stake in Perth's old Sunset Hospital. Any comments?
I did not buy any shares in the hospital. I bought a piece of freehold land about 20,000sq ft by the Swan River. It was a tender by the Western Australia Government. One lot was up for sale and the bidding started at A$12mil (RM33.64mil) and no takers. I submitted mine at A$8.5mil (RM23.82mil) and within a week I was told I was successful.
I bought this land to build a house for my family's use, especially during holidays there. I will abide by all the regulations of the Australian Government when building my house.
I did not know that they planned to use the money to restore the hospital. I don't know how it came out that I am investing in the hospital.
Anyway, this is my first purchase in Perth and I have been looking for the house for the past two years. I think Malaysians, especially Johoreans, should be proud that we have a Johor palace in Perth. It's my money, not the people's money.