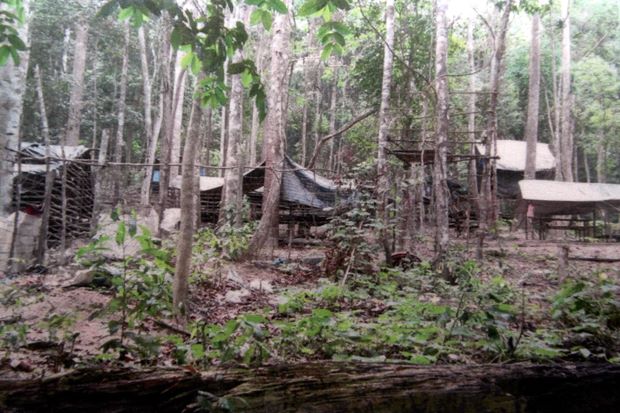 IT'S totally absurd – why would any tourist want to visit a former human trafficking camp near the Malaysia-Thailand border?
Much more bizarre was the statement by Minister in the Prime Minister's Department Datuk Seri Shahidan Kassim, who reportedly described the campsite as "very nice" and with "complete facilities".
We can be sure none of the illegal Rohingya and Bangladeshi immigrants who were locked up at the camp would share Shahidan's enthusiasm.
The former Perlis Mentri Besar reportedly said "let tourists see where it all happened. With this as a new tourism spot, it will also deter human trafficking activities from taking place as there will be more people coming in and out."
It's mind-boggling that a federal minister could actually make such an atrocious proposal. One is reminded of macabre attractions in other parts of the world, such as the "killing fields" of Choeung Ek in Cambodia.
It has become a tourist spot because of its horrifying past, where millions of people were killed. A glass compartment with some 8,000 skulls, now a spot for selfies, reminds visitors of the horrendous genocide carried out by the Khmer Rouge in the 1970s.
But surely we cannot compare the large-scale mass killings of Cambodians with the human trafficking issue. The camp in Wang Kelian, even if transformed into some form of eco-tourism project, will hardly draw the kind of tourist revenue to justify its existence.
Instead of channelling resources to this pathetic proposal, Malaysians would surely agree that it would be better off if the government spend more time finding ways to beef up security in the border area.
The area is well-known for smuggling activities because of poor security or, to put it bluntly, corruption among the law enforcers there. Whether they are Thai or Malay­sian, corrupt officers are probably the most integral collaborators that allow the human trafficking syndicates to operate with impunity.
Are we surprised that a recent report by the Special Branch, based on 10 years of undercover surveillance and intelligence gathering at border checkpoints as well as enforcement agencies across the country, has revealed that 80% of law enforcement officers and security personnel manning our country's borders are corrupt? Isn't it convenient that no one has yet to be arrested after the grisly discovery of the 139 graves and 28 suspected camps on May 11?
Even more ridiculous was the statement by Shahidan to the media that his party "saw unidentified persons fleeing to the Thai side of the border as we approached the campsite". It's as good as saying that anyone can still walk across the border even after the gruesome discovery without the likelihood of being caught. And when it comes to crossing our borders, we know how entrenched the problem in Sabah is.
We suppose the same sentiments must be shared by the Filipino abductors who have made kidnapping Malaysians and tourists in Sabah such a regular business affair.
Yet, our authorities still get upset each time warnings are issued to tourists to stay away from Sabah, insisting that Sabah, especially the coastal areas, are safe.
Seriously, with such a pathetic record of coastal surveillance in Sabah, the strong presence of the army and navy should be a permanent feature – and not a mere show of force only after an abduction or, worse, after an intrusion by armed men into our territory.
Of course, besides the lacklustre security, we are also paying for the sins of the past, when we allowed thousands, if not, millions of immigrants into Sabah. We have come to the point where we are not even sure whether the enemies in our midst are really citizens or illegals with dodgy identity cards?
Is it the result of past political manoeuvrings to win elections without a thought for the horrible consequences to the demography and security of Sabah?
Let's face it – we were practically handing out blue identity cards to these foreigners at one time, or are we going to deny it?
The result of the IC handouts to naturalise these foreigners has now led to some of these people actually joining political parties and enjoying affirmative privileges for bumiputras, while other real Malaysians, born and bred in Sabah, have less rights!
Has the situation become more complicated and out of control because of entrenched corruption among our security officers who choose to look the other way when these foreigners come into our waters?
The number of illegal immigrants in Sabah, excluding the naturalised ones, now ranges from a million to 1.9 million out of Sabah's population of 3.3 million.
We have a serious security problem, if not a crisis, in Sabah. And, as the discovery of the camps in Perlis will testify, if we do not control our borders well along the Thai border, we will soon be flooded with more illegal immigrants just walking across. And let us also not forget the difficulty in controlling our coastal areas up north.
Before we become a laughing stock talking about turning the human trafficking camps into a tourist spot, we had better worry about non-tourists checking in because of our lousy security.