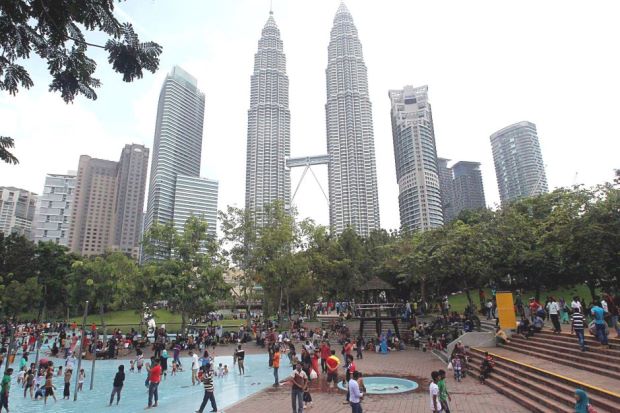 Malaysia must push itself to be more competitive if the country wants to see more visitors. And it is crucial to gather the best business brains to get ourselves out of this rough patch.
THE amount of time spent on politics by Malaysians is remarkable. One wonders if our politicians from both sides have anything else to do besides issuing daily press statements and calling for press conferences.
The 1MDB issue, without doubt, needs clear answers and a conclusion. The investigators have not come up with anything. Neither have they revealed what they have discovered to date.
The Public Accounts Committee, meanwhile, has had to put its own probe into the issue on hold following the promotion of some key members to be deputy ministers, which makes them ineligible to sit on the committee.
But even as this issue continues to captivate the people, and it must, we must also not lose sight of another important front – our economy.
Malaysia is hurt by the collapse of crude oil prices, the flow of funds, plunge of the stock market, devaluation of the yuan, strengthening of the US dollar and the shrinking ringgit. And it doesn't help that investors see Malaysia as politically unstable now.
At meetings with foreigners overseas, Malaysian businessmen can tell you that they are asked point blank about the 1MDB issue and, most of the time, they can't really tell much beyond what's reported in the media.
And because we want to keep the Malay­sian flag flying, we have to speak well of this country. But we must remember that investors have plenty of choices as to where to put their money. We need to end this political controversy soon and move on.
Yes, we maintained the 2015 economic growth target of 4.5% to 5.5% despite potential external shocks.
Bank Negara governor Tan Sri Dr Zeti Akhtar Aziz has pointed out that economic growth will be anchored by domestic demand, continued expansion across all economic sectors while the external sector is expected to remain resilient.
Domestic demand, which is projected to maintain at 6% growth, will continue to drive economic growth, supported by robust private investment and spending.
On the trade side, she said an expected narrowed current account surplus of 2% to 3% of gross national income (GNI) is in line with global rebalancing and structural transformation in the local economy.
But she also spoke of a lower projected current account balance of RM21.4bil due to low oil price and a higher deficit in income account.
It is obvious now that we have to look at other sources of revenue as crude oil prices continue to drop, with no sign of stopping anytime soon.
The tourism sector is crucial. The weaker ringgit will help make Malaysia into a ­cheaper tourist destination.
Even though 2015 was Visit Malaysia Year, we can still put in more resources to boost Malaysia as the ultimate tourist destination for 2016.
For a start, we need to tone down negative impressions, often caused by overzealous theologians and crime cases, that make headline news overseas.
I attended a Malaysian Philharmonic Orchestra concert recently, where it paid tribute to the music of Queen. The American singer subtly asked if Malaysians were allowed to stand up and sing and dance along. And at the David Foster and Friends concert in Genting Highlands, he also made various jokes relating to the conservativeness of Malaysia.
We all know the world thinks lowly of Malaysia as a concert destination and those who shoot off their mouths do not realise how much our neighbours have capitalised on such a perception.
Our authorities need to realise concerts bring in tourism money and are not about promoting free sex and gender mixing.
Tourism Board chairman Wee Choo Keong said "there is no doubt that Malaysia is being 'outshined' in the region in terms of advertising".
"You only have to turn on the TV and there are ads on campaigns such as 'Amazing Thailand' or 'It's More Fun in the Philippines'," he said.
For example, after the outbreak of the Middle East Respiratory Syndrome (MERS), South Korea is fighting hard to get its tourists back, with the Korean Tourism Organisation (KTO) embarking on an aggressive promotional blitz worldwide.
For the upcoming national-level MATTA Fair to be held at the Putra World Trade Centre between Sept 4 and Sept 6, KTO has taken 24 booths and is bringing in top K-Pop stars and other artistes to promote what the country has to offer.
It is shocking that instead of pumping up the advertising and promotion budget to sell Malaysia, we are actually slashing it by RM50mil, which is 25% of the RM200mil that has been allocated for the past 15 years.
Tourism brings in close to RM70bil annual­ly and is the second largest foreign exchange earner and among the largest contributors to the economy.
Some 27.4 million people visited Malaysia last year but the numbers could drop if not enough is done to woo tourists.
It is quite perplexing that Malaysia conti­nues to insist on visas for Chinese tourists even though it is free now. It is just not good enough.
The summer season is usually when ­tourists from temperate countries, including China, travel and it looks like we have missed the window period. Wake up, Malaysia!
We recorded a shocking drop of 500,000 tourists from China for the first quarter of this year. The second quarter is just over and we can expect the numbers to go down further.
The records show that each tourist from China on average spends RM3,401 in Malaysia, therefore for the first quarter of this year, Malaysia has lost RM1.7bil from this sector alone.
Strong political will is necessary here to push through the implementation of visa application online like in other countries. Malaysia needs to be competitive and acco­mmodative if we want to see more tourists.
Anyone visiting the major shopping outlets in Europe, especially Paris and London, will know that Chinese-speaking sales assistants are hired to cater to the Chinese tourists, especially at branded outlets. That is how they treat their Chinese customers.
It is crucial now for the Government to pull together the best business brains in Malaysia, not just the academicians and bureaucrats, to work out how we can rough through this difficult period. It will lift a huge burden off the Prime Minister and the Cabinet.
We need to identify the key sectors that can stimulate the various sectors of the ­economy to increase our revenue. Special incentives and stimulus packages need to be announced soon.
At the same time, it will be good for the Government to help ordinary Malaysians cope with the cost of living by reducing transport charges, including the price of LRT and KTM tickets. It is also time for electricity tariffs to be reduced in tandem with the fall in oil prices.
It can also look at reducing water supply charges to help consumers and as this is within the state's jurisdiction, surely the ­various Mentris Besar and Chief Ministers can make it happen.
We need our leaders to focus on the econo­my. Their daily political charade isn't going to help the people put food on the table.