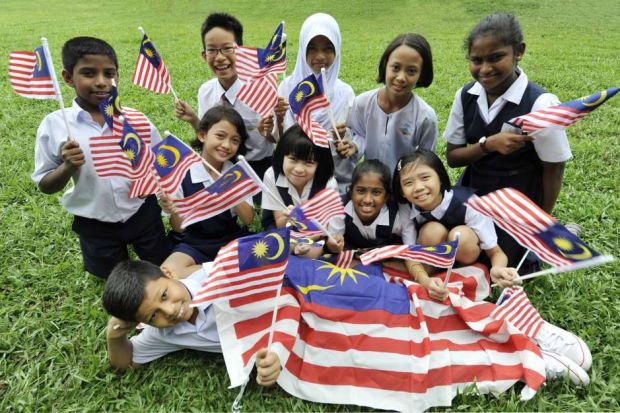 Malaysians are proud of our plural society. It's time everyone sees this for what it is – an asset to the country.
I AM glad that I was born in Penang and that I grew up in the state. Although I moved to the Klang Valley in the early 1980s to work and eventually start my own family, Penang remains home in many different ways.
I make regular trips home to see my parents and to savour the excellent street food. Penang remains warm and welcoming, and it has nothing to do with current day politics.
If there were any elements of politics, the tiny bits of it, that much of what we have today can be traced back to the British.
The colonialists, let's be honest, did good by leaving us with an established system of administration, education and judiciary.
But more importantly, Penang was a flourishing port and the islanders who are now in their 50s can testify that this was how they were exposed to the cosmopolitan side of life, which opened up their minds. We were very pluralistic in our thinking, that's for sure.
And let us also not forget that even from the early 18th century, Penang was home to thriving communities of Jews, Armenians, Germans and Scots. In the early 20th century, many Japanese also made Penang their home.
Penangites from my era and earlier were privileged to grow up in such an environment where diversity was rich and obvious.
This is very much unlike many other Malaysians who did not have that privilege as they grew up in mono-ethnic settings, and their exposure to other races only started when they entered universities or head to the urban centres to work.
The port in Penang saw the arrival of all kinds of sailors from Europe and helpers from neighbouring states ferrying commodities from other Asean countries.
A whole industry, mostly restaurants and bars, opened up, even before our independence, to cater to the needs of these foreigners.
When the Vietnam War broke out, the US marines serving in Vietnam were given rest and recreation breaks during their tour of duty. The duration of R&R was five days leave to the approved destinations, namely Bangkok, Hong Kong, Kuala Lumpur/Penang, Manila, Singapore, Taipei and Tokyo.
Due to their greater distance, seven days leave was permitted for those heading to Hawaii and Sydney. Bangkok was reportedly the most popular destination for the single GIs while Hawaii was the best pick for married GIs planning to holiday with their spouses.
In the case of Malaysia, Penang – being an island and with its free-spirited environment – was more popular than KL.
I was then in primary school but was very often in the company of these marines because my aunt worked as a receptionist in Town House Hotel in Penang Road, now the site of Cititel Hotel.
Many of these soldiers – who were well behaved given the fact that they chose Penang over Bangkok – were given a taste of Malaysian family life in our home.
Some of these Americans made it home after the war but many of them died. In Penang, they lived it up, knowing there could be no tomorrow.
This is a part of Malaysia which remains unrecorded in our school history books because it is probably deemed unimportant and irrelevant to Malaysia. But for us Penangites, it had a drastic impact – economically and personally.
Besides our Penang hawker fare, restaurants serving Western food opened up, giving us better and wider choices.
Butterworth was also the home of the Royal Australia Air Force until it was closed in 1988. For us Penangites, it meant decades of friendship with these Aussies and their families.
In my teenage years in the 1970s and 80s, while the rest of Malaysia only had access to RTM, we had the best Australian pop music being broadcast daily via Radio RAAF.
If you lived near the beach areas like Tanjung Bungah, your neighbours would not just be Malays, Chinese, Indians and Eurasians but could also be Australians.
The interaction with foreigners meant many Penangites already had their exposure to many things foreign, allowing their worldview to be wider.
For me personally, I was lucky to have studied at St Xavier's Institution. Despite it being a Catholic school, the many Irish brothers and German principal allowed a liberal environment to exist.
The school newsletter – our first foray into journalism and many of the contributors eventually became newsmen – was allowed to be critical. And surely in the 1960s, few schools had a full-fledged orchestra with the best composers like Jimmy Boyle teaching! I don't recall our rival school, Penang Free School, having an orchestra.
The school band, in green shiny kain pelakat and songkok, was always picked to lead the annual chingay or giant flags parade. The students, despite its predominantly Chinese population, just felt natural with these Malay costumes and proudly wore it.
Walking past nearby Pitt Street – now Jalan Masjid Kapitan Keling – it was natural to hear the azan calls to the faithful for prayers, smell incense from the burning joss sticks of the Chinese temple, listen to the chants from the Indian temple, and hear bells ringing from the churches in the same area.
It was just beautiful and we were taught from young that the breaking of coconuts, in Indian temples, was to break one's ego. It was a lesson learnt from friends – and not from our civic classes.
There was no need for any form of restrictions and prejudices because these differences were not just tolerated but accepted.
At a time when there was no such thing as taking a plane back home to India, the MV Chidambaram ship used to call on the Penang port to take passengers home to Madras, now known as Chennai.
When the ship arrived and before it sailed off, the "Little India" area or the Indian enclave of Penang Street, Queen Street, King Street and Church Street would transform into a carnival-like festival atmosphere as Indians from other states, bound for India, would converge there as well.
It would have been impossible for any Penangite, regardless of their race, religion and customs, to stay away from this excitement.
But the best part of Penang is that we were just far away from the capital. That provided Penangites with an independent streak. We had no Rulers and, in many ways, did not have a proper understanding of protocol and formality.
But the state produced many thinkers, many fiercely outspoken, and for many years, remained the home of many non-­governmental organisations.
Penangites obviously have been outspoken and demanding – they have kicked out three chief ministers and all were serving ones. These leaders were voted out when they were either regarded as subservient, or when Penangites simply got fed up of their inflated egos. So no one should take Penangites for granted.
The message of this article is simple – there is a need for some of our politicians to open their minds and, more importantly, their hearts.
Some still cannot see the importance and relevance of keeping Malaysia multiracial, which is an asset to the country.
These pea-brained politicians cannot see the importance of links to outsiders and how we can benefit from foreign visitors.
Countries which have become more cosmopolitan have done well and many refugees see these countries as their hope, offering them a free society which they can only dream about in their own home country.
The refugees from Syria, Africa and many countries want to flee to the United Kingdom and European countries, and strangely not Middle East countries, because they see hope.
We Malaysians are proud of our plural society. Let's keep it that way and don't let any selfish politician tell us otherwise.