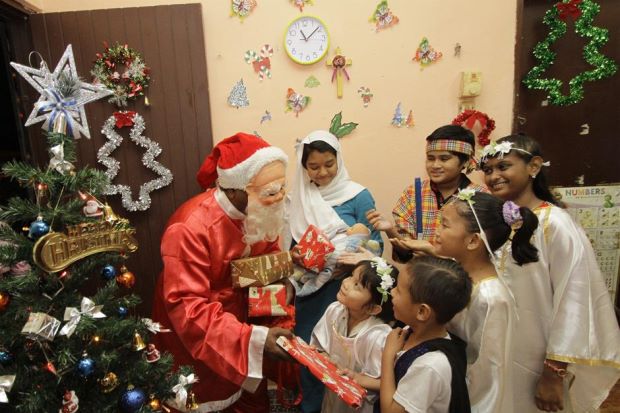 MALAYSIANS whine and complain a lot – it's both good and bad.
The good part is that we obviously want the country to improve, to set new benchmarks so that we can match the best performing nations globally. And we want our leaders to be accountable and to have integrity.
The minus side is that we take many things for granted and we seem fixated in our perception that we are only going in one direction – downhill. We refuse to acknow­ledge even the positive traits around us.
We jump to conclusions, often coming out with the worst scenarios possible. We forward messages, in text or video, without thinking – a simple car fire, the vehicle set alight by a jealous husband, is the work of extremists for sure.
These cynics do not, for a second, ask themselves why a terrorist would choose an ordinary stop on the LRT route to set off a bomb.
But that's Malaysia. I have enjoyed my Christmas celebrations and I am certainly happy that it is recognised as an official public holiday.
In fact, Malaysians – despite their many different and divergent views – all seem to agree that we must celebrate every festival of every community. Malaysia is among the countries with the highest number of holidays, at state and federal level, which often lead to extended weekends.
So, even the small groups of Muslims who feel that they should not wish their Christian Malaysians a Merry Christmas, supposedly on religious grounds, are happy not to have to report for work on such days.
While there are fears, among non-Muslims, that this country is turning more conservative and puritanical, this writer remains optimistic that most of us remain tolerant, respectful and moderate.
I do not believe we will go the Brunei, Tajikistan or Somalia way – countries which have banned Christmas celebrations and decorations in public.
For the tiny Christian community in Brunei, mostly expatriates and foreign workers, they can only celebrate within closed doors, such as churches and homes, and they must also reportedly alert the authorities ahead.
The Ministry of Religious Affairs said in a statement, "These enforcement measures are … intended to control the act of celebrating Christmas excessively and openly, which could damage the aqidah (beliefs) of the Muslim community."
Sultan Hassanal Bolkiah's decision to ban the public celebration of Christmas in his country has received worldwide attention but the media have also pointed out that the ban does not extend to his business interests outside of Brunei, including the historic Beverly Hills Hotel, part of his Dorchester Collection with branches in London, Paris, Milan and Rome.
International media continue to show pictures of these hotels fully decked out with Christmas decorations.
Punishment for violating the ban is a five-year jail sentence, and the government warned last year that Muslims would be committing an offence if they so much as wear "hats or clothes that resemble Santa Claus".
It has also been reported that Somalia issued a ban on Christmas and New Year celebrations in the Muslim country, saying the festivities "have nothing to do with Islam."
"We warn against celebration of Christmas, which is only for Christians," Sheikh Mohamed Kheyrow, director of Somalia's ministry of religion, reportedly said on state radio on Wednesday.
"This is a matter of faith. The Christmas holiday and its drum beatings have nothing to do with Islam."
He was quoted as saying that the ministry had sent letters to the police, national security intelligence and officials in the capital Mogadishu instructing them to "prevent Christmas celebrations".
In Indonesia, police had to be stationed at some churches to provide security with 13 areas identified as vulnerable to attack by extremists.
On Christmas Eve in 2000 a series of co-ordinated attacks on churches in Jakarta by al-Qaeda and Jemaah Islamiyah killed 18 people.
Despite the display of racial and religious extremism by some local personalities, who seem to enjoy press coverage without fear of being charged in the courts, Malaysia has been spared from such fears and unrealistic state actions.
The Prime Minister and our leaders have, without fail, issued statements wishing Malaysians of all faiths during each festival.
Christmas is openly celebrated, and our malls are wonderfully decorated to reflect the holiday season. It must be noted, however, that this is more for commercial reasons than of any religious significance.
Be that as it may, Christmas is an occasion to be happy and to spend time with loved ones, especially our families. That is surely a noble reason.
The Johor Sultan has taken to the social media to send out his wishes and has even publicly told Muslims that they should not fear that their faith would be threatened if they celebrate alongside their Christian friends.
I am glad that Malaysians continue to attend the unique open houses of fellow Malaysians, even donning the costumes of each ethnic group to reflect the occasion. No one has talked about their faith being shaken until now because of the actions of some ill-informed individuals who stir up issues of race and religion for their own agenda.
Globally, we have right-wingers and extremists like Republican presidential candidate Donald Trump, the French right wing party Le Pen and Swedish Democrats with neo-Nazis, whose actions fan up Islamophobia.
Muslims who push for into­lerance in Malaysia must see for themselves how vulnerable their fellow Muslims in these countries are to understand the predicament of minority communities.
Trump has insanely called for a ban on Muslims entering the United States and soon, some pea-brained extremists in the Bible belt would say mosques must be shut down or that Hari Raya must be banned because it would purpor­tedly weaken the faith of Christians.
It is a reminder that all of us must learn to put ourselves on the other side of the equation when we speak or take certain actions.
The office Christmas parties, yes, it's a plural, have been the best so far! We have reminded ourselves that as we open our presents, we must also never forget to open our hearts and minds. That's our mode­ration reminder!
I wish all Malaysians a Happy New Year!