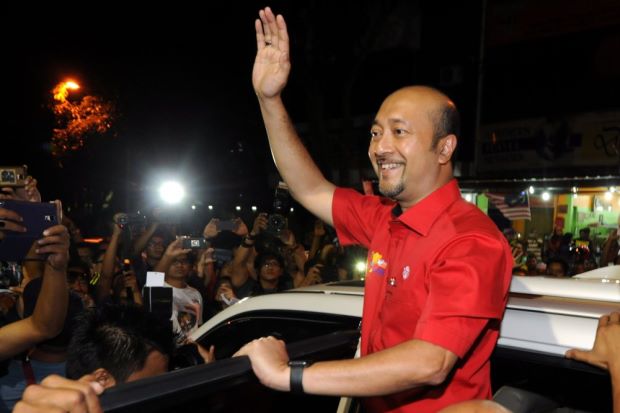 The state has a record number of mentris besar who could not hold on to their seats till the end of their term.
THE removal of Datuk Mukhriz Mahathir (pic) as Kedah Mentri Besar has been described as extraordinary by some analysts and politicians.
But the reality is that it isn't. His sacking should come as no surprise to anyone who has been in politics or has been observing Kedah politics.
Kedah has a record of mentris besar who found themselves kicked out of their jobs. It happened even when PAS was in power in the state.
The fact is that Mukhriz had continuously joined his father Tun Dr Mahathir Mohamad in criticising Umno president Datuk Seri Najib Tun Razak over the 1MDB controversy.
While Mukhriz has never openly called for the removal of Najib as Prime Minister, his constant harping on the issue was as good as asking Najib to go.
At the Umno general assembly in Kuala Lumpur last month, Mukhriz hosted a dinner at Saloma Bistro for Kedah delegates.
With deputy president Tan Sri Muyhiddin Yassin and vice-president Datuk Seri Shafie Apdal present, Mukhriz made a blistering speech – just hours after a clear endorsement by delegates that Najib be given time to tackle the 1MDB issue.
Many said it was the last straw for Najib. In simple analogy, no employee can expect to keep his job if he spends time running down the boss and is seen to have even plotted for his downfall.
In this case, the irony is that Najib picked Mukhriz to be the Mentri Besar against the wishes of the Kedah division heads after the 2013 general election. Some said Najib had to please Dr Mahathir then.
Mukhriz has now joined the ranks of his predecessors who had to leave before their term ended.
The fifth mentri besar, Datuk Syed Nahar Syed Shahabuddin (1978-1985), had to step down after he was secretly filmed dressed as Mexican character Montoya del Monte at a party hosted by the Kedah Shooting Association.
While such costume party would hardly raise any eyebrows in the federal capital, the video was used against him by PAS and in conservative Kedah, it was difficult for him to stay on. Syed Nahar then offered to step down.
Tan Sri Osman Aroff took over in 1985 and stayed till 1996, when Dr Mahathir wanted him replaced by Tan Sri Sanusi Junid. The accusations went from being a weak leader to being overly generous with Chinese tycoons. Osman could not fend off the attacks.
Both Syed Nahar and Osman were told to step down in a subtle manner, and they did not resist or rebel openly.
Like Mukhriz now, Osman had his band of loyal and angry supporters but they eventual­ly went along with what Dr Mahathir wanted. In short, Dr Mahathir did it his way and had it his way.
The eighth mentri besar, the late Datuk Seri Syed Razak Syed Zain, also ended his term prematurely in 2005 after a stroke.
In the 2008 general election, his Kubang Rotan state seat, which he had held since 1995, was taken over by PAS.
When PAS took over the state government that year, Datuk Seri Azizan Abdul Razak was made mentri besar and when he got sick, he, too, refused to budge and actually ran his office from the hospital bed.
The younger PAS state exco members rebelled against him but the in-fighting cost PAS the state in the 2013 elections.
The Kedah mentri besar's post is truly a cursed position and records have shown that many have failed to hold on to their seats for long.
It's odd that PKR should raise questions on the disposal of Mukhriz when the party also removed Selangor mentri besar Tan Sri Khalid Ibrahim, who was mentri besar from 2008 to 2014.
He said the same thing, too, like all ousted leaders – they had done no wrong and that the people were behind them. And like every politician, everything they did, or did not do, was for the people's interest and never their own.
There would always be the token protests and show of force but we all know they never last long in Malaysia.
Like Mukhriz, Khalid also went against his party bosses – Datuk Seri Anwar Ibrahim and his wife Datin Seri Dr Wan Azizah Wan Ismail – and he found himself sacked.