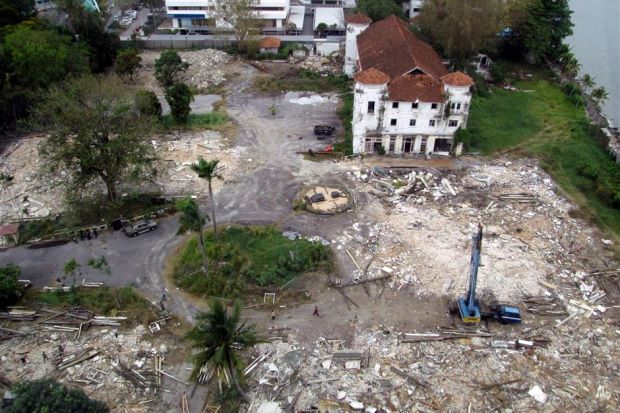 IT'S a fact that not all of Penang's state government leaders are true-blue Penangites. Chief Minister Lim Guan Eng was born in Johor and spent his childhood in Malacca.
Deputy Chief Minister Dr P. Ramasamy is from Sitiawan before settling down in Selangor as a university professor.
Senior executive councillor Chow Kon Yeow is also from Selangor but, to his credit, he has spent more time in Penang because he studied at Universiti Sains Malaysia and started his working life in Penang.
Penang Gerakan chief Datuk Teng Chang Yeow, a former Penang state exco member, is Batu Pahat-born but also studied at USM and settled down in Penang.
There's a lesson they would have learned by now – that Penang's non-governmental organisations are among the most active in Malaysia. Correction – it's among the most active in the world.
The concentration of NGOs in Penang is surely among the highest in Malaysia and we are not talking about one-man group with no records but NGOs which are organised with good track records.
The Consumers Association of Penang is surely the best organised in the country and it has a large workforce which runs the NGO effectively. The Friends of the Earth and the Third World Network are also linked to CAP leaders.
Penang's civil society is vibrant and loud – and no state leader can afford to snub them if they know what's good for them.
After all, the state is the only one which has kicked out every chief minister. The casualties are the late Tan Sri Wong Pow Nee (MCA), the late Tun Dr Lim Chong Eu (Gerakan) and Tan Sri Dr Koh Tsu Koon (Gerakan).
It also goes to show the independent streak of Penang voters. The results of ­previous elections have shown that voters do not simply mark a cross on the same party symbol for both state and federal seats. In the earlier polls before the political tsunami of 2008, it was not uncommon for them to vote a DAP candidate to Parliament while settling for a Barisan candidate at the state level.
Which is why DAP supremos like Lim Kit Siang and the late Karpal Singh have tasted defeat in Penang before.
Karpal, born in Penang, began his political career in 1970 when he joined DAP. He won a seat in the Kedah State Legislative Assembly in 1974. In 1978, he was elected MP for Jelutong, which he held for more than 20 years until losing it in 1999.
Kit Siang, on the other hand, has moved around the country a fair bit despite his Malacca roots. He made his entry into Penang by winning the parliamentary seat of Tanjong in 1986, defeating Koh Tsu Koon by a big majority. He retained the seat in 1990 and 1995. But in 1999, he stood in Bukit Bendera but was defeated by Gerakan's Chia Kwang Chye by a narrow 104 votes. He also lost in the state seat of Kebun Bunga to Teng Hock Nan in that election.
At the state level, he clinched a momentous victory over Lim Chong Eu for the state seat of Padang Kota in 1990. But if he thought he was definitely welcomed in Penang, he was soundly defeated by Koh Tsu Koon in the 1995 election for the state seat of Tanjong Bungah. It was sweet revenge for the man he beat for a seat in Parliament in 1986.
Politicians who think Penang voters are die-hard party loyalists will learn soon enough that Penangites give much weight to the individual's behaviour, regardless of party affiliation.
The voices of Penang civil society cannot be easily ignored, as they can influence the elections too.
From the protection of trees to conservation of heritage buildings to political consciousness, there is always a desire to be united, a desire for civic empowerment and rights-based action, as widely respected activist Datuk Anwar Fazal aptly puts it.
Long before moderation became a fashion­able word, the movement had taken shape under Aliran or the National Consciousness Movement under the leadership of Dr Chandra Muzaffar.
The former USM political scientist had already pushed for Malaysians to focus on common values instead of highlighting on their differences.
He led the NGO, which comprised many USM lecturers, for 14 years and what stood him apart from the other political commentators was his ability to analyse and explain national issues in a balanced and rational manner.
Always the educator, Dr Chandra has inspired many, including Penang-born prominent moderation activist Anas Zubedy, who is now the secretary-general of the International Movement for Just World, also founded by Dr Chandra.
In recent years, we have seen how a group of architects, communal landlords, environmentalists and historians have come ­together to form the Penang Heritage Trust.
Penangites have a history of fighting to save heritage buildings, including the failed attempt to rescue College General, a Catholic seminary that trained priests in Penang and Malaya for 176 years.
So, the state authorities can expect to face stiff protests if there are any attempts to cut down trees to widen one portion of Green Lane – or Jalan Mesjid Negri as it is known now.
Penangites will not be persuaded that these trees will not be destroyed but relocated. Let's face it, we would sure like to know how the century-old grand old trees can be uprooted and relocated.
More recently, the Penang government also backed down from a purported move to acquire school land to expand Gottlieb Road.
A social media campaign "Save Penang Chinese Girls' High School" was successfully launched and the anger has not abated despite reassuring words by Chow, with ­critics pointing out that state government leaders had given contradicting responses.
Penangites are also upset at the demolition of several buildings in the Runnymede proper­ty along Jalan Sultan Ahmad Shah recently. The buildings were on the site of Sir Stamford Raffles home in Penang.
Raffles, who went on to found Singapore, had worked under Sir Captain Francis Light in Penang before going to Singapore. He was assistant secretary to the governor of Penang in the early 1800s.
Penangites are enormously proud of their heritage – and while they want development, they also want to keep Penang as it is.
For older Penangites, who have lived through the times when Penang was physically better off, this is their last fight to keep the natural beauty of Penang.
They have seen how bad land reclamation has taken away their beach in Gurney Drive and what they see now is a large piece of ugly mudland during low tide.
Penangites are known to be independent-­minded, liberal, progressive, assertive and outspoken – they will come together for a common cause and, as one writer wrote, to "revitalise their sense of belonging".
The NGOs of Penang have supported politi­cal parties who come to power and they have also worked against them when they do not keep to their side of the bargain.
Let no politician be mistaken and it's best that they read up the history books on Penang's dynamic civil movements.
In 1990, when Dr Lim proposed an extensive development plan for Penang Hill, NGOs such as PHT, CAP and others united to "Save Penang Hill" and condemned the plan's environmental and cultural hazards. They ­organised sit-ins and directed as many as 3,000 spontaneous complaints to the Department of Environment.
As one report said, "Penang Hill being widely considered one of the island's most important physical and cultural landmarks, the Hill incident attracted an unprecedented public outcry.
The battle to preserve the Hill became the key issue in the 1990 elections, costing Lim his state seat and ending his 21-year tenure as Chief Minister of Penang."
There were, of course, other contributing factors but the point is that ideas of sustainable development, green policies and human rights have always been points of endearment among the Penangites, who can be counted upon to quickly organise themselves.
No one, especially politicians, should take for granted Penangites, as they fall in love quickly with politicians but also get into a fight just as quickly.
And let's also not forget they can also count on the support of the Penang diaspora who are scattered all over the country, especially in the Klang Valley, and the world.
It has been said many a time that you can take a Penangite out of Penang, but you can never take Penang out of a Penangite. They have the power to influence, too.