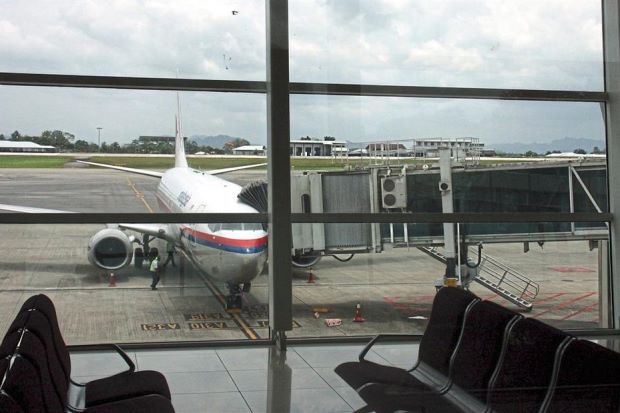 IT sure wasn't a surprise to many Malaysians that Red Shirt rabble rouser Datuk Jamal Yunos was barred from entering Sarawak. We are surprised that he was surprised.
We also hope that this Umno division chief isn't surprised that he is not as popular as he thinks he is. Certainly not among reasonable Malaysians, whatever their political affiliations may be.
His brand of racist and confrontational politics isn't what the founders of Umno had in mind when they formed the party.
It was their moderate and consensus-building politics that saw Umno forging a strong relationship with MCA and MIC to form the Alliance in the early days, and subsequently with more parties in the Barisan Nasional coalition.
Last week, Jamal was given a notice of entry refusal by the Immigration Department, signed by Kuching International Airport Immigration Office chief Kamarol Johari on behalf of the state Immigration director.
Other serial trouble makers who have been stopped included academician Ridhuan Tee Abdullah, who was stopped from entering the state in December 2014.
A Bernama report, quoting sources, said that Chief Minister Tan Sri Adenan Satem was not in favour of the presence of Ridhuan Tee for a religious talk and had instructed that the event be cancelled.
Adenan had said previously that Sarawak was tightening its immigration rules and stepping up the scrutiny of visitors from the peninsula to keep out "extremists, religious bigots and racists".
Controversial Perkasa chief Datuk Ibrahim Ali is also on the list of personalities from the peninsula who have been banned.
In fact, in March, Adenan had reportedly warned that "I am building a list of people I don't want to come to Sarawak", saying Sarawakians were peaceful people, adding "let it stay that way. That's why I don't want these people (extremists, religious bigots and trouble makers) to come."
Adenan's action may be questioned by some opposition politicians, who have also been banned from entering the state ahead of the state election on May 7, but no one can challenge the Chief Minister's consistency.
In fact, many non-Muslims in the peninsula would wish we have a CM like him over here. He doesn't need to play the racial or religious cards to score points.
We won't be surprised if controversial Indian religious speaker Dr Zakir Naik was barred from entering Sarawak.
While his fans may see Dr Zakir as a misunderstood person, in the age of social media, anyone can check the videos on YouTube to make a more accurate assessment of him. As they said, the jury is out there.
The problem with politicians and religious figures who preach hate messages – and here, let me emphasise that I am not referring to anyone in particular – is that they do not see, nor bother to understand, that their speeches certainly do not unite. In fact, they clearly divide.
The effect of their acid-laced rhetoric on those who are unable to draw logical deductions by themselves is destructive.
All religions are unique but they also have similar values in promoting goodness, compassion, patience, tolerance and forgiveness.
People who claim to speak on behalf of God should emphasise the commonalities instead of just pointing out one's religious superiority over others.
A preacher may have formal religious credentials but the person needs to be checked when he runs down other religions and worse, endorses violence in the name of religion, basing it on selective verses in the holy books.
When their authority is challenged, they often respond by claiming that others are not qualified to speak. When they expound such views from the pulpit, it is also a monologue as no one in the congregation can speak out.
I have attended a number of services in different churches during the election season when the calm of seeking solitude with God was disrupted by pastors who seemed to be rather partisan.
The sermons were interlaced with their political tirade and snide remarks which made the church service sound like a political ceramah. They also assumed that everyone in the congregation shared their political allegiance or enthusiasm.
I remember one Easter service when a pastor praised a certain blogger who was very popular at that time. This blogger has since changed his political slant and I wonder what the pastor has to say about him now. Let us be reminded that we worship God, not men.
Tourism and Culture Minister Datuk Seri Nazri Aziz is known as a loose cannon whose sometime uncouth remarks make us uncomfortable. But we would surely agree with him when he said "I think if you want to talk about religion, then just talk about your own.
"When making comparisons between religions, you are bound to conclude that your religion is better," Nazri was quoted in an interview with a news portal.
It was a joy, for example, to see Deputy Prime Minister Datuk Seri Dr Ahmad Zahid Hamidi joining the Sikh community in celebrating the Vaisakhi festival.
Bravo to Zahid for taking time off from his busy schedule to join the community for a quick breakfast at the Gurdwara Sahib last week. His presence also sent a strong message – we must never be frightened of visiting a place of worship of another faith.
Not many of us are prepared to point out the shortcomings of our own religion and also the leaders for fear of being condemned by those of our own faith. So we keep silent for fear of reprisals or simply because we do not want to be seen as traitors to our community. Worse, if our views are considered blasphemous.
The edicts of religious authorities are regarded as the complete truth and are not to be challenged, as it would be perceived as challenging God. So many of us end up fearing men instead of God.
This is partially due to our society's preference of submission to authority and unwillingness to challenge or question those seen as more learned and more powerful than us. Many of us prefer to conform too, so we just accept things as they are.
We can never go wrong even if we embrace moderation – respect and embrace the goodness of religions. We need more people who promote love and peace and not hate. Work together for Malaysia – we don't need foreigners to come between us.