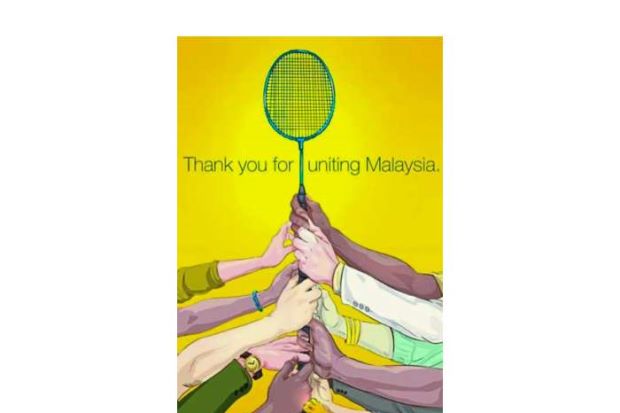 We are certainly proud of our athletes, our Anak-Anak Malaysia who did what politicians could not do – unite Malaysians with their grit and determination.
DATUK Lee Chong Wei played his heart out but it was not enough to bring home the elusive gold medal for Malaysia.
After that pulsating win against Lin Dan in the semi-finals, Chong Wei had to settle for silver, losing to China's Chen Long 18-21, 18-21.
But we are rejoicing. And we have every reason to.
The whole nation has practically come to a standstill with all the action going on in Rio de Janeiro in these past weeks.
Whether in the comfort of our living rooms or in the bustling environment of the neighbourhood mamak shops, we have stayed glued to the television sets to watch our Malaysian athletes perform in true Olympian spirit.
What this Rio Olympics has shown us is that our athletes in all the sports that they took part in have risen to the occasion. It is not just about badminton. We have the talent and the potential to do well in many other sports.
Our total haul of 4 silver and 1 bronze is a record. What is even more commendable are some of the heart-wrenching stories our athletes shared.
On our TV screens, we could see the Malaysians in Rio cheering these athletes on, waving the Jalur Gemilang and holding up banners proclaiming "Malaysia Boleh!".
The athletes also knew that the whole nation was behind them. In the wee hours of the morning, we put aside our political differences. We forgot about our racial and religious backgrounds and we just cheered for our heroes, our Anak-Anak Malaysia.
It was a grand showcase to remind us that sports unites and our diversity is truly our strength. And, for a change, Malaysia was getting the attention of the world press, for all the right reasons.
Watching the badminton matches was heart-stopping for all of us. For most of us, including this writer, our blood pressure must have shot up, especially in those matches when our Malaysians were in action. Some of us might have been worried that we could end up in hospital but I was quite certain that ambulance drivers were too busy for me and were probably watching the game as well.
The badminton players brought Malaysians as truly One Malaysia and not Once Malaysians.
They did what our politicians could not do – unite Malaysians with their grit and determination. Malaysia Boleh was not just a political slogan, in their case.
Chong Wei's victory over his nemesis Lin Dan in the semi-finals on Friday is a match that will go down in the annals of the sport's history. I would say it was even more exciting than the final.
The men's doubles final which followed was just as exciting. Goh V Sham and Tan Wee Kiong had to settle for a silver medal. It was so close but we must not forget that based on their current world ranking, they were not expected to get into the final in the first place.
We didn't expect anything from them although they have had impressive records at the Commonwealth and Asia levels. But they surprised us all and captured the imagination of all Malaysians. What an incredible fight they put on against their more experienced and higher ranking opponents.
We were just a whisker away from the gold medal. The Malaysian pair put their heart and soul into the fight against fourth seeded Fu Haifeng and Zhang Nan from China.
The two Chinese had also won the gold medal in the London games four years ago, although not as a pair. Fu won the doubles with Cai Yun while Zhang won the mixed doubles title with Zhao Yunlei.
In short, while Goh and Tan are currently ranked 12th in the world, they are certainly newbies to the scene.
So, we need to be realistic although we did not hide our feelings that we wanted them to get that elusive gold medal so badly.
Goh and Tan are 27 years old and from now on, their remarkable rise will be under the watchful eyes of China and Indonesia. They have a good future ahead.
It's the same with the mixed doubles team. Most of us are still celebrating the achievement of Goh Liu Ying and Chan Peng Soon who clinched the silver medal.
Overnight they have become household names. They are surely our heroes. Considering that most of us did not give them much thought in the first place, their appearance in the final is already an achievement in itself.
No, they did not let us down, as some news reports chose to report. No wonder many Malaysians were offended with the headlines. And what about the heart-wrenching posting by Liu Ying on Facebook?
"The moment I was standing on the podium and watching our (Malaysian) flag raised, tears were in my eyes. This kind of picture I have only been dreaming about, but dared not hope… there are too many competitors above us," she wrote.
And we also learnt how she had to undergo knee surgery just two years ago. That she is able to play at such a competitive level so soon after speaks volumes of her tenacity.
However we may look at it, it has been an incredible experience for Malaysians. We salute our other Malaysian Olympians who got medals – cyclist Azizulhasni Awang got a bronze and divers Cheong Jun Hoong and Pandelela Rinong got a silver in the women's 10m platform synchronised event.
Pandelela had her hopes on the individual 10m event but it was not to be. But we could see how hard she tried, despite emerging 11th in the final of 12 divers. And what is interesting is that team mate Nur Dhabitah Sabri came out 9th, showing that there is much potential for Malaysia in the diving scene.
Nur Dhabitah is only 17 and she captured our hearts with her beaming smiles after each dive.
It is a feat for anyone to get medals at the Olympics. This Rio Olympics has shown us that there can be hope in everyone selected to be part of the contingent. They are not there just to make up the numbers. They are there to be among the best in the world.
Chong Wei, in a live telecast after the match, said sorry to Malaysia, that although he tried his best, he could not bring home that elusive gold. He looked the saddest of us all.
Well, Chong Wei, you need not say sorry at all – for you have already done so much for us.
Ahead of National Day, we are certainly proud of our Anak-Anak Malaysia who have done us proud. We are mighty proud as Malaysians.
They have been truly inspirational to everyone in Malaysia and for all their sacrifices that they have made for their sports and for Malaysia, we surely want to say THANK YOU to them for bringing glory to our country.