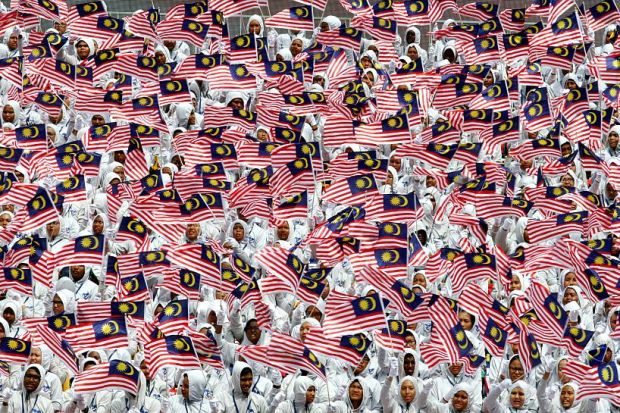 As the country celebrates its National Day and Malaysia Day, where the message is unity, some 'lost' individuals are going about their narrow-minded ways.
CONTROVERSIAL academician Ridhuan Tee Abdullah needs to see a psychologist or maybe even a psychiatrist. He seriously needs help.
He has a serious identity problem, that's for sure.
Like I have said in previous articles about him, many Malay­sians are irritated by his rantings, especially those that take a racist slant.
I also feel very sorry for him because he just tries too hard to shed his real ethnic background when he makes such remarks.
You can change your religion, the language you speak and the way you dress but the reality is that you cannot change your ethnicity, no matter how hard you try. Ridhuan will be Tee Chuan Seng forever.
But of course, Ridhuan will argue and lecture us that the Federal Constitution states that a Malay is someone who professes the religion of Islam, habitually speaks Bahasa Malaysia and conforms to Malay customs.
It is interesting that we have recently been enlightened by the fact that the status of a Muslim convert's right to be deemed a Malay simply on these conditions is still an area that has to be clarified.
According to an article written by lawyers Rosli Dahlan and Mohammad Afif Daud in the book Breaking the Silence: Voices of Moderation, which was launched at the G25 forum "Islam in a Consti­tutional Democracy" recently, the confusion between the constitutional definition and understanding of the word Malay is because it is used in many contexts.
But what is clear through Ridhuan's writings is that he is emboldened in his rants against non-Malays because he wants to project himself as a fervent defender of Malay rights as well, the way he defines them. He also uses this argument to question the "loyalty status" of fellow Malay­sians.
Which is probably why he spends his time calling the Chinese community by many names, including his all-time favourite term – the "ultra kiasu" or one with a grasping selfish attitude.
In another of his warped articles in a Bahasa Malaysia daily, Ridhuan, who also passes himself off as a religious teacher on RTM, said: "Ultra kiasu athletes are more involved in individual sports rather than those which require teamwork."
He reasoned that this is because individual events draw more attention and money compared with team events.
He claimed that for these athletes, "patriotism is merely lip service and not something kept close to heart".
Ridhuan wrote that sports had become a business and also a means to gain popularity. He said that it is now only for show and no longer for patriotism.
He added that ultra kiasu (mercenary) athletes compete for monetary rewards rather than for patriotic reasons and are thus driven towards individualistic sports, rather than sports which require teamwork.
His comments came after the end of the 2016 Rio Summer Olympics on Aug 21, where the Malaysian contingent delivered its best-ever Olympic performance ever – winning four silver medals and one bronze medal.
The silver medallists are Datuk Lee Chong Wei (badminton; men's singles), Chan Peng Soon and Goh Liu Ying (badminton; mixed doubles), Pandelela Rinong and Cheong Jun Hoong (diving; women's synchronised 10m platform), and Tan Wee Kiong and Goh V Shem (badminton; men's doubles).
Azizulhasni Awang won Malay­sia's sole bronze medal in the men's keirin cycling event.
Ridhuan has written many stupid things in the past, but he has crossed the line this time. It is grossly unfair and irresponsible of him to run down our Olympic heroes who have sacrificed so much for Malaysia.
Ridhuan is a man who does not understand the meaning of decency. He should be ashamed of himself. If he is a man of religion, as he projects himself to be, he owes our Olympians and Malaysians an apology.
But we know that he is too proud and selfish, and in his own words, too ultra kiasu to make such a honourable gesture. It probably doesn't exist in his vocabulary.
As a democratic country where diverse views must be accepted and tolerated, we should not provide a platform for extremists like Ridhuan to spew hatred and disunity. It's like providing oxygen for his fanaticism.
We also need to make it clear that the remarks he made are offensive no matter what his ethnic identity may be or how he tries to hide it.
At a time when the nation is celebrating National Day and Malaysia Day, where the message is unity and togetherness, Ridhuan is doing exactly the opposite.
I also feel sorry for his like-minded friends in PAS who are playing moral guardians in Kelantan, going after non-Muslim shopkeepers who display posters of women models who do not wear a headscarf or cover their aurat.
In the past, non-Muslim women hairstylists have been fined by the Kota Baru Municipal Council for cutting the hair of customers of the opposite sex and of course, PAS will tell us that all the laws they are pushing do not affect non-Muslims.
Sure, we believe you, like how many people believed in the 2013 general election, with many non-Muslim supporters even going around carrying the party's green flags.
Of course, how can we forget the gender segregation of check-out queues at supermarkets and in cinemas, where the lights must be switched on at all times.
Going by the puritanical arguments put forth by PAS, it would mean none of the party's members would have watched the women's athletics events on Astro during the Olympics.
With their tight-fitting sports gear, these athletes from all over the world would have driven those watching into an uncontrollable frenzy and perversion. The poor guys.
There would be no way that the party members could even watch the women playing beach volleyball or gymnastics or swimming.
Well, until now, the Kelantan PAS government cannot explain why the state still has the highest incidence of AIDS and drug addiction, for all its moral crusade against purported immorality, which seems to be the party's obsession.
I guess if Datuk Seri Abdul Hadi Awang becomes Prime Minister after the next general election, we won't be able to watch these events on Astro – if they are not already banned by then – in the next Olympics in Tokyo.
And as he busies himself going around meeting leaders of Chinese guilds and associations, telling us why his proposed syariah Bill does not affect non-Muslims, he has not been able commit himself by stating in black and white that in his Bill, non-Muslims are exempted. Put it in, come on, talk is cheap.
But the biggest joke must be the reported statement of an obscure non-governmental organisation, Persatuan Mukabuku (Facebook Association, no kidding!), whose Penang secretary Muhsin Abdul Latheef was quoted as saying that the popular Zumba dance should be banned from being performed in public places in Penang – pointing out that the sport has been prohibited by the fatwa council of Sabah.
We know that come Malaysia Day, we like to talk about integration between the peninsula, Sabah and Sarawak, but surely this is not part of the deal.
Many of us are not even sure if this guy is serious or was misquoted, but he should be a stand-up comic.
Racial and religious politics have no place in Malaysia, but moderate Malaysians must be prepared to speak up against them.