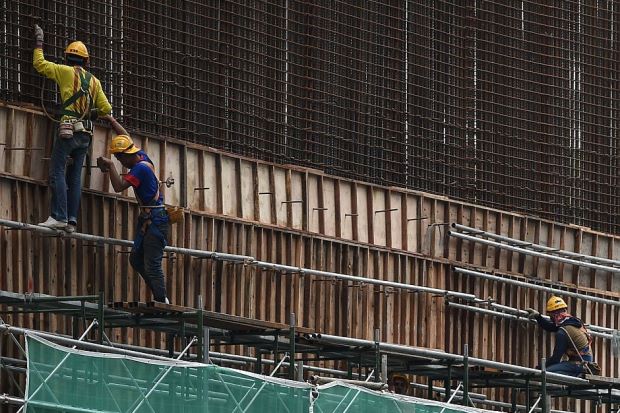 Malaysia is facing a host of issues and let's get real, the NCC2 is sorely needed to deal with these matters to propel our nation forward.
WE have a love-hate relationship with foreign workers. Malaysians complain endlessly about the increasing presence of foreigners and by that, we mean unskilled foreign workers. But we are also the first to raise the white flag shortly after a freeze is imposed on these workers.
Following loud protests from employers recently, the Cabinet gave in and said it had lifted the ban on hiring foreigners in four sectors.
These were the manufacturing, construction, plantation and furniture-making industries, which are facing a major shortage of workers.
But other businesses have also shared their frustrations – a gym operator complained that toilets at his premises have not been cleaned regularly because of the government's decision and a nasi kandar operator said two of his outlets were in danger of closing down.
Farmers are also grumbled that they did not have enough workers and the constant harassment by authorities was not helping their business.
A lack of farm labourers, who used to be mainly from Bangladesh, has also been blamed for the price of local fruits shooting up, one report said.
The Federation of Malaysian Manufacturers reportedly claims that almost half of its members can no longer fulfil orders.
A news report notes that a survey conducted by the federation showed that up to 84% of factories are facing manpower shortages and potential loss of revenue.
In Malaysia's furniture industry alone, reputed to be one of the largest in the world, a shortage of 27,000 workers has seen monthly shipments declining by more than 28%.
The demand for foreign workers by businesses is understandable as it has deep implications on our economy.
Palm fruits will rot away, for example, if there are no workers to harvest them. Sarawak, for example, reportedly suffered estimated losses of RM1bil a year due to uncollected fresh fruit bunches arising from a workforce shortage.
The industry is facing a shortage of over 30,000 workers and the situation is serious as the state has about 1.4 million hectares of oil palm plantation and 78% of the workers are foreigners with only 22% Malaysians.
But our over dependence on foreign workers has flash points which we need to know about as in the long term, it will have serious effects.
Based on EPU estimates, in the medium term to 2020, GDP growth could be in the range of 4-5% – much slower than the average 7% previously, but employment growth will remain at 3.3%.
Here's the worrying statistic – foreign workers, on the other hand, is the fastest growth sector by a compound average of 8.9% even as we are grappling with a weak economy.
"If the number of foreign workers is around seven million or 22.1% of the total population of 31.7 million, that would mean both the demographic and social profile would change dramatically in the coming years," one prominent economist wrote.
The current profile is bumiputra (68.6%), Chinese (23.4%), Indians (7.0%) and others (1%) with the official count of non-Malaysian citizens in 2016 at 10.3% of the total population of Malaysia, he added.
"Influx of foreign labour at 8.9% compound annually is clearly unsustainable without distributing income and social profile of the country," he warned.
But that's not all as we must not ignore the political results – "if foreign workers continue to increase at the current rate, within one generation, as Sabah found out, even the bumiputra community may end up as a minority."
In fact, the Indians in Malaysia have already found out that foreigners have outnumbered them. The foreigners are catching up fast on the Chinese.
I have written about this previously, that given the low Chinese community birth rate of 1.4 babies per family in 2015 from 7.4 in 1957, their position would fall from 24.6% in 2010, 21.4% in 2015 to 18.4 % or less in 2040, according to a research paper.
The only exception are the bumiputras. In 2014, 75.5% from the total birth rates were bumiputras. In addition, they recorded the highest birth rate of 20.5 per 1,000 population, the research revealed.
These are numbers that all Malaysians should seriously reflect on when they talk about wanting more foreign workers. We could well be shooting ourselves in the foot.
Malaysia is overly dependant on crude oil and palm oil and a hit on the prices of these two sectors immediately whacks our economy and ringgit. In the case of palm oil, it is labour intensive.
We need to raise our competitiveness if Malaysia is to go far. The world isn't waiting for Malaysia while we fight with each other over issues that should be resolved, or have been resolved, after independence.
Our addiction to unskilled, cheap and uneducated foreign labour will help us in the short term but in the long run, we will have to shoulder the presence of these people.
Our work force needs to be upgraded with more specialisation in areas of expertise as traditional commodity-based exports will lose out to high technology products. Malaysia needs educated and highly skilled foreign workers in the long run.
Singapore and Hong Kong have both attracted a strong talented foreign pool but Malaysia is the opposite – we are a magnet for cheap foreign labour.
It isn't the salaries and perks that attract good expatriates – their families must feel safe and the quality of life must be worth it for them before they even think of living and working in Malaysia.
Mindless racist remarks such as the recent outburst of the Klang Umno division questioning the appointment of a foreigner to lead mobile telecommunications provider Celcom Axiata Bhd does not help.
Its chief, Datuk Nasaruddin M. Zin said the position of Celcom's chief executive officer (CEO) should be given to a Malay, or at least a Malaysian.
The over-obsession with race will not help us encourage the best talents to come to Malaysia if they see their career opportunities stalled by such considerations.
It doesn't help that some of our best minds are not returning to Malaysia but staying back overseas after they have graduated.
According to a report, last year, a total 308,834 highly-skilled Malaysians moved overseas, with 47.2% going to Singapore, 18.2% to Australia, 12.2% to US and the rest to other countries like UK and Canada.
According to the same report, the number of skilled Malaysians living abroad rose 300% in the last two decades, with two out of every 10 Malaysians with tertiary education opting to leave for either Organisation for Economic Co-operation and Development (OECD) countries or Singapore.
Well, we can shrug off the disappearance of these good professionals or we can take a serious look at ourselves, as a nation and as a people, and honestly ask if it is a loss.
A National Consultative Council 2 is needed, after 47 years, to talk about these issues, behind closed doors, and to find solutions, so the country can move forward.
There are still plenty of clever people in Malaysia, with no political agenda nor ambitions, but who care passionately and deeply about this country.