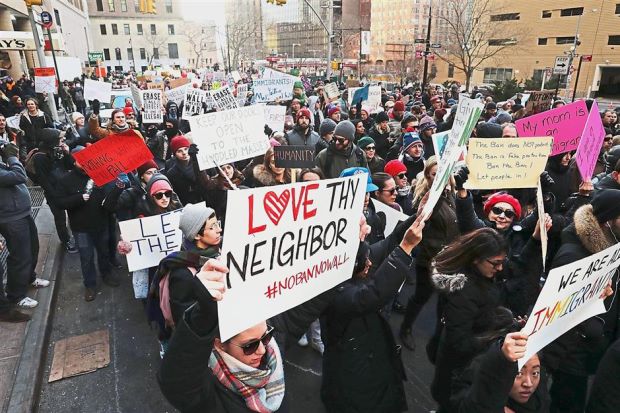 What Trump is doing – and he may not even realise it with his defiant-style leadership – is making the US a much more dangerous place to live in now, not a safer place as he had hoped.
WHEN the world's most powerful man conducts diplomacy over Twitter, keeping his words to 140 characters, we'd better prepare ourselves for trouble.
And indeed, since Donald Trump took over as President of the United States, there has been a series of totally unpredictable and unconventional decisions made, some mind boggling, even bordering on insanity.
And it has just been a little over two weeks since he moved into the White House.
There is no question that many Americans are troubled by a possible mass influx of refugees from the Middle East and Africa.
This does not involve just the US but also affects several parts of Europe, including Britain, France and Germany, which explains why politicians who play the right-wing card – with the anti-immigrant agenda – are winning.
Trump clearly understands the pulse of the average American, especially those in the rural mid-west, the US heartland.
These are folks who watch conservative Fox TV and whose interaction with people of other races, religions and cultures is limited.
They are not like the liberal city folks of New York or Los Angeles, who turn up at airports and train stations, waving placards and hugging Syrian refugees, as shown on international TV news.
It is probably a different story in Montana, Nebraska, Arkansas or South Carolina but we do not hear the voices of these rural folks on CNN.
Trump won simply because he understood the fears of the average American well. He has continued to play the Islamophobia card because he knows his fearmongering works.
It doesn't help that most of these refugees want to go to the US or Britain and not the Muslim-majority nations of the Middle East. The question remains if these Arab countries are even offering places to the refugees or do the refugees themselves prefer Western secular and democratic values.
Nationalist politicians have already whipped up anger, pointing out that if these Middle East refugees hate Western culture so much and refuse to assimilate, then why should they be let in.
But Trump's executive order banning the citizens of seven countries from entering the US, supposedly to protect the nation from "radical Islamic terrorists", is highly questionable, especially its effectiveness.
The president has signed the order temporarily suspending the entry of people from Iraq, Syria, Sudan, Iran, Somalia, Libya and Yemen into the US for at least 90 days.
This is odd because if we wish to identify terrorism acts, then surely there's a high number of terrorists from Egypt, Turkey, Saudi Arabia, Pakistan, the United Arab Emirates, Indonesia and Afghanistan. Why were these countries not on the list?
Obviously, Trump did not want to offend US allies, especially Saudi Arabia and Pakistan. Despite the US' constant lecture on democracy, we all know these two countries are often "spared", despite their horrifically poor human rights record because they are strategically important to the US. We also should not forget that at one time, the vital oil supply was from Saudi Arabia.
The fact is that in the past four decades, 3,024 people have been killed by foreign terrorists on US soil.
The reality is that the Sept 11 attacks, perpetrated by citizens of Saudi Arabia, the UAE, Egypt and Lebanon, account for 98.6% of those deaths – 15 of the 19 Sept 11 hijackers once called Saudi Arabia home.
In fact, over that period, no American has been killed on US soil by anyone from the nations named in the present president's executive order.
The San Bernardino massacre, in which 14 people were killed and 22 injured in 2015 was carried out by Syed Rizwan Farook, who is of Pakistani descent, and his wife Tashfeen Malik, who grew up in Saudi Arabia.
The Pulse nightclub attack in Orlando, where 49 died and 53 were injured last year, was carried out by Omar Mateen, a US citizen of Afghan descent.
The Boston Marathon bombing in 2013 was orchestrated by the Tsarnaev brothers, both of whom were Russian, killing three and injuring several hundred people.
But as the world jumped on Trump, news reports have emerged that Kuwait does the same.
Syrians, Iraqis, Iranians, Pakistanis and Afghans have reportedly not been able to obtain tourism or trade visas to Kuwait since 2011.
Passport holders from the countries are not allowed to enter the Gulf state while the blanket ban is in place, and have been told not to apply for visas, it has been reported.
Likewise, the ban on citizens from fellow Muslim-majority nations has failed to prevent Kuwait from being targeted in a number of terrorist attacks over the past two years – including the bombing of a mosque in 2015 which left 27 Kuwaitis dead.
Kuwait is the only country in the world to officially bar entry to Syrians, until the US named Syria among the seven countries whose citizens were banned from entering its borders.
What Trump is doing – and he may not even realise it with his defiant-style of leadership – is making the US a much more dangerous place to live in now, not a safer place as he had hoped.
There will be homegrown terrorists, including Americans – and even radicals entering the US holding other passports – who plan to carry out their crazy acts.
He has also made the work and lives of career diplomats more difficult with his brazen diplomacy. It came as no surprise that 900 State Department diplomats signed a memo to oppose his ban.
According to CNN, the "memo of dissent" warned that not only will the new immigration policy not keep America safe but it will harm efforts to prevent terrorist attacks.
The ban "will not achieve its stated aim of protecting the American people from terrorist attacks by foreign nationals admitted to the United States," the memo reportedly noted.
Trump has actually provided oxygen to the radicals, who will now thump the noses of moderates in Muslim countries.
There should be no surprises if the recalcitrant Trump expands his list of countries whose citizens would be banned from entering the US.
It won't be wrong to suggest that 2017 will be a Year of Living Dangerously under Trump. Let's be prepared for the unexpected from him.