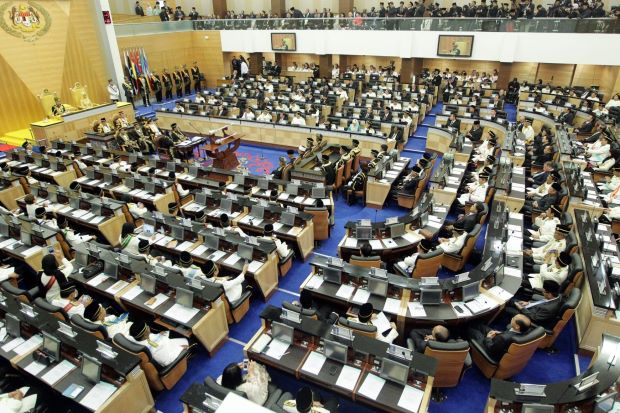 IT'S disturbing, to say the least. We have economic issues that Malaysia needs to deal with seriously like the continuing uncertainty in the price of oil, market slowdown and slide in the value of our ringgit which is affecting our country's coffers.
The cost of doing business has shot up against the backdrop of declining revenue and profits, which worries most Malaysians.
All of us, especially those in the middle and lower income groups, are grappling with the increasing cost of living. The worst hit are the wage earners living in major cities such as Kuala Lumpur, Johor Baru and Penang.
If our elected lawmakers have any idea of what the rakyat is going through, they should be focusing on ways to help ease the cost of living.
Never mind if they have to talk in the Dewan Rakyat till 5am. And to our Yang Berhormats, don't expect us to sympathise with you, because get this – no one pressured you to be a Member of Parliament. You chose to stand for elections yourself.
But sadly for us, instead of having the chance to listen to top quality debates on ways to help Malaysia find new sources of revenue and not just depend on oil and palm oil, again, we find some of our legislators preferring to channel their energy into religious matters.
Not that religion isn't a priority for us. It is, but the reality is this: we will never reach common ground.
So, PAS president Datuk Seri Abdul Hadi Awang has managed to table the controversial Private Member's Bill to amend the Syariah Courts (Criminal Jurisdiction) Act or RUU355, but the debate on it has been deferred. That's the furthest he gets.
He can keep saying that it will not affect non-Muslims, but the majority of non-Muslims know this to be untrue.
We are a plural society and no one community lives in isolation. Our lives are intertwined and entangled as Malaysians. There's no such thing as laws that do not affect the entire community.
Abdul Hadi says it isn't hudud, but hudud is written all over the Kelantan Syariah Criminal Code (II) Enactment (1993) (Amended 2015) and if Abdul Hadi's Bill is passed, it will only give life to such laws on a national level.
Remember, even a poster of a Bollywood actress pinned up at a watch shop in Kelantan resulted in a non-Muslim shopkeeper being fined because the authorities thought the photograph was sexy. And not to mention the unisex hair salons which have long been penalised.
Abdul Hadi expects us to believe him when he says that non-Muslims will not be affected. And if we go by his "logic", non-Muslims have no say over the matter.
The majority of Barisan Nasional component parties do not want this Bill – it is that simple – and we are glad that the Prime Minister understands that the coalition operates on consensus.
The fact is that the MCA and MIC have stood by Umno, even when it was at its lowest, since our independence. These are proven friends of more than six decades and not newfound pals who got together because of common political expediency.
Let's get real. Umno isn't going to move aside and allow PAS to contest in any constituency in the general election, nor will PAS allow the same for Umno.
Malaysia is a multicultural country founded on the principles of moderation. This is not a Middle East nation, even though the Muslims make up the majority of the population. We should be proud of our unique Malaysian way of life.
I studied Malay Literature for two years in the Sixth Form, sat for the examination (and passed) and when I entered university, I signed up for the Malay Letters Department courses at Universiti Kebangsaan Malaysia.
I wanted to deepen my understanding and appreciation of the Malay arts. Not Arab arts. Malays are Muslims, not Arabs.
Over at the august House, even as Abdul Hadi became the focus of attention after tabling the Bill, we had to put up with Tasek Gelugor MP Datuk Shabudin Yahaya, who at one point suggested that rapists be allowed to marry their child victims as a solution to social problems.
He can keep blaming the press, claiming that he was quoted out of context, but there are certain basic remarks he made that he cannot run away from.
You can watch the video recording of what he said a few times and pause at certain parts of the video. It is pretty clear.
A girl who is nine years old may have reached puberty, but is she old enough to have sexual intercourse after she marries? A rational person would say that she is a child and should be in school or the playground with her friends.
This YB has put Malaysia in the international news for the wrong reason yet again (shame, shame) …. and so soon after the Beauty and The Beast fiasco too.
We can only cringe when we imagine what the world thinks of Malaysia. This is not to say that we wouldn't readily refute any suggestion that our beautiful country is swamped by paedophiles or nutty lawmakers who are apologists for child marriages.
So, in the end, when Parliament found itself running out of time, we will remember this meeting as one where religious issues were the main concern.
As far as I recall, at least from media reports, no one talked about how we could take advantage of our weak ringgit to get more tourists to come visit us and how we could carry this out with limited funds for international promotions. We also didn't hear how we could boost the soft economy after two years.
Maybe financial and economic matters are just too complicated for some of these MPs, with their limited knowledge. And these are YBs we have entrusted to speak up for us. After all, we put the future of Malaysia in their hands.