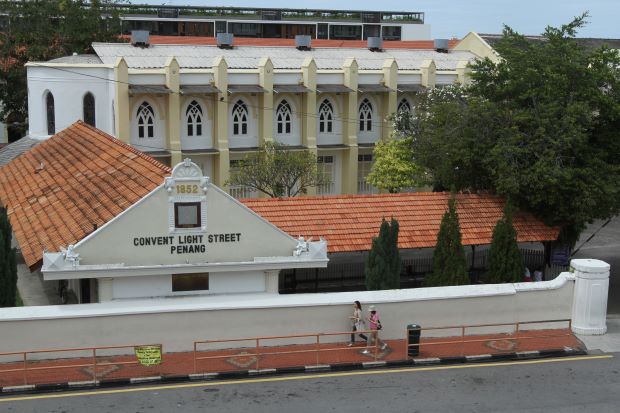 THREE convent schools in Penang are in the news with talk that they may have to close down, supposedly because of dwindling enrolment.
Naturally, this has become unsettling because Penangites are very sentimental, even emotional, about these historic institutions.
I spent over a decade at St Xavier's Institution, and I regard Convent Light Street as a sister school, as both schools sit side by side.
Many friendships were forged with CLS students, and those who qualified for Sixth Form studies, enrolled in SXI after completing their Form Five examinations.
CLS is also the oldest girls' school in South-East Asia, standing proudly on its present site within the Unesco Heritage Zone since 1859.
The school was founded in 1852 by three French Catholic nuns from the Holy Infant Jesus Mission, who were part of a group of six who left France for Singapore in 1851 to set up a Catholic institution on the island.
According to an article by Louise Goss-Custard, the 30-year-old Mother Superior who led the group, died during the five-month journey, and the only remaining English-speaking sister decided to leave the order upon reaching Singapore.
"Another sister became seriously ill with 'brain fever' during the journey and remained ill for the rest of her life. Now too small a group to be effective in Singapore, the Sisters were sent to Penang, where the La Salle Brothers were already active and could support them until reinforcements arrived," she wrote.
Penang founder Captain Francis Light had set up his administration where the CLS is now located, and for a while, Sir Stamford Raffles worked there before he moved on to Singapore.
Apparently, Raffles spent more time in Penang than in Singapore. He arrived in Penang – which was then known as the Prince of Wales island – in 1805 to work under Philip Dundas, the then-governor of Penang.
Fast-forward to today, the landowner – the Sisters of the Infant Jesus (a Catholic order) – has written to the Education Ministry asking for the return of the land where SK Convent Light Street, SMK Convent Light Street and SMK Convent Pulau Tikus are located.
Sister Celina Wong, the spokesperson, has assured that they have no intention of selling the land or buildings for redevelopment.
Beyond that, the sisters are not saying anything, though the reality remains that enrolment has dropped.
This is not the first time as the 124-year-old SK Pykett Methodist faced the same problem before. The school will be closed once its final term ends in 2019, and it won't be around to show that there are now more teachers than students.
The Methodist Church in Malaysia revealed its education council had been in talks with the Education Ministry to phase out the school since 2010.
The authorities finally decided that SK Pykett Methodist Penang would be wound down gradually in five years (2015-2020).