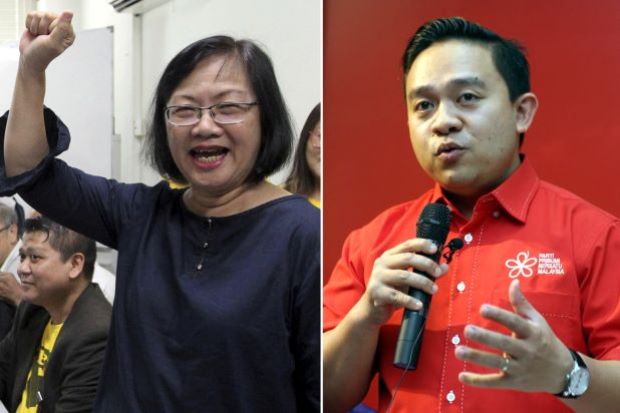 TWO prominent activists, Bersih 2.0 chairman Maria Chin Abdullah and Institute For Democracy and Economic Affairs (Ideas) think-tank chief executive officer Wan Saiful Wan Jan, have taken their head-first plunge into politics and abandoned their roles in civil society in the process.
They have effectively now become political players and risk their reputation by swimming with sharks.
For their sake, I hope they know what they are doing and have negotiated well for a seat to contest in (preferably a safe parliamentary one). And hopefully by May, if the general election is held by then, they will be sworn in as Yang Berhormat.
This concern is raised because non-governmental organisation activists and academics seldom last long in politics. They have a dismal record of survival due to a variety of reasons, including lacking a following at the grassroots level, inadequate resources and inability to withstand cut-throat internal politicking. Ultimately, after a while, they realise they haven't the stomach or guts for this dirty game.
Last week, Maria announced that she wasn't joining any party and would be an independent candidate contesting under the Pakatan Harapan ticket instead. It's difficult to fathom how any of the component parties will work for her in that odd situation, which will be nothing short of an uphill climb.
Unlike Wan Saiful, who was by Parti Pribumi Bersatu Malaysia president Tan Sri Muyhiddin Yassin's side at a press conference, Maria merely revealed her decision to be a politician.
She had said on Tuesday that she would only contest in the 14th general election (GE14) if handed a parliamentary seat by Pakatan, adding that "Federal is the one that makes the decisions".
Word is that the DAP has no plans of offering her a seat since they have sufficient candidates, the sentiment being that the party need not ride on Maria's coattails, indicating it would only benefit her instead of the party.
PKR has remained coy, with vice-president Tian Chua politely welcoming her ambition but saying that the former Bersih 2.0 chairman's contesting location would have to be "worked out".
The Batu MP said that Pakatan wouldn't have problems allocating a parliamentary seat for her to contest in, with 222 to choose from.
So, don't expect the PKR to offer Maria a safe seat, especially with Chua insisting that her placement is just a technicality.
Pakatan chairman Tun Dr Mahathir Mohamad said that the Opposition coalition has yet to decide on her candidacy.
Perhaps she has already cut a deal she isn't prepared to divulge publicly yet, but time is fast running out with the elections impending. For a dose of reality though, no party grassroots accept "parachute" candidates.
Of course, given that they have been toiling in their respective constituencies, they naturally expect to be fielded as candidates as just reward for their sacrifices for the party.
Wan Saiful, in explaining his decision, said: "We need a solution at a political level. Our country needs an administration with a political will to change."
He added that he was expecting public backlash for joining a race-based party.
"We must choose an existing platform that has the best potential to achieve our goals. People will only take a party seriously if it is able to shape the perspective and thinking of the people, and only Pribumi is able to do this at a national level," he said.
When queried on his contesting constituency, Wan Saiful revealed that it was the party's decision.
Speculation is centring on him contesting the Putrajaya parliamentary seat, where he will lock horns with Umno secretary-general Datuk Seri Tengku Adnan Tengku Mansor.
If it's true, then he is taking on a Herculean task in a constituency predominantly "ruled" by civil servants.
In the 2013 polls, Tengku Adnan retained the seat for Barisan Nasional for the third consecutive term, defeating PAS' Husam Musa with a 5,541-vote majority.
Tengku Adnan garnered 9,943 votes against Husam's 4,402 votes, hence dashing PAS' hopes of capturing the federal administrative capital. In the 2008 elections, Tengku Adnan defeated PAS candidate Mohamad Noor Mohamad with a majority of 2,734 votes.
Malaysian politics is littered with casualties from civil society, including Aliran founder Dr Chandra Muzaffar, the once-PKR deputy president who offered to contest in the Bandar Tun Razak parliamentary seat.
However, he was left reeling from internal backstabbing as he walked out of a party bent on toppling him in the name of "reformasi".
Chinese educationist and human rights activist Dr Kua Kia Soong joined the DAP and was given its stronghold of Petaling Jaya to contest. He won handsomely in the 1990 general election, but his time in the DAP was fraught with bitterness. He even wrote a book titled Inside The DAP: 1990-1995, detailing his unhappiness in the party.
The educationists in Gerakan and MCA, like Tan Sri Koh Tsu Koon, Tan Sri Dr Fong Chan Onn and Tan Sri Dr Ting Chew Peh seem to have done well in national politics.
Former political science lecturer Dr P. Ramasamy has likewise done well in the DAP, stepping up to become Deputy Chief Minister.
But it won't be plain sailing for both Maria and Wan Saiful.
The former has already found herself defending her agenda in leading the Bersih movement, and her plans to contest as a Pakatan candidate prove that Bersih is a tool of the Opposition.
Others claim her value in Bersih has dipped following the withdrawal of support from PAS, dramatically shrinking the number of Malay participants.
For Wan Saiful, suspicion abounds through his writing, what with him recently doubting his new party's role in safeguarding Malay interests.
"I am not sure if Pribumi can convince the country with this narrative quickly enough for GE14. Umno is entrenched in the psyche of both rural and urban Malays. Dislodging it from that position is not going to be easy.
"In fact, I think among the Malays, the urbanites are more difficult for Pribumi to attract than rural villagers. They can be more educated and analytical, but they have a lot more to lose if a change were to occur.
"The urban, middle and upper-class Malays also tend to complain in private, but the pretend heroism does not follow outside their comfort zones. Pribumi will have trouble getting them into its ranks before GE14," he wrote in his column on Jan 3.
Not long after, he announced his decision to join Pribumi, the party he has reservations with in making an impact to secure the crucial Malay votes which will determine the outcome of GE14.
The two appear to have jumped into waters infested with the ocean's greatest predator without the appropriate protective gear.