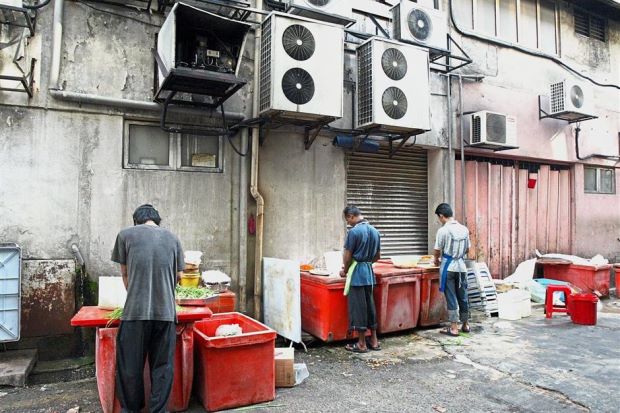 MALAYSIANS know how to enjoy their food but, but the trouble is, we never really pay attention to hygiene standards at eateries.
Many of us are guilty of being extremely tolerant, so long as we like the food served, even if it's the product of a dirty restaurant.
We turn a blind eye on how the food is prepared – we don't mind the filthy greasy floor or that we sit next to the drain, or even near the toilet. And let's not even get started on the conditions of the restrooms in some of these coffee shops.
Of course, it's a wonder how health officers and council staff continue to allow such premises to operate.
Is this down to the lack of manpower, inspectors incompetent at their jobs, or (as we often conclude), corrupt officers at work? Or is the classic bureaucratic excuse at play: no official complaints were filed?
The video clip of workers washing food trays in a pothole filled with putrid, gutter-infused rain water last week, must be one of the worst cases of hygiene-flouting in recent memory.
It's a total disgrace for Raj's Banana Leaf restaurant chain to blame this outrageous oversight of basic hygiene laws on their workers, supposedly new, and presumably foreign.
The Star Metro has long been highlighting the problems of cockroaches, rats and filth, which have continuously infiltrated food outlets in the city, despite Kuala Lumpur City Hall (DBKL) shutting down such places to ensure cleanliness is adhered to.
DBKL Health and Environment Department director Dr Hayati Abdullah was quoted saying that there is little the local authority can do to stubborn operators who don't fear facing the axe.
Since throwing the book at them involves a lengthy process, she has urged consumers not to patronise dirty outlets, which hopefully puts a dent in their business.
These eateries know that they would only be shuttered for a finite period, and paying fines is nothing more than a slap on the wrist for these errant restaurant owners.
Perhaps it's time that DBKL puts up a micro site where it lists down the names of restaurants that have been booked and suspended. A wall of shame of sorts should impact these stubborn owners to shuffle their feet and do what's right.
If DBKL can't do it, it will only be a matter of time before netizens become vigilantes and hang these dirty eateries out to dry themselves.
Dr Hayati also echoed those sentiments, saying that the "majority of people continue to eat at unlicensed and dirty eateries."
She revealed that their inspectors conduct daily checks, with major inspections done once a week.
DBKL aspired to introduce longer punishment periods, but with businesses served with notices refusing to shut up shop, enforcement remains an uphill climb.
"We have limited resources and cannot keep tabs on every restaurant every day. We have a schedule to follow," she explained, highlighting the plight.
Restaurants found with pests and bad food handling methods, she said, would be forced to cease operations until they meet the required standards, while those with minor offences, like dirty floors, would be compounded.
Dr Hayati said all actions were in accordance with the 1979 Food Handling By-law, 1985 Food Establishment By-law, and the Food Act 1983.
However, the problem isn't merely confined to the capital, but spread throughout Malaysia. Anyone who has travelled to Britain, Japan, Australia or Hong Kong, can vouch for the high standards of hygiene restaurant owners there maintain because of strict laws and requirements imposed to retain their licenses.
It isn't just about kitchens and eating areas, but toilets, too. It's safe to say that nearly all coffee shops don't come with toilet rolls in their washrooms. And I always wonder what tourists think when we brag about Malaysia being a food paradise.
And at many roadside stalls, toilet rolls are serviceable substitutes for good ol' serviettes, where customers are expected to wipe their hands and cutlery with them. Obviously, these stall owners can't distinguish between the use of both disposable towels, or worse, don't see the importance in their differing applications.
Our back lanes are also poorly maintained. Try walking along them around SS2 in Petaling Jaya, especially the commercial areas where many restaurants do brisk business. They are gross, and one wonders whether these alleyways are cleaned at all.
Many of these restaurants, unfortunately, extend their food preparation areas to the rear of their premises, which is, of course, unlawful.
My senses were violated recently when I saw a famous roasted duck stall in Damansara Uptown placing its ducks to be dried along the back lane. And we all know many chicken rice stall owners are guilty of such practices.
And as certain as the sunrise, two weeks from now, this issue of dirty eateries will be consigned to the back lanes of our memories, too, unfortunately.
It will be business as usual for the stake holders as the good times roll once more. The question is, why do we allow these eateries to continue operating like this?
It must now be made mandatory for all restaurants to place a conspicuous sign for customers to glean details to file complaints via their mobile phones – along with a picture or video – through the appropriate channels. The time to act is now.